This is the second post of a 2 part series.   Click here to read post# 1: Prepping the Anguished Bride: Concept, Styling, and Lighting. —————————————–  

It was Tuesday—the day before the Anguished Bride editorial shoot.

And there it was: an email from my modeling agency in Los Angeles, Bella Agency, informing me I had a casting for a Lincoln car commercial on Wednesday morning at 10:15am…  the exact time we had scheduled to start hair and makeup for Anguished Bride.

My photographer and collaborator Lesley Pedraza, a former model and modeling agent, agreed that I absolutely had to go to this casting and suggested that I ask Tony Ynot, our makeup and hair artist, if he could start later the next day.

He could not.
$%@*&.
Now I was stuck. We had selected Tony specifically for his ability to do the giant hairdo and beautiful contoured makeup that CoCo Rocha had in the Hot Coco editorial. More than anything we needed that hair, so Tony was not replaceable.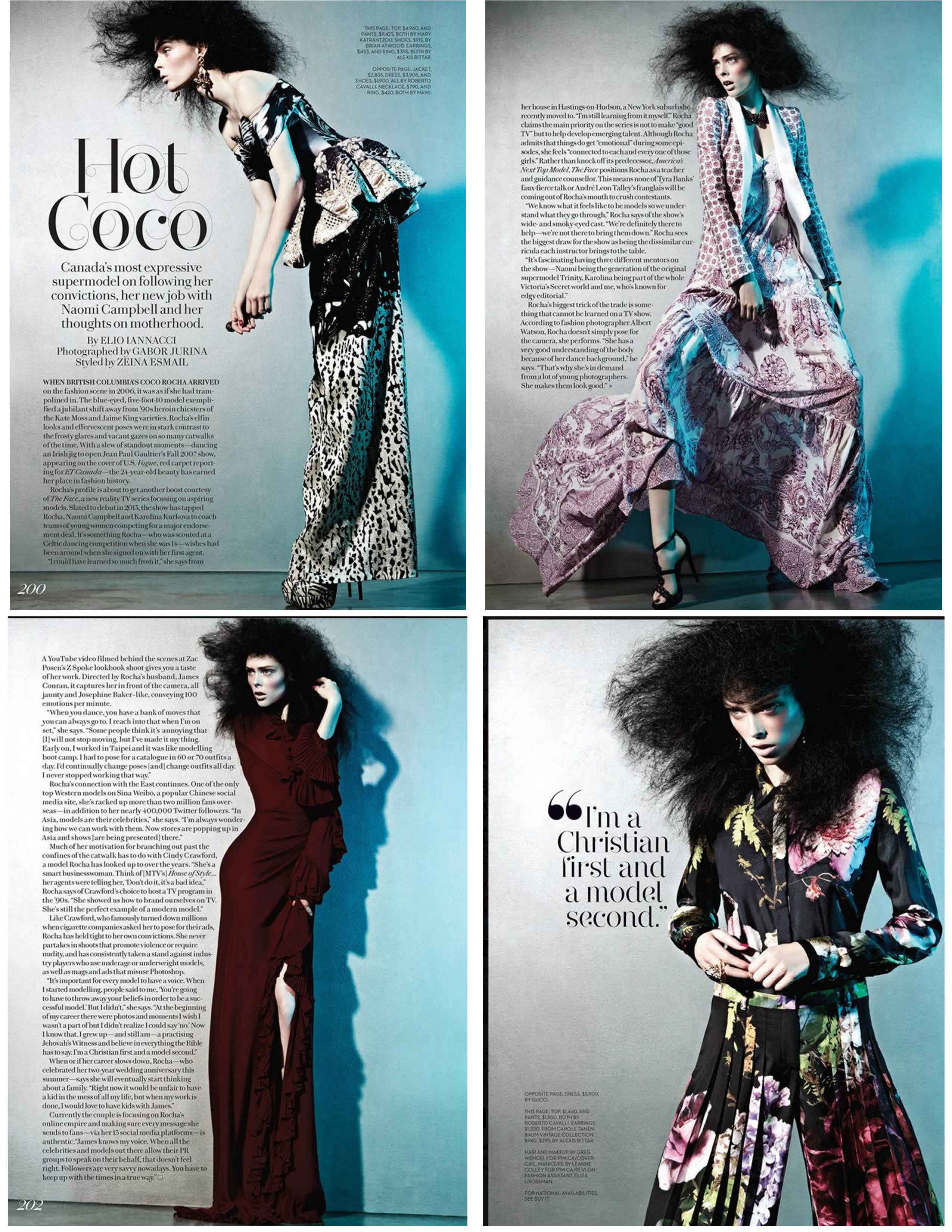 I also couldn't reschedule the shoot because I had to return the bridal gowns to Caprice Bridal the day after the shoot—these were designer Maro's sample dresses and she needed them back on the shop floor.
My solution: I would go to the audition at 10am, be first in line, then go to Tony's house nearby in Hollywood at 11am with my hair extensions, leave at noon, and then get to Lesley's studio across town by 2pm. As you may already be guessing, that's not how events unfolded. I didn't get out of the audition until 10:45. I forgot the hair extensions and had to rush back to the house to get them. And I didn't arrive at Tony's house until 11:45.
Despite my tardiness Tony enthusiastically got to work, creating the thick full eyebrows, heavy contouring, and colorless features that Coco had in her editorial—neutral makeup with no color so as to not compete with the blue lighting effect. Then Tony began to lay track after track of hair extensions into my hair, curling and teasing them into a giant hair explosion worthy of being captured on film. Two hours of Tony's intense work transformed me into exactly what I wanted.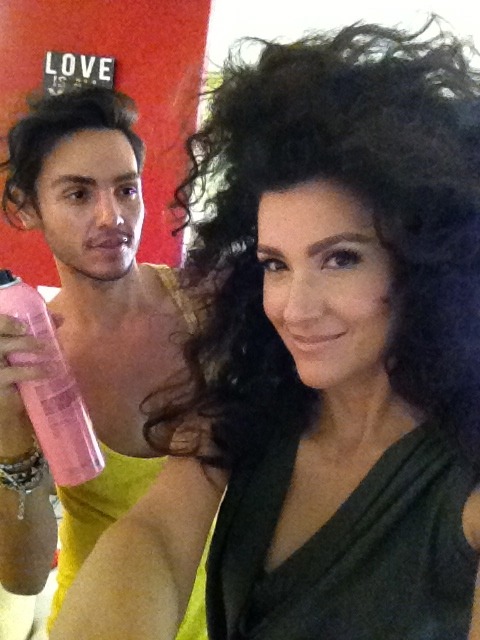 It was now 2pm, and I was supposed to be at Lesley's studio already. Hair flying I ran for my car, earning a few startled looks along the way, and rushed back to my house in the valley to pick up the bridal gowns and load them into my car. (I hadn't been comfortable leaving them in the car parked on the street at Tony's house in Hollywood.) Now Los Angeles rush hour traffic was starting to build. I called Lesley and apologized, feeling like an unprofessional idiot for ruining the schedule.
At this point the whole thing was becoming laughable. There were so many obstacles in the way of this photo shoot, not to mention my own performance anxiety. The universe was mirroring my core desire—a part of me wanted to cancel this shoot so that I couldn't fail. But at this point so much had gone wrong that it almost didn't matter what else happened. We were doing this shoot.
I finally arrived at Lesley's studio at 4pm. We unloaded the dresses at the studio and fitted the first one. Now it was time to work with dresses that were too big. I handed Lesley the pins, hoping she would know what to do. She suggested an old catalog trick—using anything we could get our hands on to stuff into the clothes. That meant toilet paper rolls, paper towel rolls, and water bottles until the dress was tight!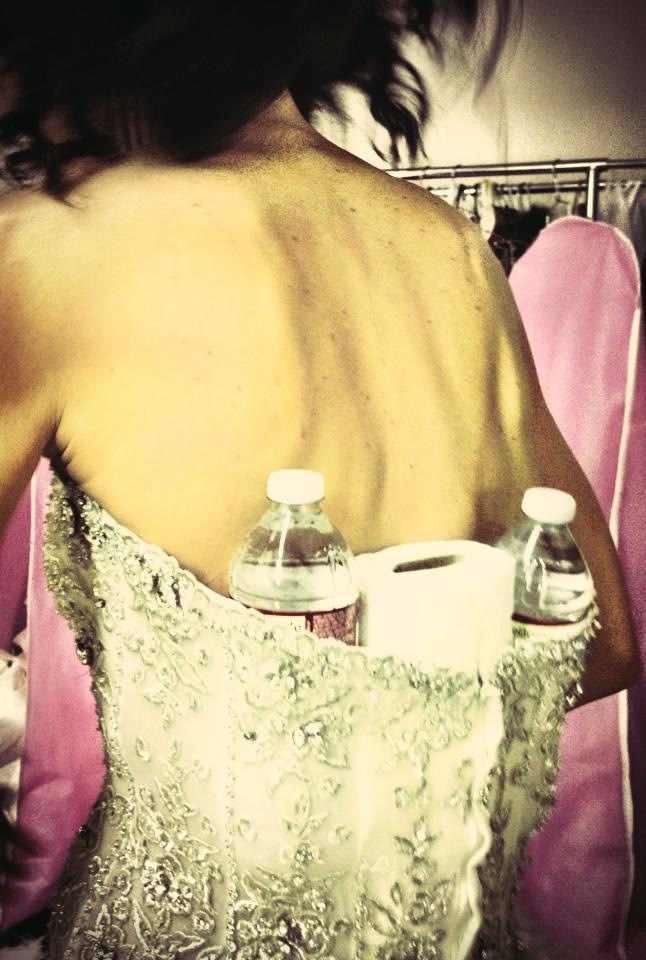 We began with the first shot. I was happy Lesley and I were finally able to bring our vision to life. Now it was just her, me, and Lesley's young assistant, Simon. Without anyone there to judge, we felt free. We wanted this shoot to be an experiment, to push us to grow, and we could do it now without any interference.
I began to work on my two goals: Making Coco's fierce facial expressions and dancer-like body positions. I discovered quickly that I could not jump or move much in these dresses. In fact, when they were tight enough to stay on, I could not even bend in some of them.
Lesley offered adjustments: not to lean over quite so far, to keep my hands relaxed (this turned out to be very important), and not to look quite so stressed. We were trying to find a face that portrayed a negative emotion without looking too severe or mean, which is where my face can naturally go. The face that worked was actually a combination of sadness and anxiety, fear, and worry. I decided to go with it and leave Coco's aggressive faces to another day.
Lesley suggested I use the trick that it is said Coco Rocha uses – saying vowels quietly so that my mouth made different shapes.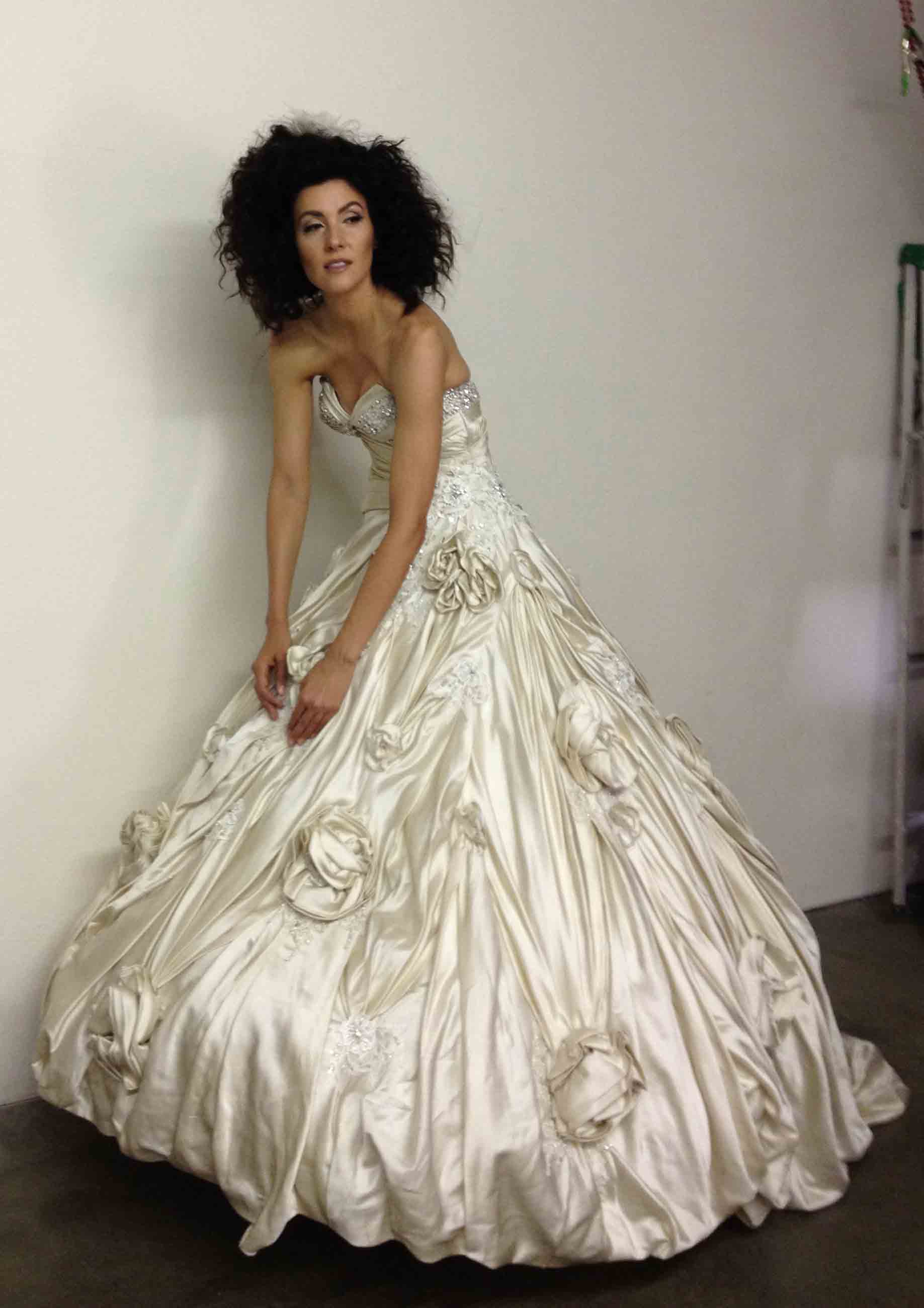 So, there I was—balanced on an apple box because the dress was so long, shoulders bent and arms reaching forward with yearning, an expression of gentle sadness and anguish on my face while I silently mouthed vowels and Lesley snapped away.
I also worked on my body positions. I couldn't actually jump or spin, but I could pitch my shoulders forward. I overdid it and Lesley told me to stand up a little straighter. I started adding in arms, with the instruction from Lesley to keep my hands relaxed. So keeping my arms and hands relaxed I moved them around with my anguished looks, flowing forwards and backwards, and we got shot after shot.
We had it. The Anguished Bride wasn't angry. She was sad. She was wistful. She was in pain. She was beautiful at the same time. And with the blue light splaying over me and giving me such a ghostly character, I felt that the Anguished Bride was perhaps someone who had died tragically on her wedding night and was now sadly haunting the wedding location looking for her groom.
We danced through the seven looks, moving and emoting and flowing. And then we were done. The Anguished Bride had been created, from start to finish, from a vague vision in our minds to this final result.
After the shoot we looked at the images on Lesley's computer. I was so nervous that they were not going to turn out with the magical quality that we wanted. But they did. A few of them, I thought, were breathtaking.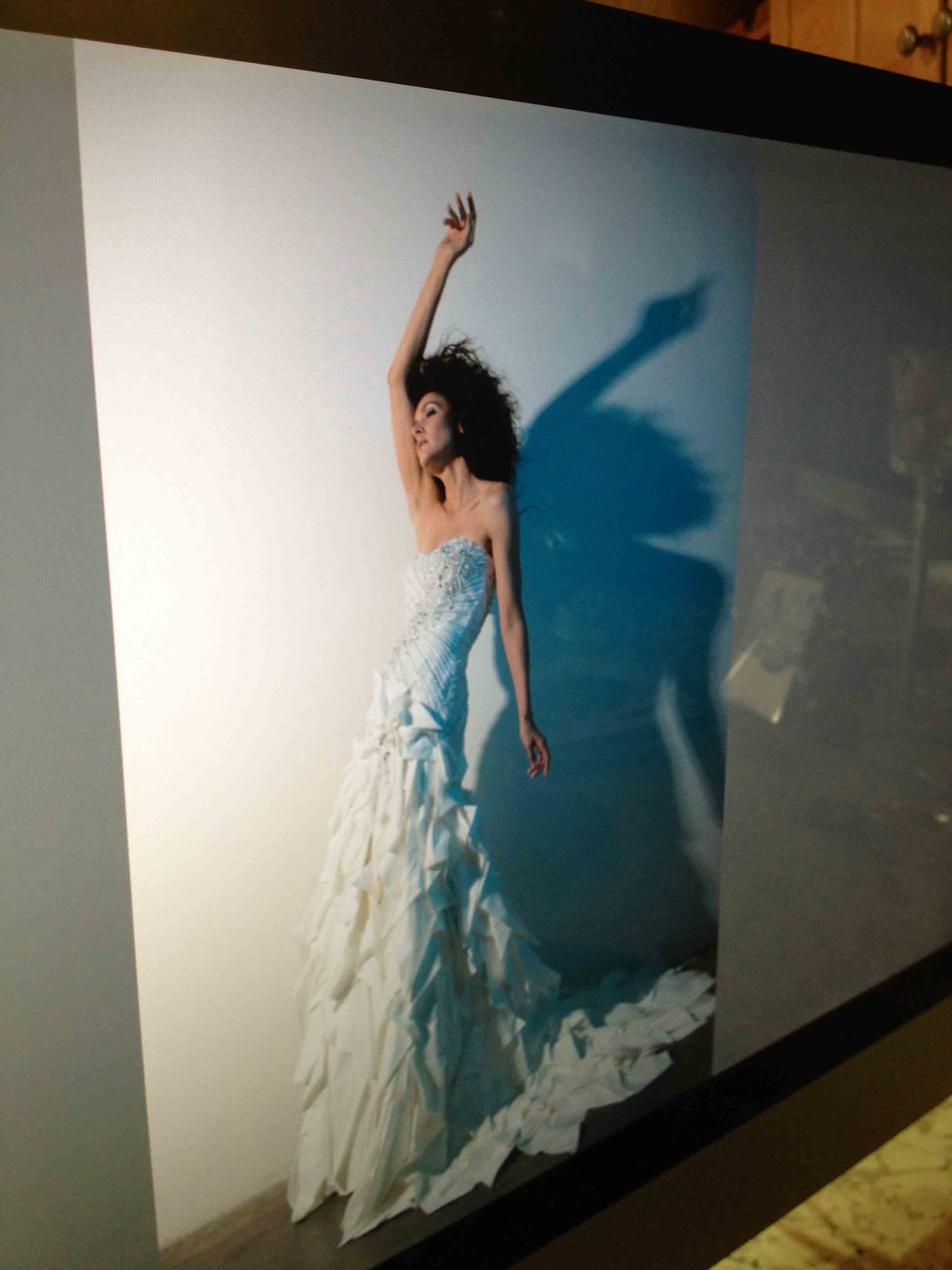 These images were aggressive and unusual for bridal, so we knew they would not be appropriate for many bridal magazines. We had to find a magazine that liked editorial style work.
Maro from Caprice Bridal, the shop who graciously lent us these wedding gowns, suggested a handful of wedding magazines to submit the spread to.  Several magazine picked up the spread, complimenting the Hot Coco inspiration of wild hair, extreme poses, and blue light.  My favorite publication was the December 2014 issue of Mexico's bridal magazine VANIDADES NOVIAS, as we were even the featured editorial in the table of contents!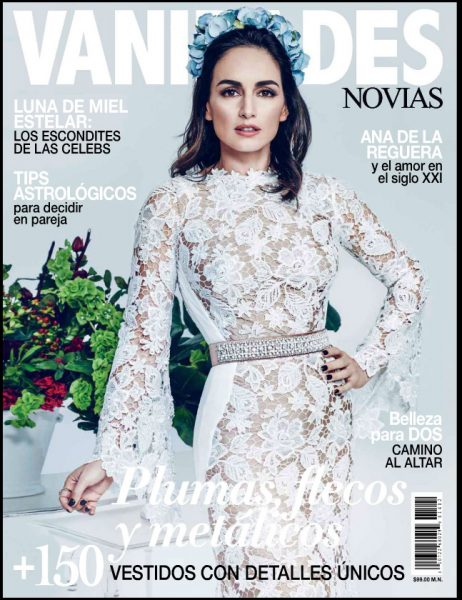 Shooting this editorial was magical for Lesley and I, and a huge success for our team. I'm so very proud of this one.
Onwards and Upwards.
— Jacqueline Depaul —
Note: This is the second post of a 2 part series.  
Click here to read part 1: Prepping the Anguished Bride: Concept, Styling, and Lighting.