My photographer, Lesley Pedraza, wanted to do an editorial inspired by model Coco Rocha, as I love her unbridled facial expressions and wild poses. We selected one we both liked: Hot Coco.  This is a beautiful editorial with Canadian-born fashion model Coco Rocha from the winter 2013 issue of Canada's FASHION Magazine and photographed by Gabor Jurina.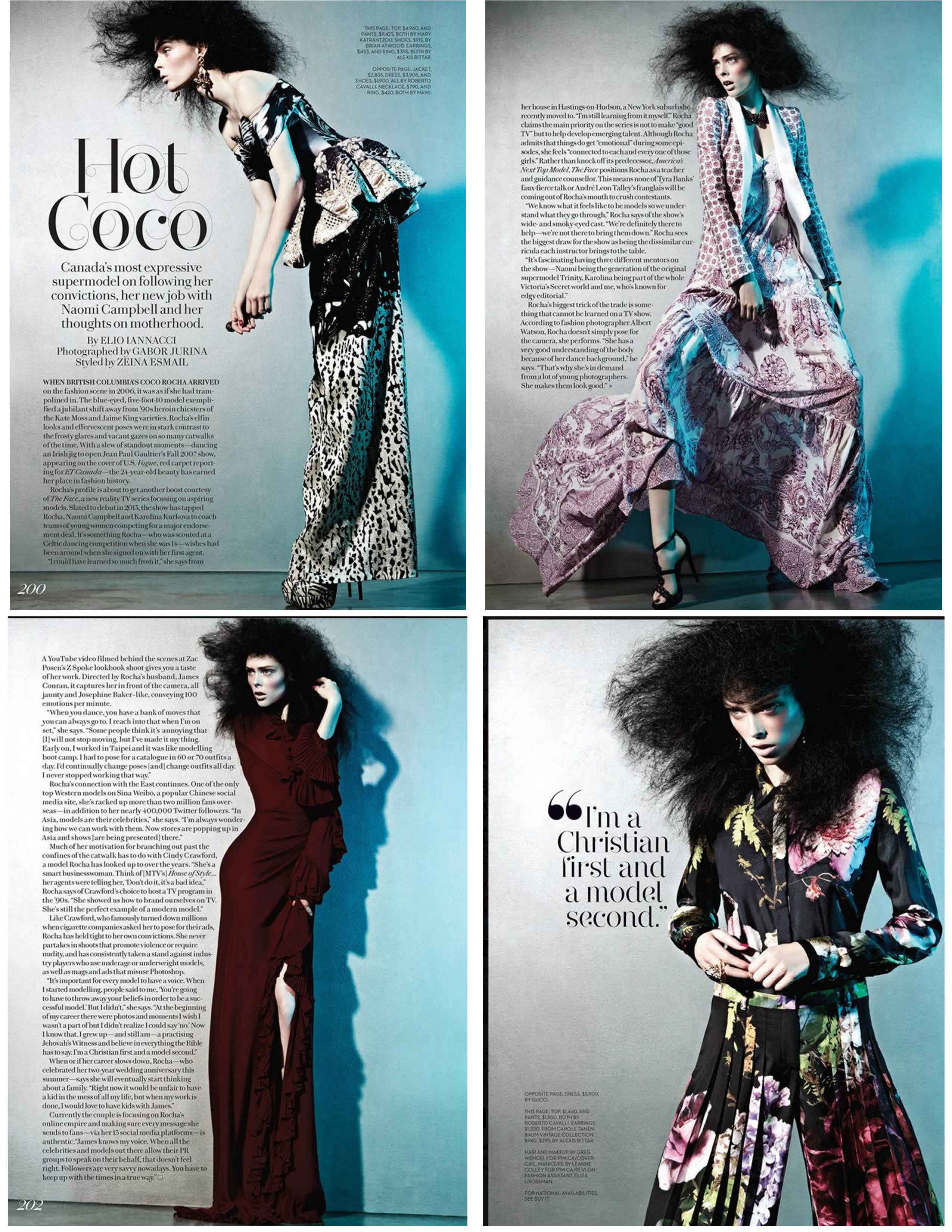 What I wanted to try: Coco Rocha's facial expressions and movements
In this editorial you see Coco Rocha at work delivering her famous, varied, and in this particular editorial, aggressive facial expressions. I had been practicing the soft, amorous expressions of catalog modeling with Lesley for a couple of months now, and was ready to give these fierce expressions a try.
Coco is also notorious for her vivacious posing and movement. Here is a great video of Coco modeling for Target, demonstrating the leaps and bounds she goes to (pun intended) to give the photographer a lively shot.
Coco's strong facial expressions and dramatic poses were on my wish list for this Photo Shoot Challenge, along with her ridiculously marvelous giant hair and and dramatic makeup. I couldn't wait to see what I make of this.
What Lesley wanted to try: The Blue Light
The Hot Coco photographer shot with dramatic base lighting and a pronounced blue light that plays over the garments from the right side. This technique was new to Lesley so her personal challenge was to replicate it.
This entire concept seemed quite challenging since it was only Lesley and I working on it and neither of us had done a shoot like this before. It sounded perfect for a YBR Photo Shoot Challenge.
A Quest for Designer Clothing
Lesley and I wanted this editorial to be worthy of consideration for publication by a magazine. In order to achieve minimum magazine caliber we needed expensive, designer clothing. For example, in her editorial Coco modeled looks from labels such as Roberto Cavalli, Alexis Bittar, and Gucci.
This was where I momentarily got stuck. I wanted clothes like Coco Rocha has on in the photos—dresses with tons of detail that would photograph in an interesting way. I didn't have access to any top designers, so I had to be more creative…
I had only one idea.
My friend Bryna Makowka, Associate Publisher of California Wedding Day Magazine, told me once that she could pull high-end designer wedding gowns for me from one of her clients. Wedding gowns are exquisite, detailed, and expensive.
But how to make the wedding gowns, intended for elegant, classy affairs, fit into the Coco Rocha concept of jumping around with angry expressions and even wilder hair?
I chewed on this for a while, spinning it around in my head, until a possible solution presented itself. Lesley was a little skeptical at first but I explained the concept and she bought into it.
The Revised Concept
Our YBR editorial shoot would be named the "The Anguished Bride."
I am a runway bride, anguished and devastated, having realized I had just married a mob boss and I'm escaping. Or perhaps my groom jilted me at the altar and I am fleeing the wedding ceremony in devastation.
Wearing beautiful wedding gowns and wild hair, I would shape my body into graceful, yet tortured positions and emote to the camera with agitated, dismayed facial expressions, tying the Hot Coco editorial concepts to the stately wedding gowns.
The resulting "wedding" editorial would be different, not only in the unusual expression, but also in that I'm an older model, and usually wedding gown models are in their early 20s.
But honestly, there are tons of second- and third-time brides out there flipping through wedding magazines. Every model in the magazine doesn't have to be 23… Perhaps the rest of us might want to be catered to once and a while!
The Fitting
Lesley and I decided to go for it.
We scheduled the shoot, and then Bryna set me up for a fitting with Maro, the owner and lead designer of Caprice Bridal in Glendale, California.
The gowns were all high-end designer brands, including Ysa Makino, Paula Varsalona, and Stephen Yearick, and even some dresses from Maro, the lead designer of Caprice Bridal, under hew own brand M.G. Lucas. They were all GORGEOUS and, of course, I felt like a princess, as any girl would, wearing uber expensive designer wedding gowns…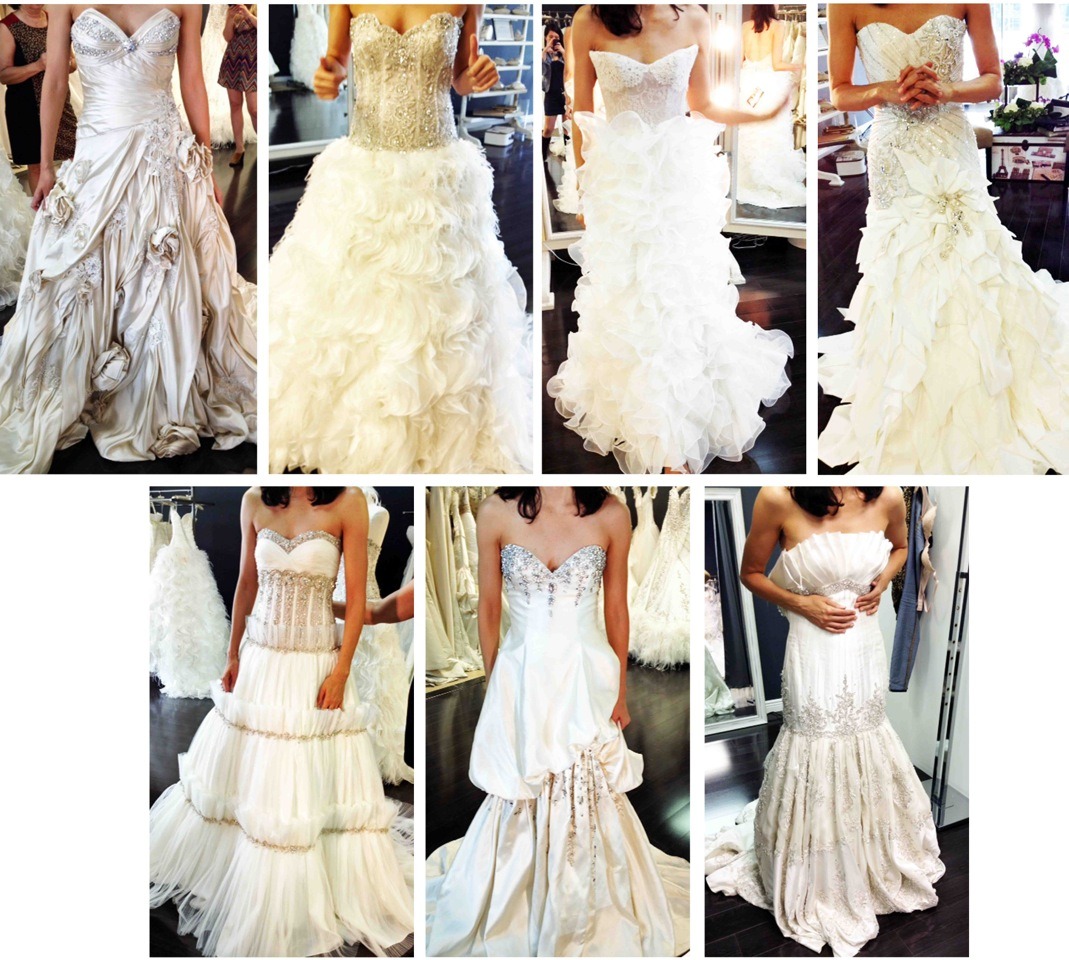 Conceptual Wrinkle
I have never been married or tried on real wedding gowns before.  It was during this fitting that I suddenly understood WHY wedding dress photographs seem to always be so stately and elegant…
Wedding dresses are REALLY, REALLY heavy.  One designer gown, with its infinite layers of fabric, beading, and giant petticoats, was so heavy that Bryna and I had a hard time picking it up off the floor. It must have weighed 40 or 50 pounds.
Jumping around in something like this was, for all intents and purposes, impossible.
(All of you brides out there must be laughing right now and thinking, "Duh, I knew that!" Honestly, I had no idea.)
The gowns were also sample size—sizes 6-8. I am a size 2-4, so not only were they weighty but they were too large. All of them were strapless styles, and therefore all of them slid right down off my body.
Maro cheerfully suggested I pin them with straight pins down the back to make them fit. I knew there was no way straight pins were going to hold a 20-40 pound dress on my body as I leapt around in anguish.
I wasn't sure what to do about this. Having never tried wedding gowns on before, I did not think of this in advance. As usual, there is always something that you don't know you didn't know.
The shoot was scheduled in two days and I didn't have any other designer dresses. Somehow I had to make this work.
The Solution?
I had no idea what to do with this problem. Therefore, my brilliant solution was: IGNORE the problem.
Heck, if I refused to look at it for a while, it might just go away, right???  Ummm… not really!!!
In my mind I reasoned this out by deciding that SOMEHOW Lesley would help me make this work. She always had great ideas and she was a model for 20 years. SURELY, there was some technique to pinning dresses or some other wisdom she could impart to make this whole thing work.
I was dying to wear those beautiful dresses with the wild hair and makeup so I was determined not to torpedo the project at this point. I was positive Lesley and I would figure it out.
Stashing the Loot
I stuffed my car ceiling high with seven designer wedding gowns, one giant petticoat, and a collection of bridal headpieces. After thanking Maro profusely I rushed home to stash the loot in my living room because the combined value of said dresses was WAY more than what my car was worth.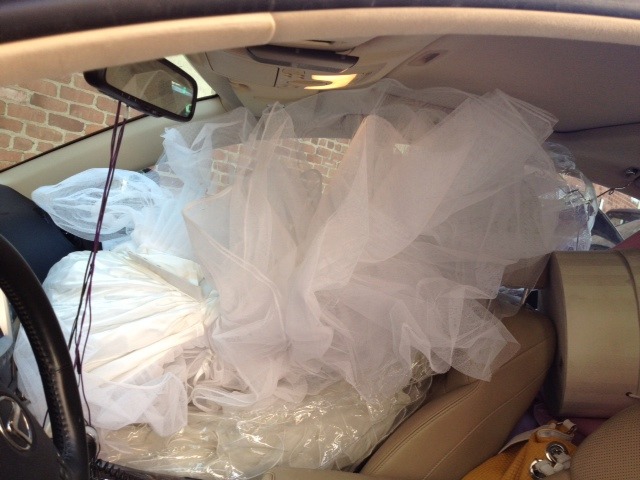 My living room looked like a princess's closet- all pink and fluffy. The gowns were safe and sound, ready for the shoot.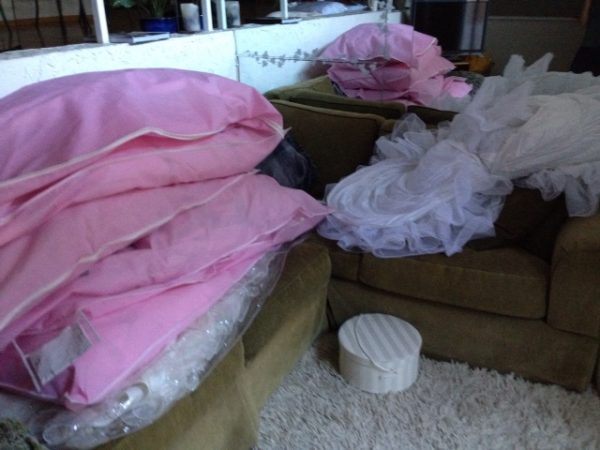 The Blue Light
Meanwhile, back at the studio, Lesley was busy doing lighting tests, figuring out how to recreate the Hot Coco editorial blue light while using the bust of a mannequin as her test model.
Amusing side story: The mannequin bust is actually a recreation of Lesley herself.  Years ago, during Lesley's modeling career, she had the rare honor of being hired to be the face of a size 14 / plus-size mannequin by mannequin manufacturer Patina V.   The company representatives were gracious enough to let her keep one of the bust heads.  Now she uses her 'mini-me' as the model to check lighting and try new things.
Lesley placed her mannequin on a couple of boxes so that she was about the right height and got to it, testing different angles, types of lighting, and colored gel placements. She was looking for exactly the same type of shadowing that I had requested in the editorial: the detailed illumination of the bare wall behind Coco, the harsh blue light playing across her garments, and a perfectly matched color blue to the one in the editorial.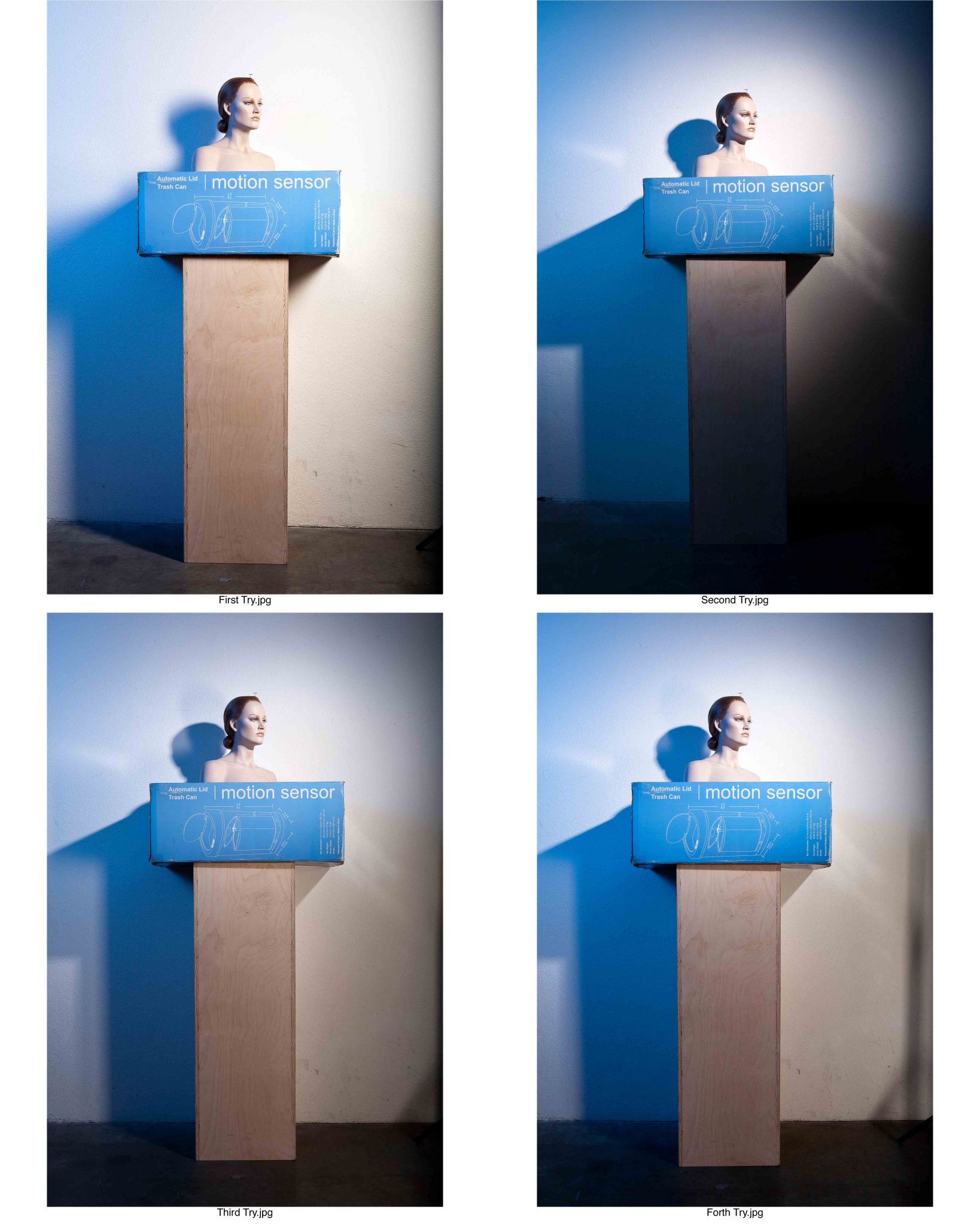 After comparing the results of the four variations, Lesley decided her first set up was the most accurate recreation of the lighting, with one minor correction:  The blue light in the Coco Rocha editorial had more green in it.  Lesley added a green gel to the blue one and voila!  Success.
Ready, Set, Go
Now both Lesley and I were ready to shoot this project and see what we could create as a team.  At worst, we would both grow and learn from our mistakes.  At best, we would produce a work of art that we were both proud of.  The shoot was scheduled in two days, we had everything ready to go, so it was time to hold hands, trust, and jump.
Onwards and upwards.
——————————–
This is post# 1 of a 2 part series.
Click here to read post #2: The Anguished Bride Comes to Life