For Thanksgiving this year my #HandsomeDevil and I hopped on a plane to Mexico. We visited Tulum, a stunning strip of white beach and turquoise sea adjacent to a little town mixed with locals and expat hipsters.
Tulum has become a destination for fashion people, movie stars, and other creative types over the past decade or so.  It reminds me of a cross between Los Angeles and a Coachella festival, with daily yoga classes, Shamans, organic smoothies, and earthy colored bikinis.  The style is flip-flops and diamonds, and the scene is romance.
By the time we got home we both had a love for Tulum and a membership in a wholesale travel club.  Read on for more, because I have a special link for friends and family- you can get up to 60% off of hotels worldwide…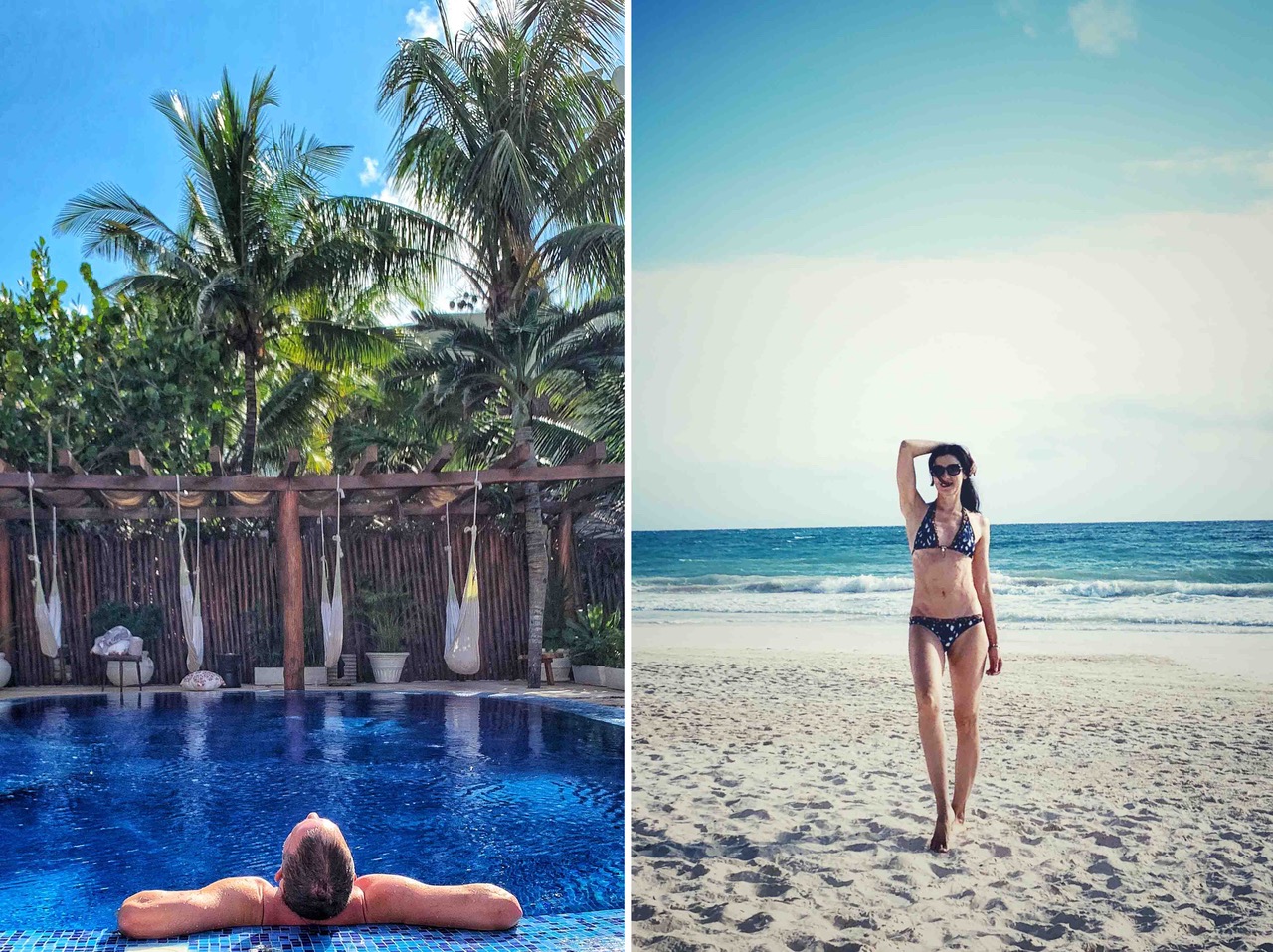 Tulum, Mexico- An Amazing Place To Vacation
Tulum is located south of Cancun in the Mayan Rivera region of Mexico.  Visitors lounge on the white sand beach, or have a lovely meal in the small downtown area, while divers and snorkelers explore the hundreds of nearby cenotes, natural sinkholes in the limestone bedrock flooded with clear, filtered groundwater. These alien looking underground caves were the Mayan's source of fresh water, and the entrance to their spiritual Underworld.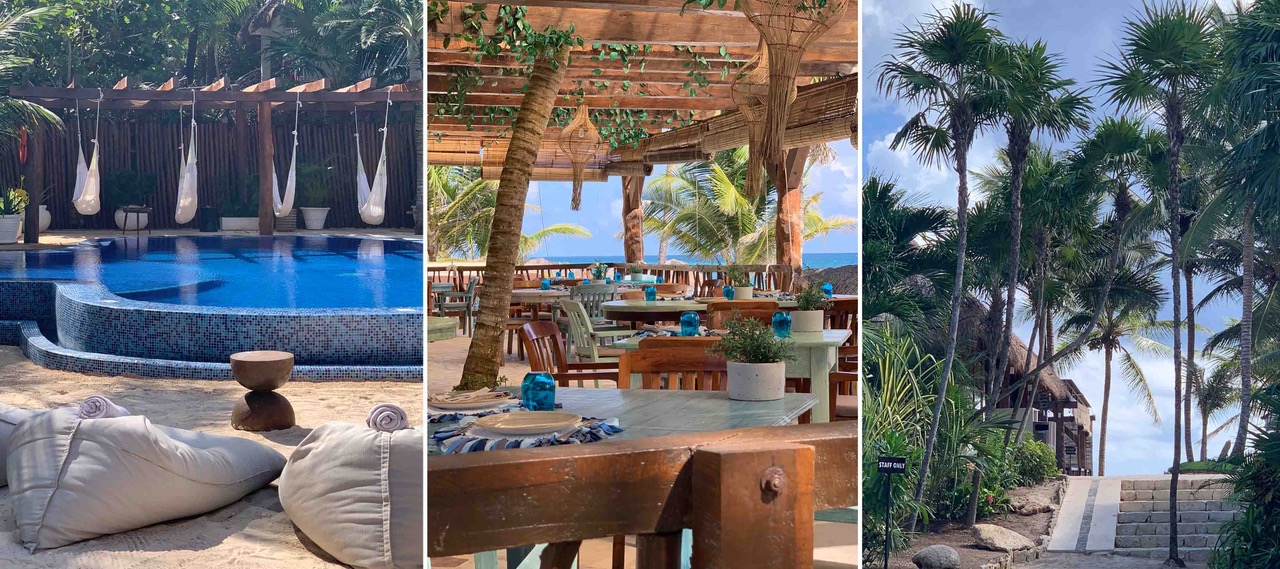 We ended up staying at the most magical beach side resort, completely by accident! I try to be an economical traveler, so I booked a relatively inexpensive Airbnb in Tulum (this link will take you there) and it turned out to be a beautiful hotel room attached to the Ana y Jose Charming Hotel and Spa.  When I say "attached"- the standard accommodations at this hotel are large, beautiful beach cabanas on the resort's private beach.  My hotel room was an exception: their reception area is just across the small, two-lane road, the only road that runs along the beach in Tulum.  Above the reception desk are two charming hotel rooms that were beautifully appointed.  We got a deal and still had full access to the resort as hotel guests.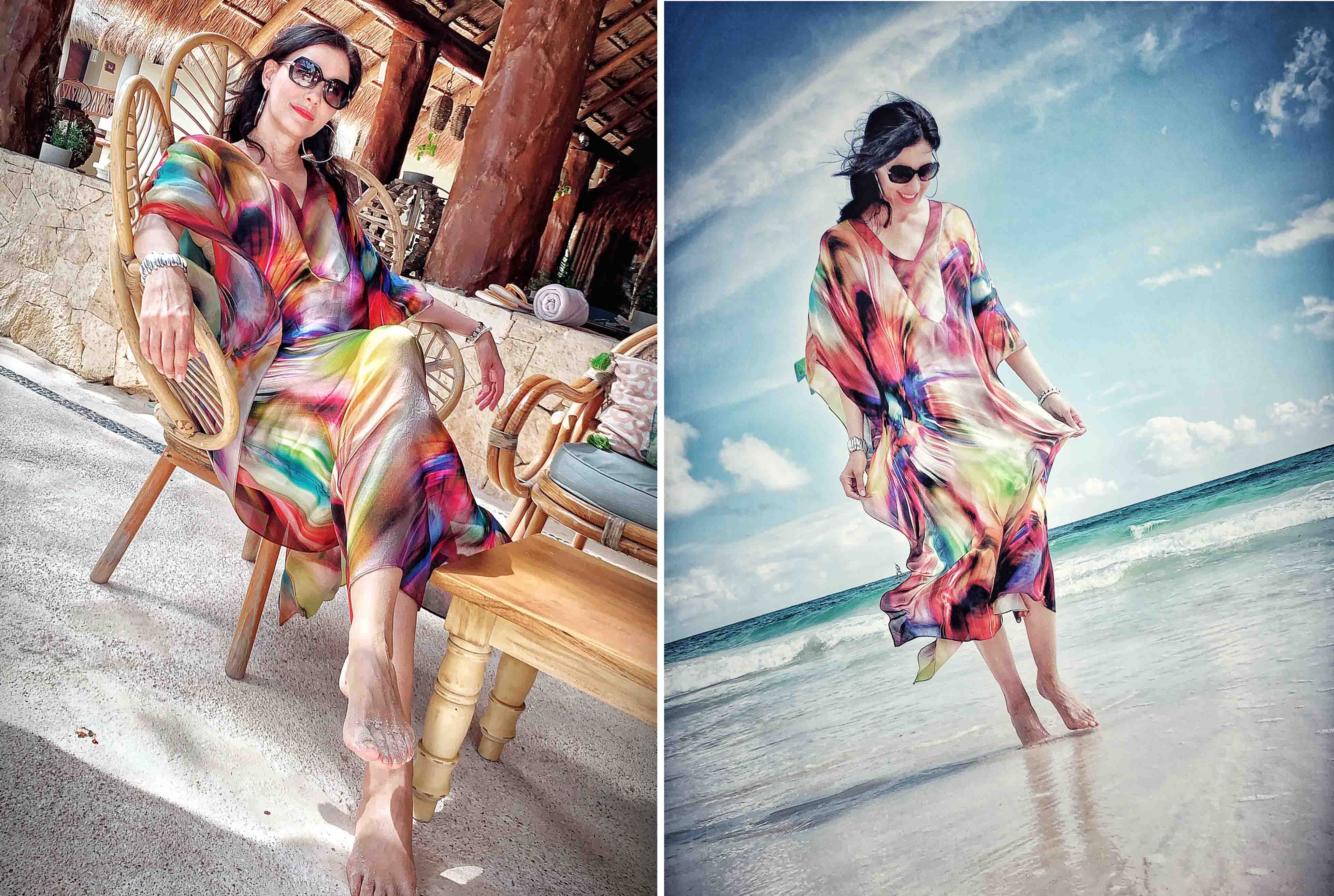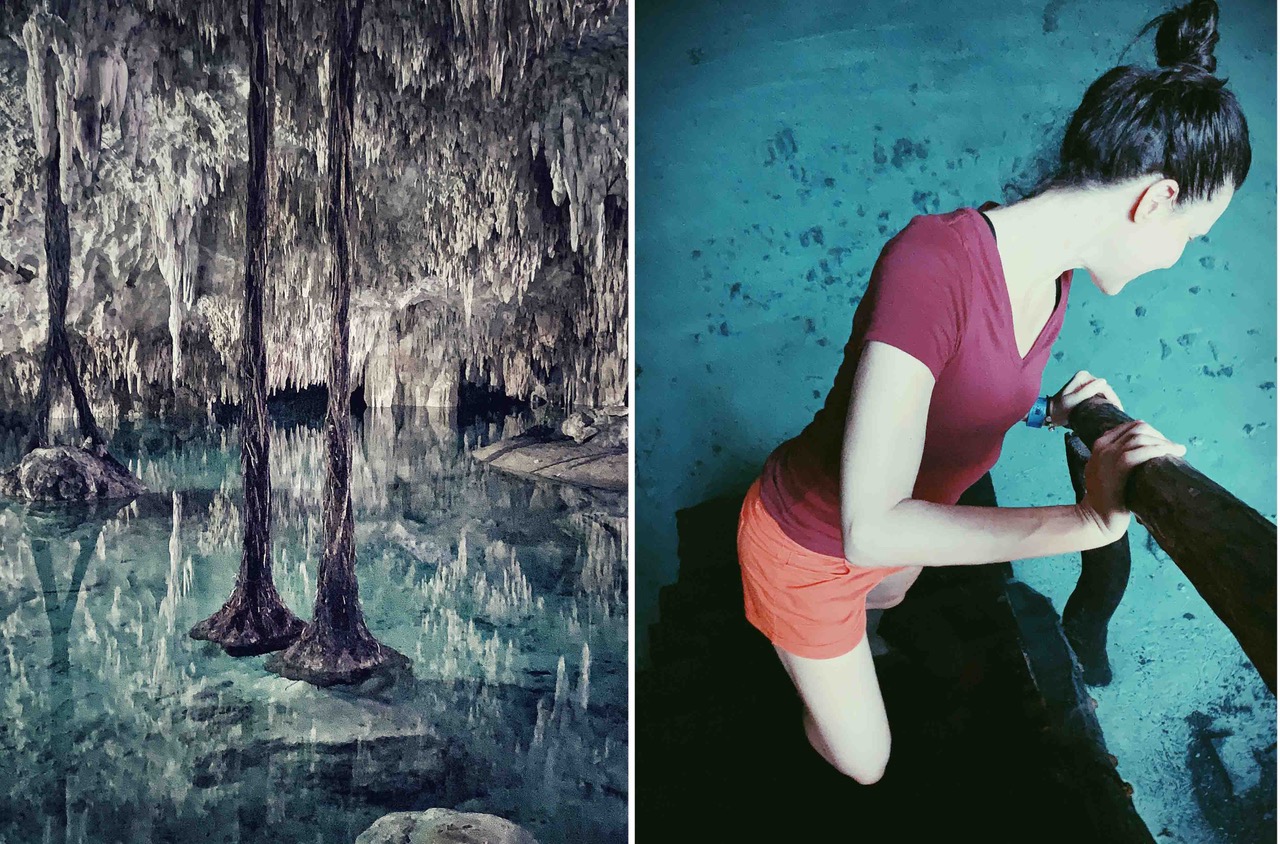 We joined a Wholesale Travel Club- Check out the friends and family benefits!
After days of fun in the sun, the weather got cloudy… so we took the opportunity to meet with the Ana Y Jose Collection Club regarding their wholesale travel club membership. Members receive discounted access to their three Tulum hotels: Ana y Jose Charming Hotel and Spa, Hip Hotel Tulum, and the Coral Tulum.  Members also have access to their private travel booking website. This website hooks into the same wholesale database that Priceline, Kayak, Hotels.com, Expedia, Cheap Tickets, and the other travel search sites draw from (apparently their is only one, and all the travel sites draw from it).  The Collection Club staff stated that they don't take as much commission as the other travel sites do, so their price points are significantly lower… I decided to check it out.
Checking the Rates…
I grilled the staff for 3 hours, comparing their Collection Club prices on hotels against Hotels.com, my favorite booking website.  The Collection Club was the winner. I found a week in the Waldorf Astoria in New York for $2,000 compared to the Hotels.com price of $4,000. I priced out a week for 2 people at the all-inclusive Sandals Wild Orchid Montego Bay in Jamaica for $2,900, while Hotels.com had the same week listed for $4,000.  I could also purchase cruises, timeshare rentals, golf, cars, and air travel.  I really noticed a difference in the 4 and 5-star luxury hotels- they were listed for 3-star hotel prices. I don't know about you, but I LOVE luxury hotels.
Access to the luxury hotels closed the deal for me- I was in.  I signed up for the membership by buying a bunch of travel up front, and voila- now I have access to the deep discount prices. My #handsomeDevil and I plan to travel everywhere- bring on the vacations!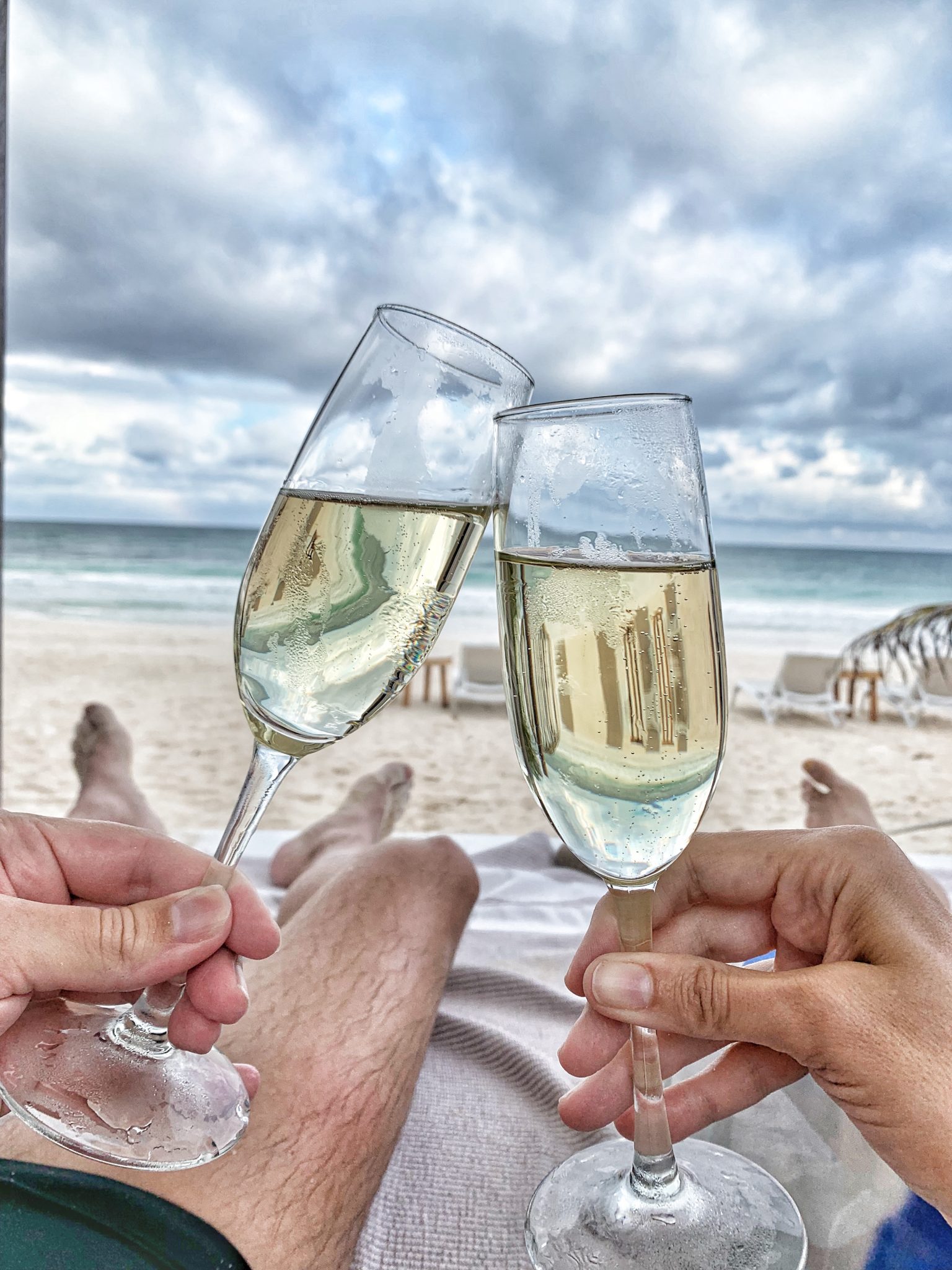 Bookmark This Friends and Family Link for up to 60% off Hotels…
They also gave me a friends and family link to give out. With it, you have access to wholesale rates at more than 400,000 hotels and 9,000 car rental locations around the world.  It doesn't have quite as deep of the discounts I get as a paying member, but you can find some great deals here.  They even show you what the other popular travel sites prices are for same trip, right next to your listing, so you can compare quickly.
Bookmark this link to the Collection Club friends and family website to search for deals when you are booking travel- I paid a lot for this membership, so I want everyone to take full advantage. Bring on the friends and family travel!
In conclusion, if you would like a romantic vacation to refresh your mind and body, check out beautiful Tulum, Mexico.  And, if you want a great deal on your stay there, check out my personal travel discount link for great deals on your hotel while you are there.
Onwards and upwards! Jacqueline