The Magic of the #ForeverFierce Tribe
Before I met Catherine Grace O'Connell it had never occurred to me to be part of a group.  My blog and late-life modeling career were my own creation.  I had always been a bit of a loner because most people could not understand or agree with my life and path choices, so I was comfortable and accustomed to making my own way.
Then I met Catherine, the leader of the #ForeverFierce midlife Facebook group, 6,000 strong women, and full of "midlife" women cheering each other on.  And in that lovely way that she does, Catherine immediately began to support me.  Encouragement flowed in my direction- supportive comments on my social media posts, promoting me to others, inviting me to join her events, shoot with her, be on her podcast, and referring me to others.  I was surprised.  Here was a woman I barely knew who was sharing all of her resources and momentum with me. I wasn't sure why, but it felt good.  Catherine's expression of goodwill was completely authentic- she meant it- and she does the same for all the others in the group as well. Catherine supports all of us.  She created her own community, she leads it, and she provides everyone the same encouragement. And we, in turn, reach out and support each other.  I have a tribe behind me now. The #ForeverFierce tribe.  It is full of amazing ladies cheering me on, and even more amazing ladies whom I cheer on as well.
Catherine has shown me the power we give to each other as group members- we create momentum for each other by working together. In the spirt of that support, Catherine and I chose to feature three of our fellow #ForeverFierce sisters- ladies whom we we admire for their vision and drive, and whom we celebrate as part of our tribe. Please enjoy their bios and images below.
Jaclyn Lesley Jones launched her own luxury shoe line with the goal of creating a shoe that was missing from the marketplace- one that is both stylish and comfortable.  Seriously, you can't look beautiful in your heels while you are limping along in pain.  So, Jaclyn solved this problem by designing all of her shoes with a 4mm thick insole and perfect balance.  I wore my Jaclyn Jones double strap  "Poppy" heels, complete with burgundy calf hair, on my first photo shoot with Catherine.  A woman passing me on the sidewalk couldn't help but breathe a "those are incredible shoes" over her shoulder as she walked by…  She was right, those shoes are stunners.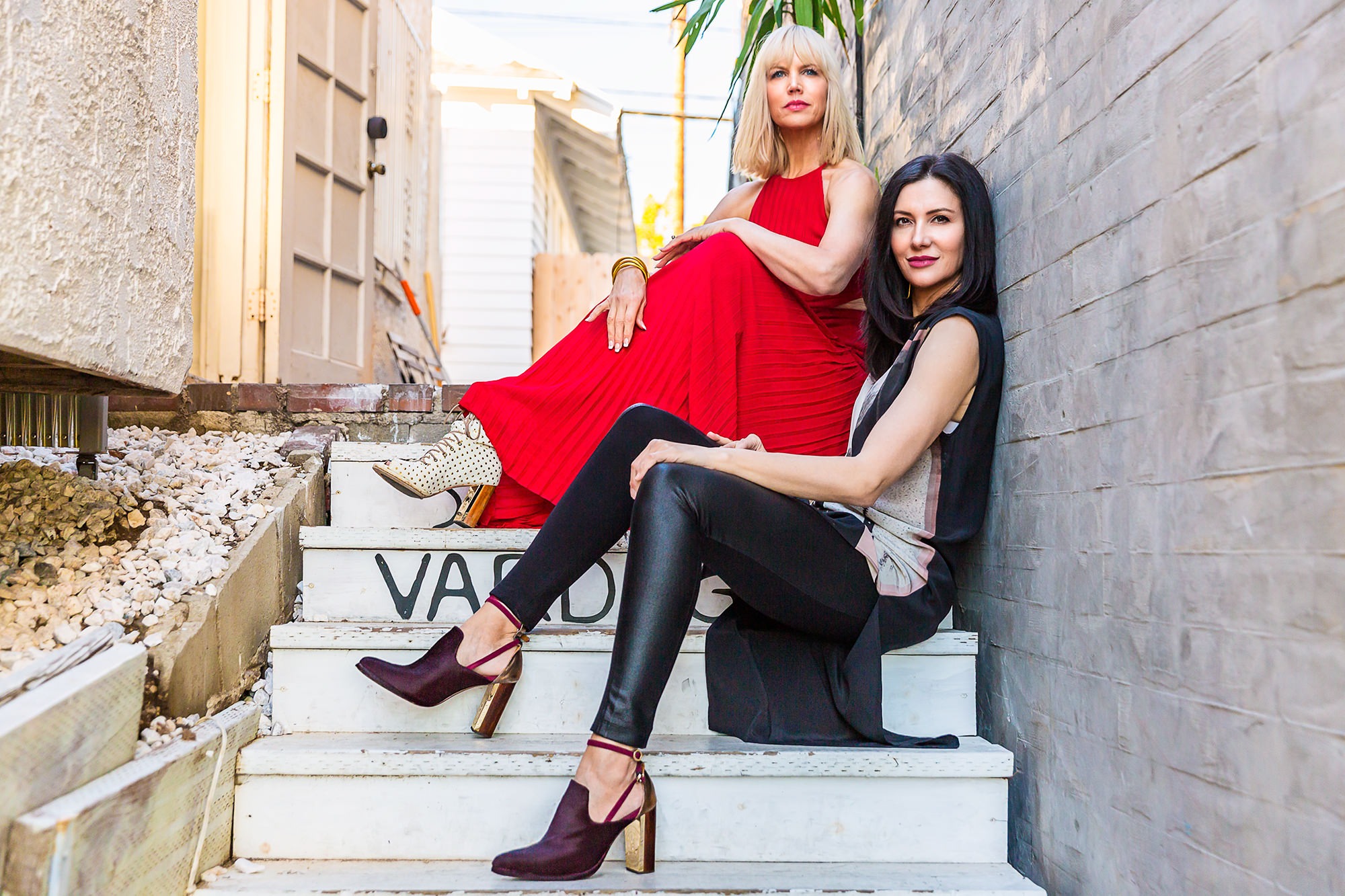 For this photo shoot I also added in my new mustard yellow "Lily of the Nile" shoes (such a great color), and yet another woman walking by eyed my shoes and stated emphatically "fabulous shoes, wow!" Women are drawn to Jaclyn's unique shoes, they notice them, looking them over carefully, and and then joyously applaud your find with an emphatic compliment. Catherine is wearing her lace tie up Magnolia booties in these shots.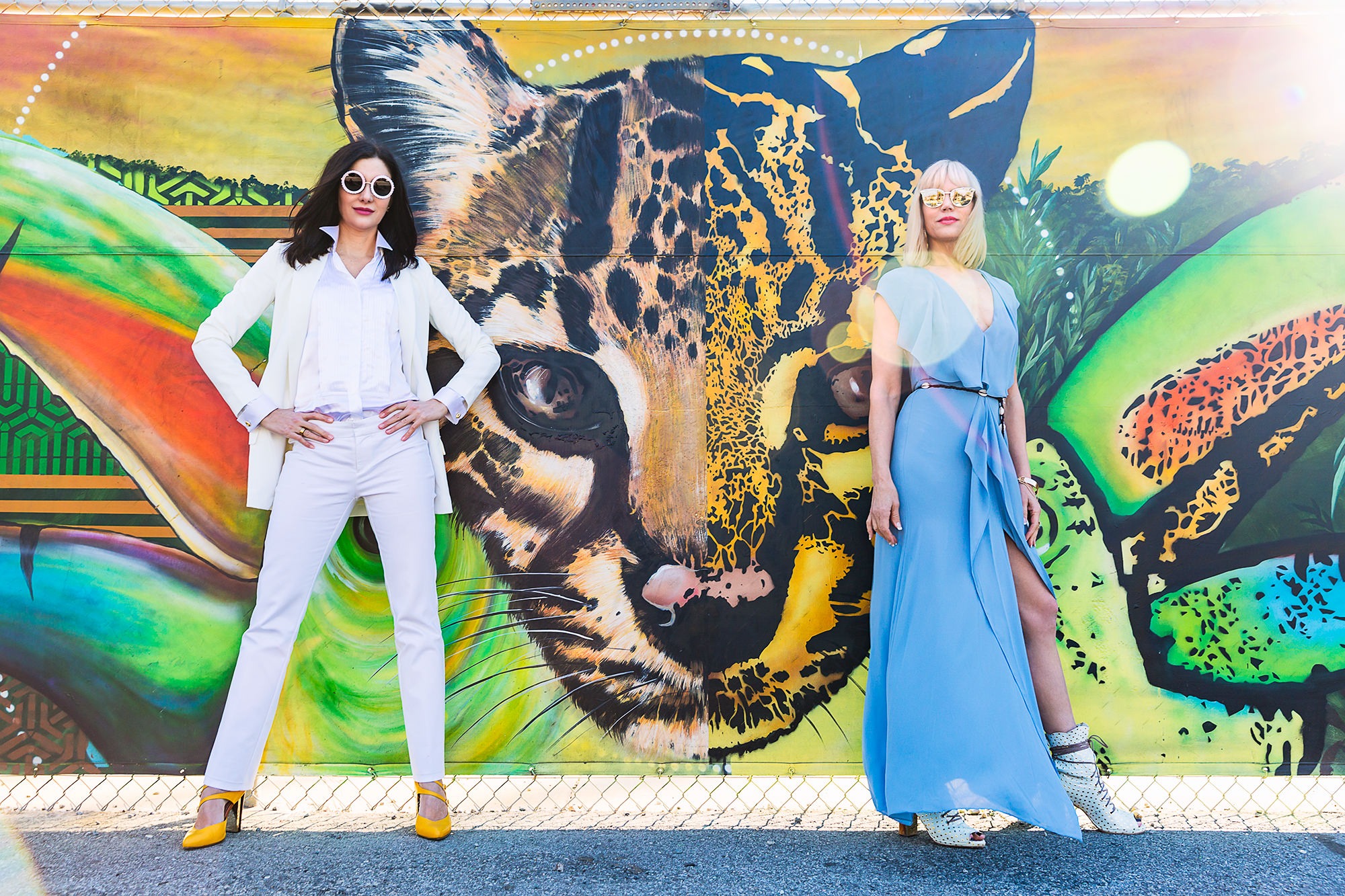 If you are a shoe lover, reach out to Jaclyn Jones USA to host a luxury trunk show at your home in which all guests, including you as the host, will receive a generous discount. This is the perfect private party for shoe lovers.  Catherine and I are both honored to represent Jaclyn Jones USA.  All of the images in this blog post feature Jaclyn Jones USA shoes.  I welcome you to check out their full collection here.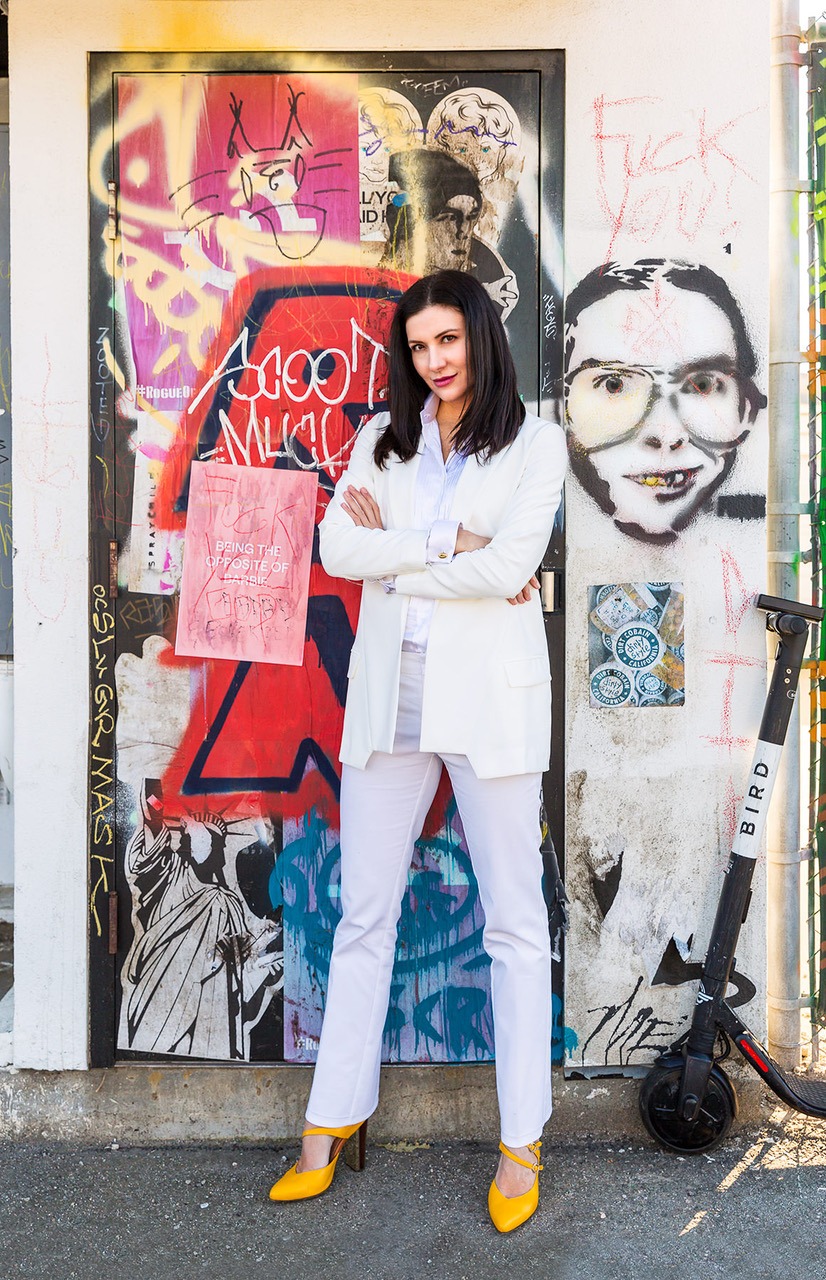 Will Leather Goods in Venice was where Catherine and I met for the photo shoot, hosted by General Manager Shannon Gunderson.  A full size, paper mache, rainbow-colored cow greets you by the door, begging for an instagram photo.  The shop is filled with high quality, handmade leather goods of all types, including bags, hats, wallets, and backpacks.
For the shoot I selected an unusual burgundy briefcase called the "Counsel Bag" make with vegetable tanned Italian leather and solid brass hardware, and featuring the all important slot for my laptop built right in.  As a tall woman, I love a BIG bag- I can carry large handbags without being overwhelmed. I paired my briefcase with a stylish leather hat.  I even found a pair of old fashioned boxing gloves, the type you would see in a vintage movie, and Catherine and I had fun boxing it up for the camera.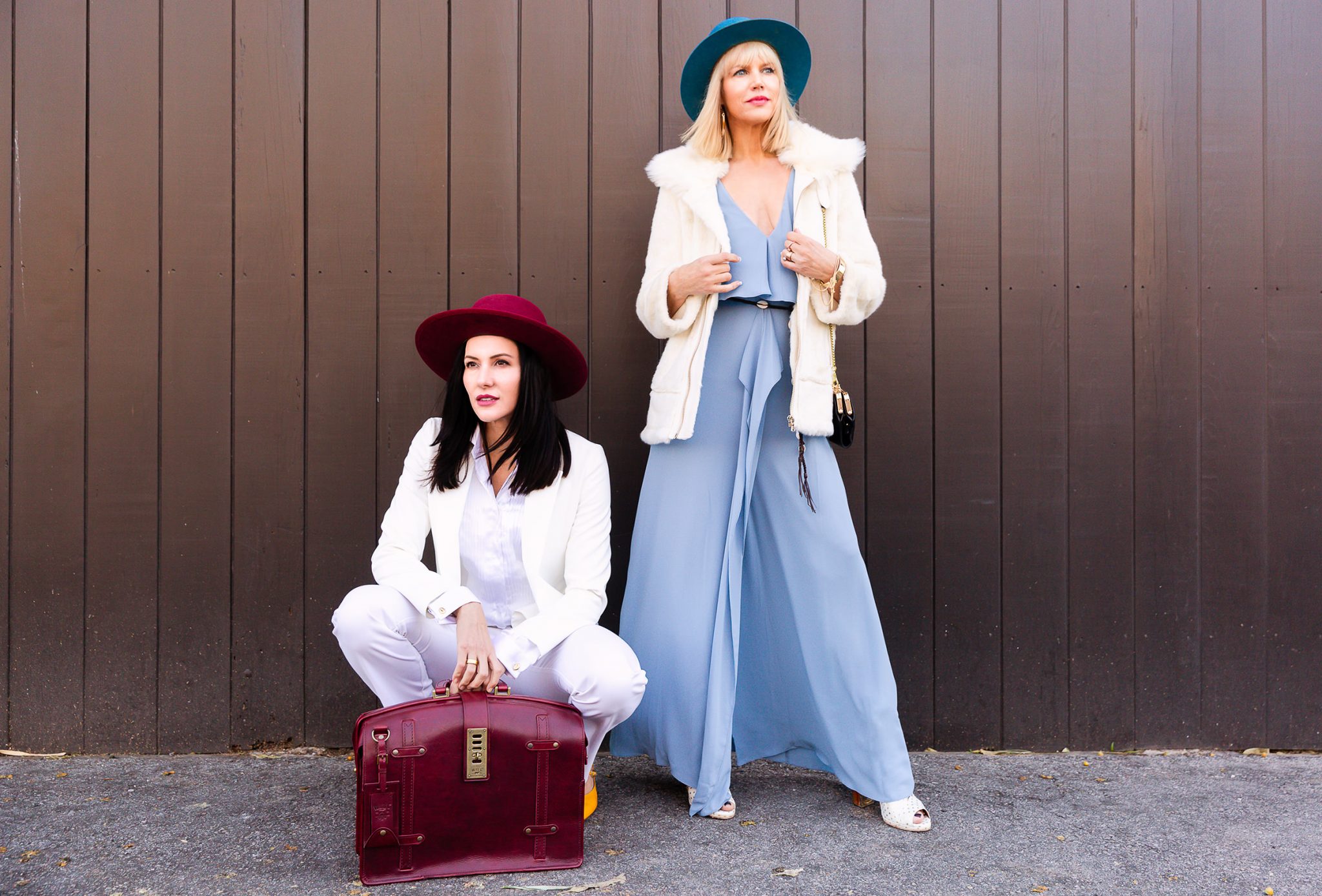 Will Leather Goods invests 2% of every purchase to give kids in America a backpack to carry their dreams – with an ambitious goal of donating 100,000 backpacks to kids across America by 2025. And, if you mention this blog post, Shannon and Will, the owner, will take 20 percent off your purchase!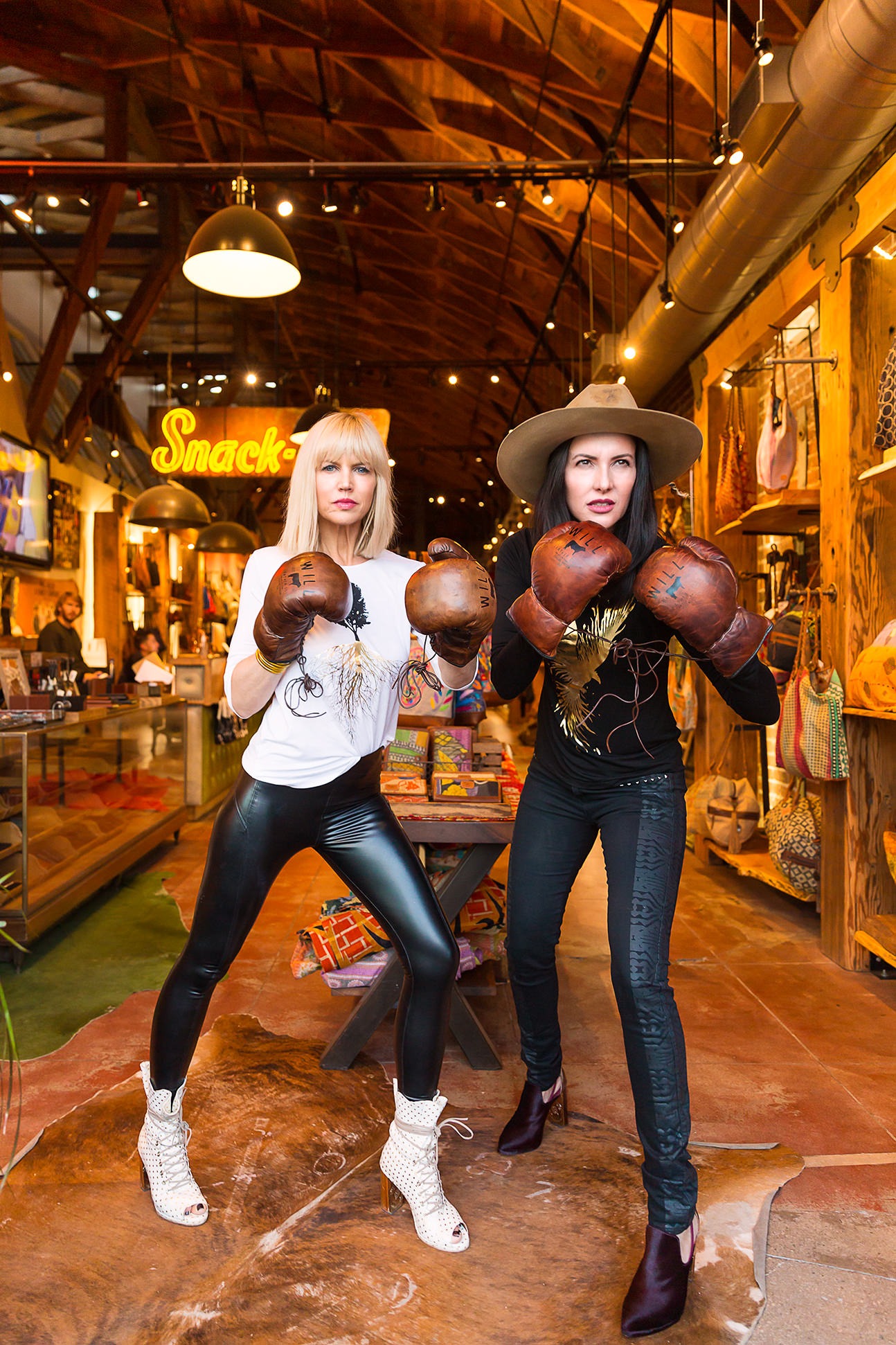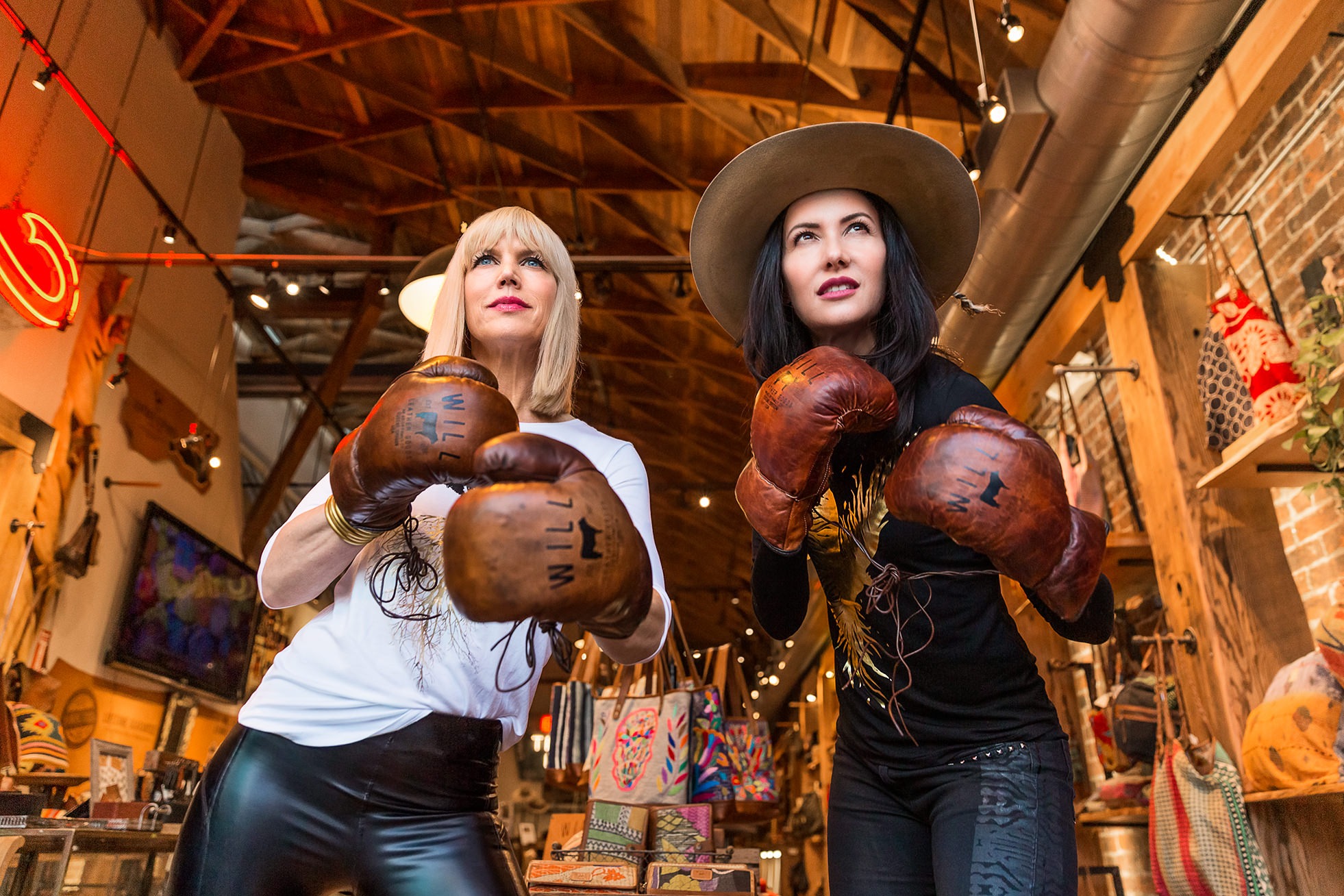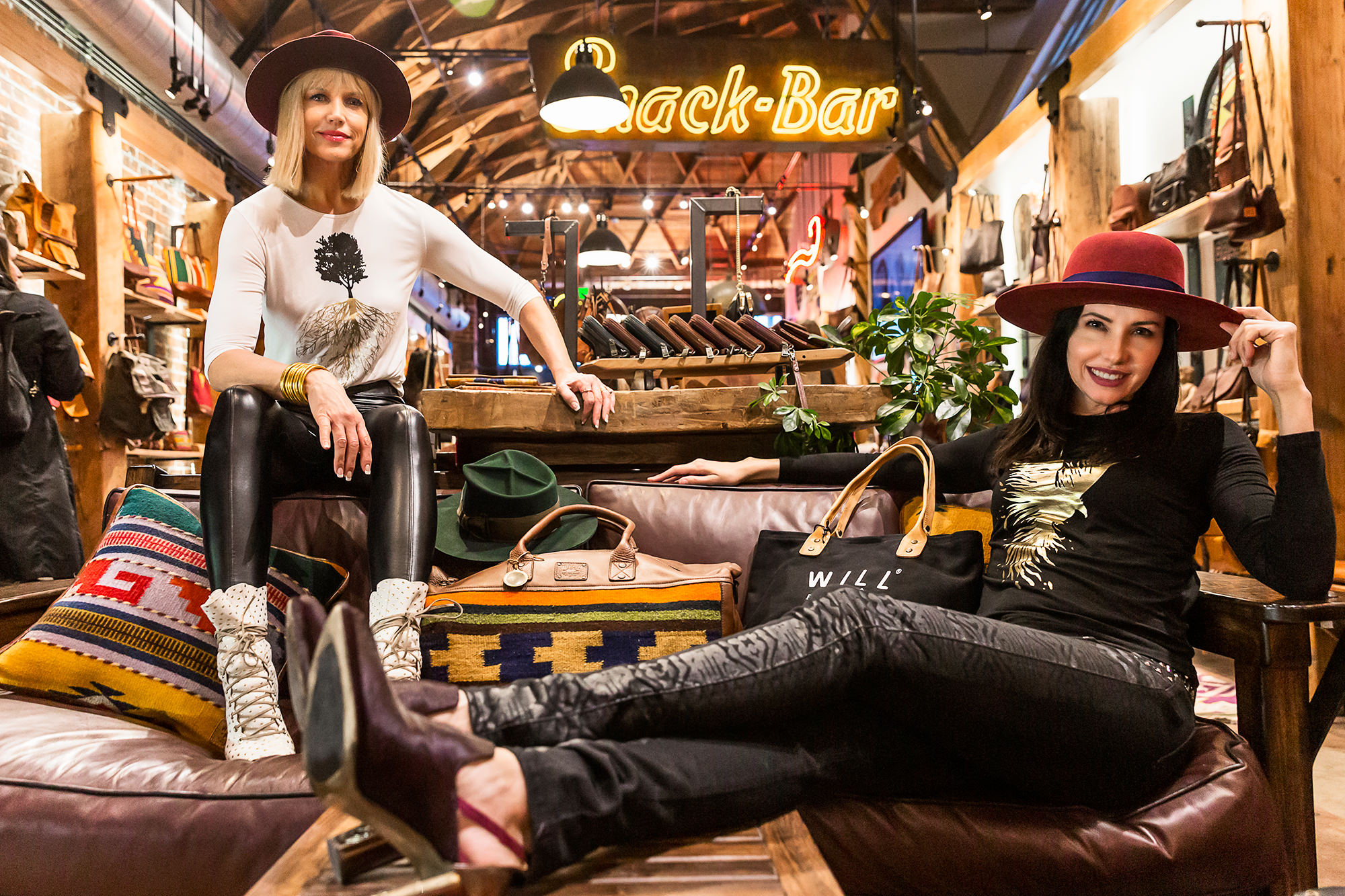 I met Miriam in a Facebook group, and her vivacious enthusiasm drew me to collaborate with her- we created some powerful images to represent her new "We are Kintsugi" collection. You can read about our collaboration here.
Miri wants to empower women to accept their imperfections and limitations as part of their own beauty.  She encourages women to "wear their scars" with pride, to understand that each one of us is a unique work in progress, and that every woman can transform her life into a joyful and rich experience regardless of what has happened in the past.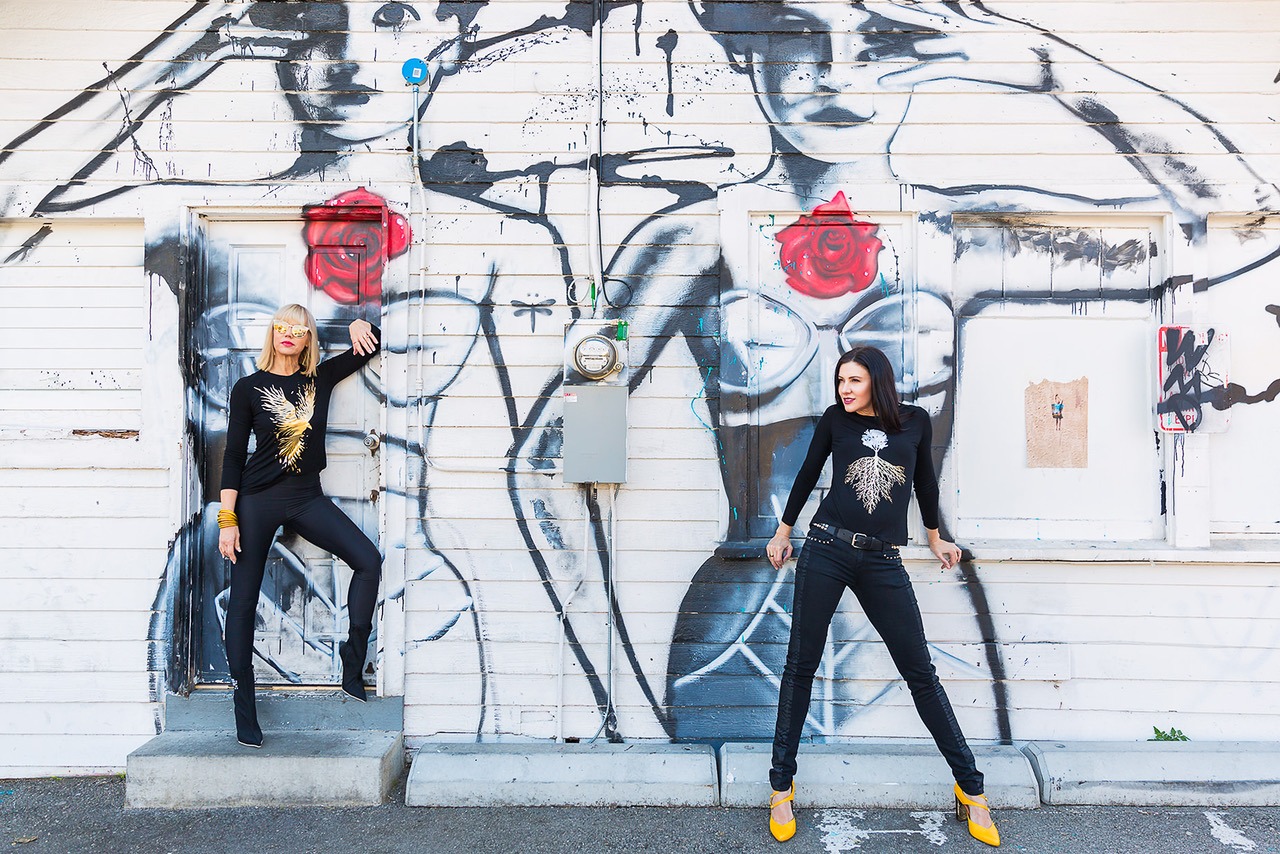 Miri sent us two of her empowerment t-shirts to include in our photo shoot- one with a Phoenix rising "symbol of renewal", and one with a tree of deep roots, "we are more than what is on the surface." The shirts are both artistic and empowering, and both are available in white and black. I love the quality of these shirts – they are made with stretchy Italian fabric- I plan to enjoy mine for years to come.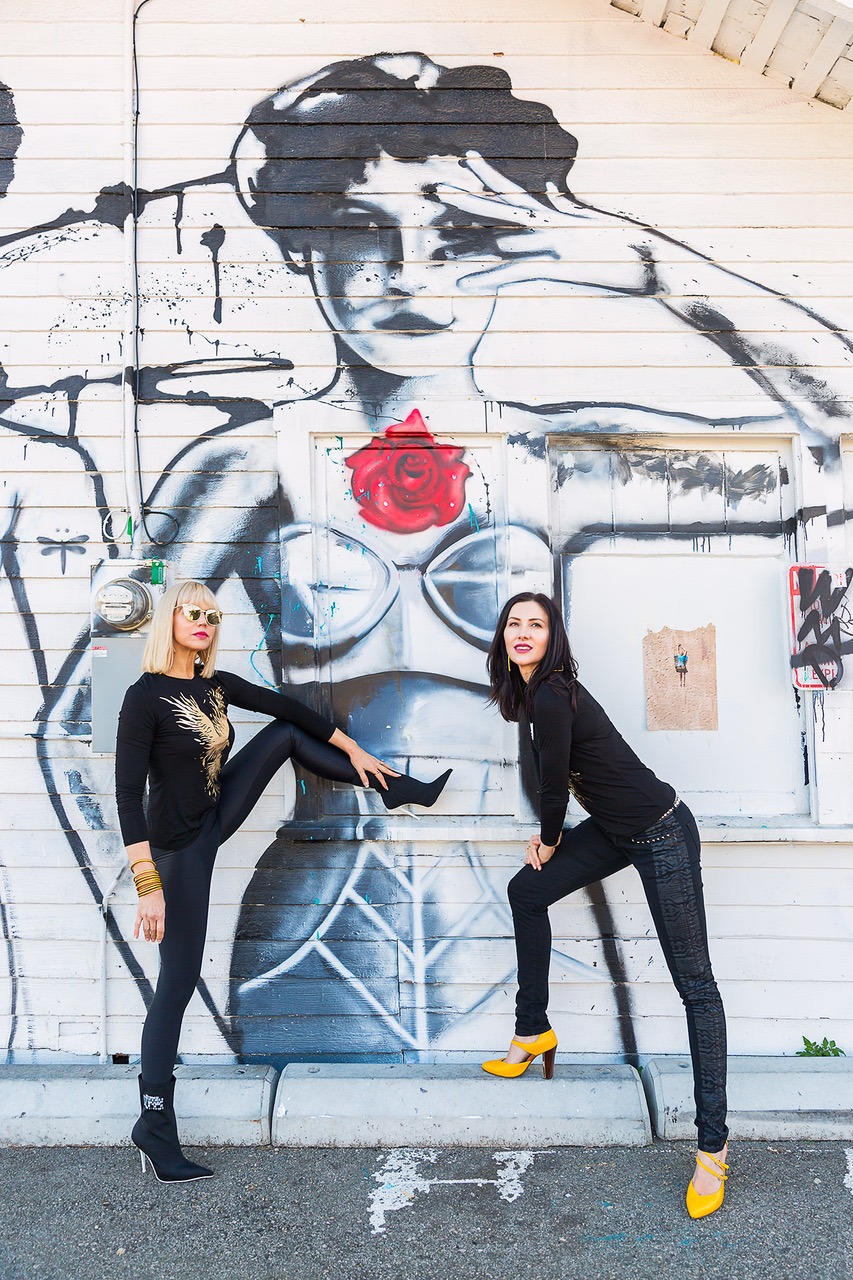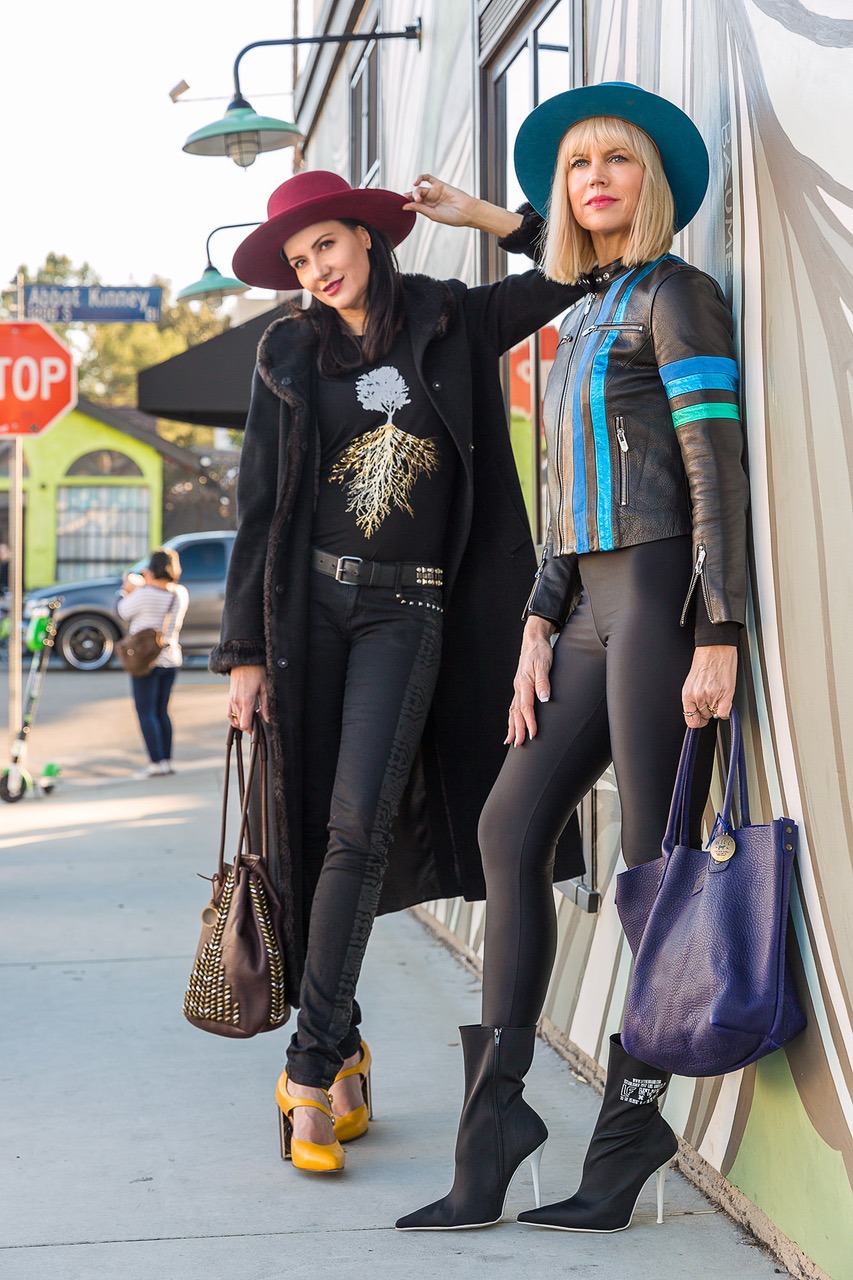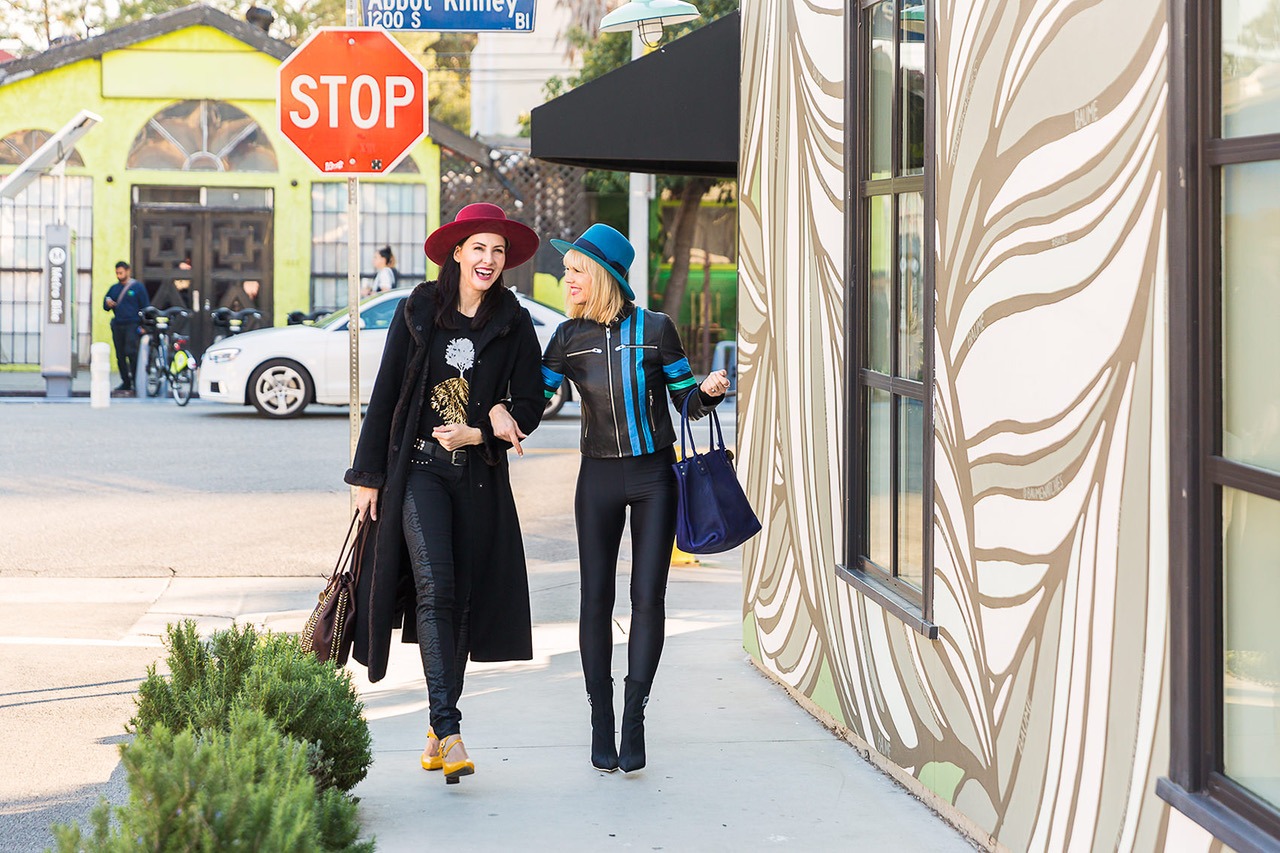 A special mention here to CEO Color Renholz of Eila Cherie, who I plan to introduce to Catherine and the Forever Fierce Tribe. Eila Cherie is the accessory brand who provided the white sunglasses I am sporting in this picture. Eila Cherie donates 10% of each sale to the Global Fund for Women , representing the human rights of women and girls.  In Color's words: "We are a lifestyle brand for the boss babes who are inspired by change and driven by kindness".  Well said, Color- keep it coming.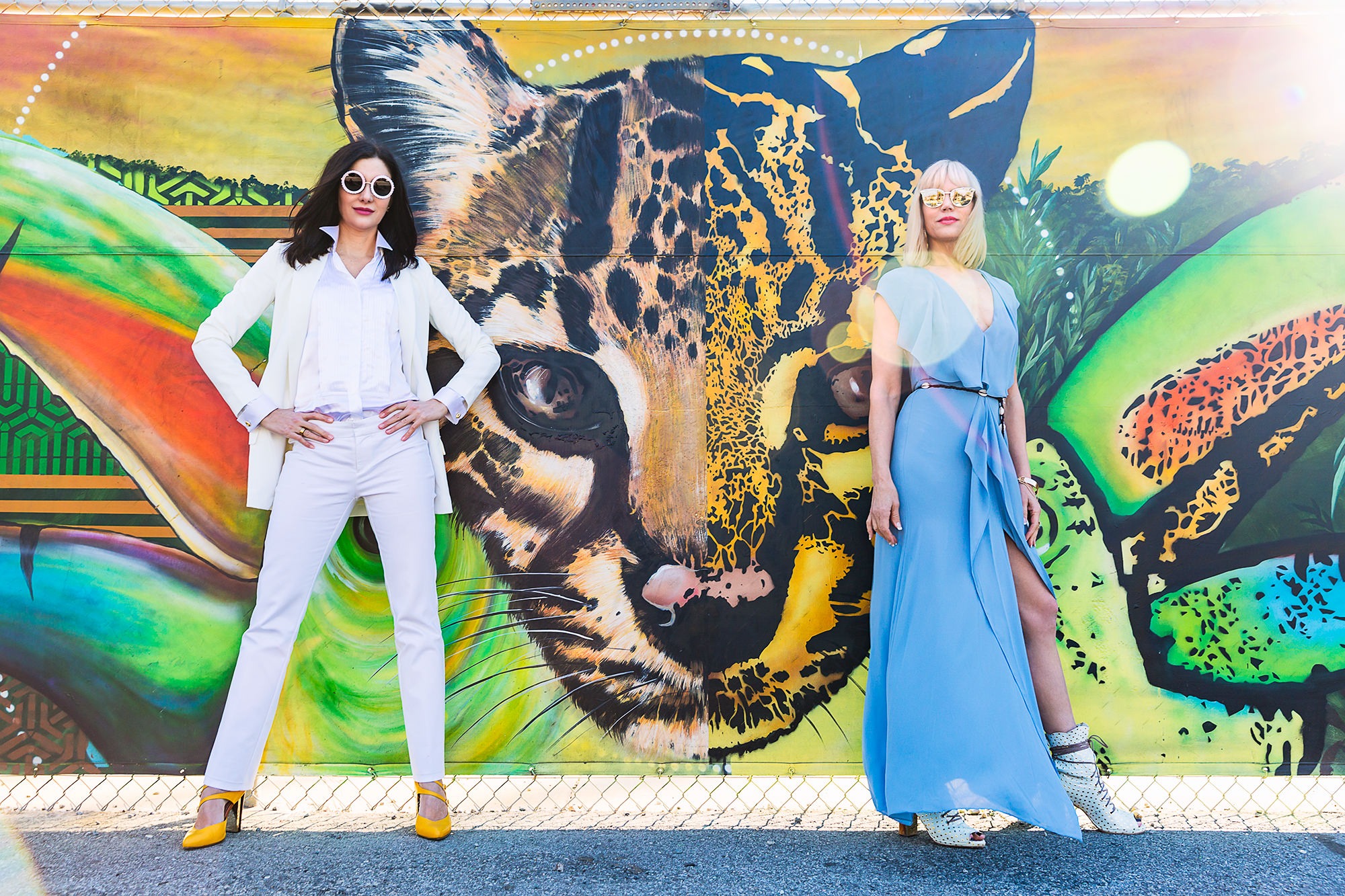 Kudos to Our Sisters
To all of these fabulous #ForeverFierce sisters / brand partners who are out changing the world one bit at a time, I salute you.  Onwards and upwards to all of us.
Sincerely,
Jacqueline Depaul