Photographer Eduardo Von Garcia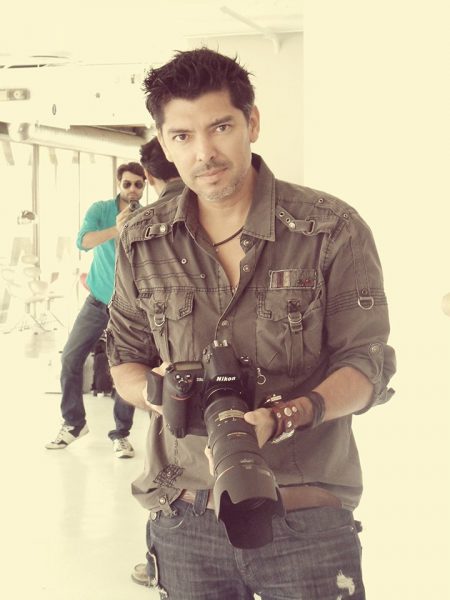 When Yellow Brick Runway sat down with Miami-based photographer Eduardo Von Garcia, he was mere hours away from flying to Paris—his very first trip to Europe. He gave off that unmistakable energy of someone about to see and be inspired by a new part of the world. Garcia, who is originally from Venezuela, is no stranger to new adventures, his circuitous path to photography case in point. As we started talking, Garcia rolled up his sleeves, revealing a collection of leather and beaded bracelets, ran his fingers through his thick, tousled hair, and adjusted his eyeglasses, ready to talk graphic design, the human aspect of photography, and going for the candid shot.
Jennifer Massoni Pardini: How did you know you wanted to be a photographer?
Eduardo Von Garcia: I was very bad at everything else, numbers or chemistry. And I never knew why. It wasn't until I discovered an art institute in Valencia, Venezuela, my hometown. I studied there to be a graphic designer, but I never knew in a million years that I was going to be a photographer. When we graduated from the institute, our photography teacher made a toast and said he only saw two people who should take on photography and he said my name. I couldn't believe he said that. He saw something in me that at that moment I couldn't recognize.
I said, 'No way.' I went ahead with my graphic design career. I worked for different advertising agencies. I did the MasterCard campaign for Latin America. I worked for newspapers. I did freelancing for a lot of advertising companies. I was made for that career. But then I moved here to America. For me it was a beautiful challenge to learn the language and just to interact. I started working for several design studios. With time, I was able to learn English and then I went to work for several general advertising agencies. I believe this is the only country where if you have a dream, a goal, then you can make it happen.
But I needed more freedom. The nine-to-five of graphic design work was killing me. I wanted to be outside, in the street. I quit and I didn't know what to do. I wanted to travel. I ended up renting a camera and I did a test with one of my friends who used to model. When I pointed the camera at her it was like I knew exactly how to wait for that moment, create that moment. Some wind hit her face and I captured the picture. It was automatic, instant. She took the picture to her agency and they liked it. They asked me to take pictures of other people. I ended up getting my own camera and testing, using make up artists, interacting with people. That's what I love doing… meeting new people from different backgrounds, interacting, and creating something.
JMP: Your photography has been called artistic, personal, communicative, perceptive, and passionate. How do your emotions come into play in your work?
EVG: For me, photography is an instinct; it is something inside. Some call it a gift. I like to say I don't know what I'm doing. It's the truth. When you go to a new place and location you don't really know, you see something in that moment when you feel the light, how it's acting on the subject, the ambiance. It's very important to interact with your subject, ask simple questions about likes, dislikes. Then it's going to feel like you can relate to them in the image. You want to make that moment very personal so when others see those images the person doesn't feel like a stranger. They're going to get that comfort and say, 'I like this person.' 
The most important aspect of being a photographer is you have to in one way or another make people feel that you're a friend. You're there to portray the best of that person for whatever reason at the end. You want to tell a story. It's not a movie, just an image. But with that you're going to be able to transmit emotion. It's the human aspect. It's a more personal approach. As soon as you put a camera in front of someone, it's an object. You have to make them feel that there's nothing there. I become very close friends with my models because at the end of a shoot we're just having fun, creating a great atmosphere.
JMP: Tell me how the Requisite Clothing suit campaign came to be after photographing Jacqueline Depaul?
EVG: Jacqueline was in Miami and asked me to do a model test with her and we really connected.  She showed the pictures to Requisite Clothing, and Requisite flew me to Los Angeles. In L.A. you have great photographers, so that was a sweet moment for me. That was two years ago. I'd been doing photography for four-and-a-half years at that point, and in a committed way for two-and-a-half-to-three years. You have to develop a style, your own personality. I learned by myself. I never worked for any studio or for any other photographer.
JMP: Tell me more about the studio where you shot the campaign. What inspired you about it?
EVG: The studio was The Concrete Loft by Image Locations, L.A. It's not only very well known, but it is a very expensive studio. It's mainly used for big photo shoots for TV shows or editorial for GQ, for Vogue. When you have a movie star, that's the studio they use. What I liked about the studio is that I love shooting natural light. I love that vibe. You can humanize the whole aspect with the clothes or with the moment. It's how you feel about the clothes.
JMP: Give us a behind-the-scenes picture of the shoot. What can you tell me about setting up and capturing each image?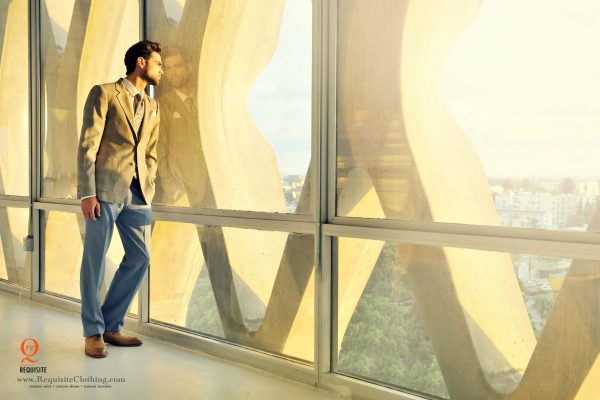 EVG: In a studio with natural light and big windows, you can explore every option out there by playing with the elements, the shadow, the color. Those are real colors. You cannot fake that. The client and the people who see the picture, they're going to feel invited not only to look at the image but say, 'I want to buy those clothes.' That was a very interesting aspect of the photo shoot to be able to create emotion with lighting.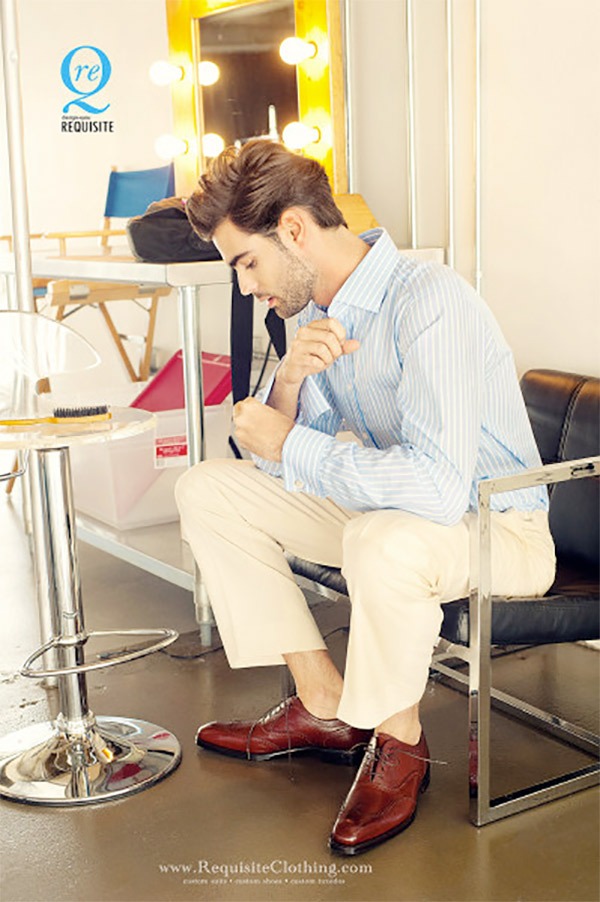 EVG: That was a real moment; he was really fixing his clothes. You can see his shoes are untied. Those are the real moments in a studio when I'm with my camera capturing everything. The designer adored it. Nothing was staged there and it ended up being one of the best images of the shoot because of that candid moment. Something you have to learn as a photographer is to listen to your instinct, what is happening inside of you. Sometimes you have to forget the technical aspect and just see what's going to happen.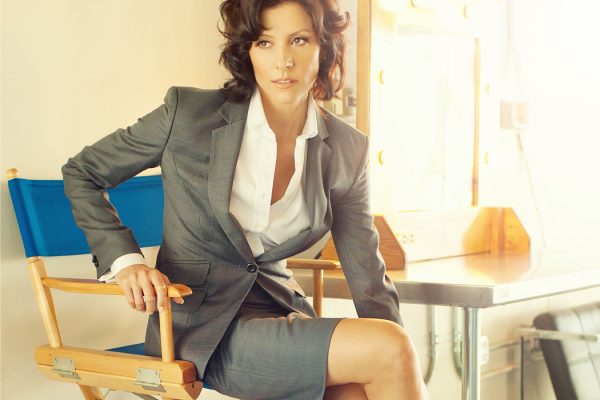 EVG: When I realized I had something interesting going on with the male model, I wanted to capture a more impromptu, relaxed atmosphere. I saw Jacqueline was doing the same thing in a different chair. I told Jacqueline, 'I love this!' Sometimes you have to use what you see around you. When you see what's there, people are going to relate more and be at ease.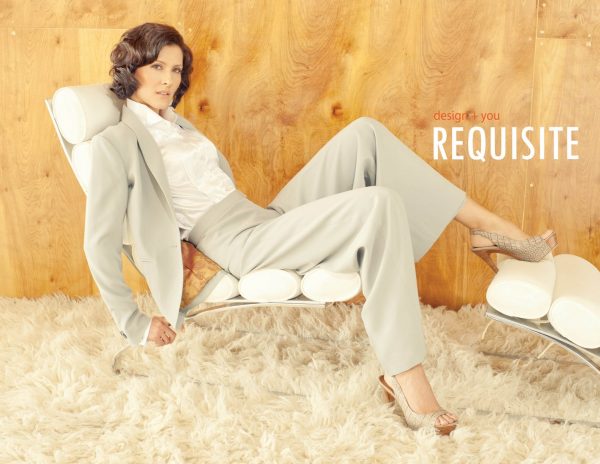 EVG: I like playing with the elements to make it a different composition. If she's working in a big company, you have this kind of furniture. I'm sure she's not going to wait for a meeting in exactly this same pose, but I can see her with a laptop on her lap. Why not? It's comfortable for me to relate.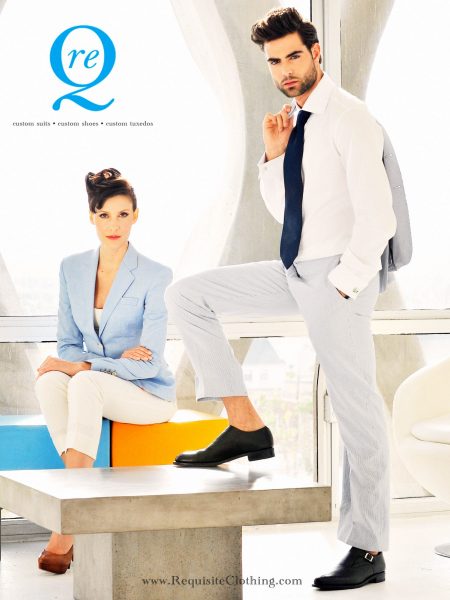 EVG: When you have two models, it's a completely different dynamic. You don't want them to compete. I also didn't want to make it a completely romantic story. Even if she was sitting on a bed, I didn't want to make them look like lovers. Maybe they could be roommates or best friends in a very informal way.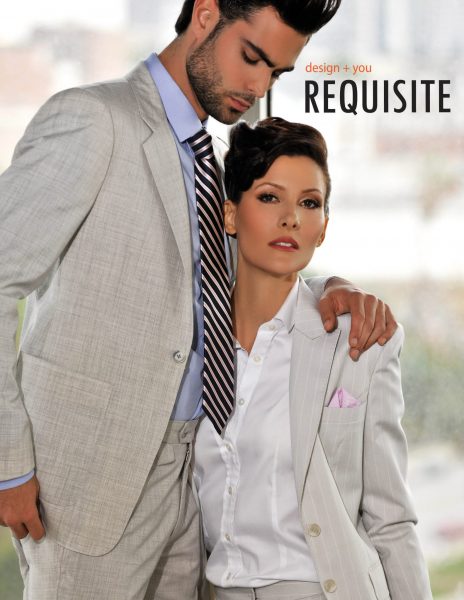 EVG: Here, it could be they are two very good friends that share the same interests or the same love for the clothes. They have similar bone structures, body types. For me that was very cool. I decided intentionally not to make it sexual because they could both be professionals in high-profile companies and enjoy time together. It's a good representation of two characters coexisting in the same place and not taking away from the other. You can assume it in any way you want. Maybe they are exes working at the same company. You keep guessing but you don't exactly know. I prefer the clothes do the talking in a more subtle way.
EVG: I wanted to emphasize the lines and the way the designer cut the suits. They have this very organic fit on the body. I also wanted to characterize the 'male'/'female' points-of-view. Think Mad Men, where Don is the quintessential masculine figure of the show and Betty is the perfect counterpart, feminine and soft.
JMP: Jacqueline says you like clean body positions, strong lines, power, and sexuality in your images. Did that lend well to photographing men's and women's suits?
EVG: Every case is completely different. It depends on the moment, background, the chair. I pay a lot of attention to the elements. My style sometimes is very artistic, sometimes I'm more composed with the lines, the position of the arms, legs, the jaw line, the neck. All these elements are absolutely necessary to create even a headshot. I like when those moments are not scripted and you have creative freedom to express something. You have five million different ways to approach your subject; you just have to choose the right one. It's trial and error. Right now with technology, it's absolutely fantastic. If you don't like what you see, you can try it a different way.
JMP: Did you face any challenges during the shoot? If so, how did you work around them?
EVG: It happens all the time. Until we get there, I don't know what's happening. I say, 'I'm not a photographer right now.' I'm a photographer when I grab the camera and I point and see what is happening. It's magic.
To continue catching up with Eduardo Garcia, visit his facebook page.
To view the full Requisite Custom Clothing campaign, visit the Requisite Clothing website.
— Jennifer Massoni Pardini—