Catalog modeling looks easy.
Stand there, smile.  Sit elegantly, smile. Hand on hip, look at camera. Hand on collar, look away from camera, laugh.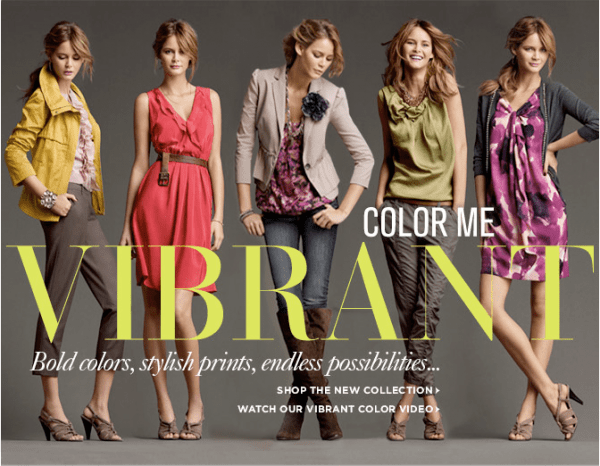 Beware of this deception. Good models make it look easy just as Tiger Woods makes golf look easy.
But it's not.
It took me a massive failure to realize that catalog modeling, and modeling in general, requires physical technique just like any sport.
---
My First Catalog Job
After signing with my first modeling agency, I was direct booked (meaning the client booked me from my pictures, without an audition) onto a ladies wear catalog job.  I had never heard of the brand, but soon learned they were as professional as leading online brands like Chadwicks and Boston Proper.
After hobby modeling (modeling as a volunteer for test shoots) for many years, this was my first real opportunity with real pay—the New York City day rate for a model.  If this brand liked me, they had the potential to hire me multiple times per year, several days at a time.
I wanted this to go really well..
I had the chance to create a relationship with a long-term client, something that I was familiar with in my technology sales business. In business, if I'm going to present to a client for the first time, I spend one to two weeks preparing my presentation, rehearsing my pitch, working through the client's business problems and how I can fix them, and strategizing the steps to create a successful presentation and positive outcome.  As a strong salesperson I've honed this ability over many years of practice.
At this point I can sell ice cream to an Eskimo.
For this catalog job, however, I made the fatal mistake that many junior salespeople make in the early part of their careers: I did not even know what I didn't know.  And therefore, since I didn't know what I needed to be ready for, I was not prepared.
I arrived on the job to find a full professional setup with a photographer, multiple assistants, set director, creative director, hair/makeup artist, model/crew trailer, and camera and lighting equipment everywhere.  The creative director was delighted with my look and my 5'11" height. Things were looking good.
I watched the tail end of the shoot for the first look of one of the other models, an experienced Ford model in her late 40s.  She sat at a coffee table, moving fluidly through the motions of happily enjoying her coffee and looking around the scene.
She looked like… a catalog model.  And she made it look easy.
---
Take One
I was next up on set to stand on a sidewalk and model a casual brown suit.  The photography assistant stood next to me with a reflector.  I confessed to him that I was very nervous and that I had not ever done a catalog job before.  The assistant reassured me that the photographer was very nice and that she would help me through it.
The photographer peered at me through her long camera lens, standing quite far away from me next to a computer screen perched on a stand.  This is called "tethering, where the camera sends the images to the computer screen where the rest of the crew can look at the images as they are shot.
The photographer signaled to me that she was ready to begin.
I nervously shifted my weight to one leg, put my hand on my collar, and looked into the lens.
I waited for some direction from her. Silence.
So I shifted my weight back and put my hand on my hip, and smiled, a tad bit too awkwardly.
As I was wondering what to do and feeling more and more uncomfortable, I thought that surely she would let me know what she wanted from me.
Eventually I just stood there waiting for her direction, certain that she would say something to help me.
The photographer stopped shooting after about two minutes.  She, the creative director, and her assistant huddled around the view screen for a long time.
Finally, the creative director came up and asked me to go back to the trailer to put my hair up because it was blocking my face.
I happily complied, thankful for her direction.
When I arrived back on set I walked over to the creative director perched on a low brick wall near the set.  She had the outfit assignment sheets in her hand and she was in the process of crossing my name off of most of the outfits she had assigned me to, reassigning them to the other two models. She even sent me back to change out of the brown suit and re-assigned it as well.
At this point I realized something had occurred, but I was not exactly sure what. I just knew I had not done well.
Take Two
I had two outfits left.  I watched the other models through the window of the trailer and desperately tried to figure out what I was doing wrong. I finished the shoot but the photographer looked very unhappy with me.  I could see the very sweet creative director moving back and forth behind the photographer, signaling with her hands, encouraging me, trying to silently tell me what to do, but I had no idea what she wanted.
I was lost.
The client paid me for the day but didn't use any of my images and told the agency they would not be hiring me again.
I had just blown thousands of dollars worth of potential paid work because I had no idea what I was doing and I only had one shot at it.
---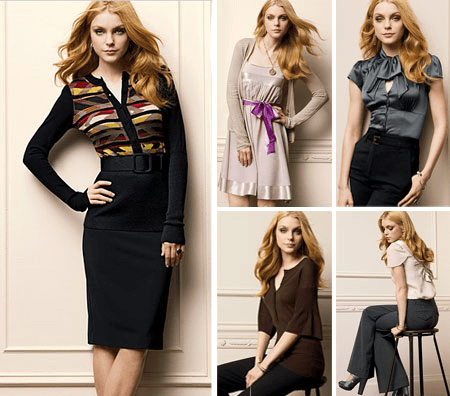 The Lessons
I now know that catalog modeling is a learned physical skill no different from dance or sports.  There are techniques for where and how to place and angle your feet, legs, arms, hands, body, shoulder, neck, and head.  There is a certain type of expression to wear on your face.  There is an illusion of doing nothing when really the model is making choices on where and how to position her body.
Most models my age have been working on their technique for 15+ years, as most of them started much younger than I did.  So of course the photographer expected me to know what I was doing—all of the other girls did—and of course the photographer was not going to show me how.  That kind of treatment was for 18 year olds.
And I was as green as any 18 year old.
Today, I am a well-trained catalog model because I recruited my photographer friend and former professional model Lesley Pedraza to teach me how to be a catalog model.  I studied diligently with her, and I can now approach a catalog modeling job the same way I approach a business appointment—with skills that I have developed through hard work and practice.
Had I taken the time to a) realize that I didn't know the technique involved in catalog modeling, and b) get someone to teach me the proper way to catalog modeling BEFORE I had booked the actual catalog job, I would probably be modeling for them regularly right now.   Now I know what to do, but I set myself back many months by figuring this out too late.
In my category I am competing against other models who have been modeling for decades.  So I will continue to practice and improve my compentency until I can perform beautiful and fluid catalog movements without even thinking… and even make it look easy.
———————
Photographer Lesley Pedraza is a featured collaborator and author on Yellow Brick Runway.  To read Lesley's version of the delivering catalog lessons to Jacqueline, click here.