Project: Test Shoot
Photographer: Phillip Ritchie
Shoot Date: December 25, 2007
I decided to try modeling in October of 2007 (click here for the full story), at age 38, by volunteering as a model for a beginner photographer class at the Tri-Community Photography Center in Covina, CA. After modeling for a few classes, many of the student photographers asked me if I had an account on Model Mayhem, a model-networking site. I had never heard of it, but they all wanted to connect to me there.
I created an account, marked my age as "26", and found a vast online buffet of photographers of all levels to work with. There were many castings for "TFP" (trade for pictures) jobs, where everyone works on projects for free in exchange for images for their portfolios. It sounded like a great deal to me—I could try more modeling!
Unfortunately, the pictures I had from the school were a great start but not particularly impressive from a modeling perspective.  And I was obviously not the 19-year-old fresh face who most of the photographers seemed to be looking for. So even though I applied for quite a few of the TFP model castings I was not invited to join any projects. My business training told me I had to find another way to make myself attractive to the photographers and to stand out from other models in order to be selected. I scanned the casting boards looking for an opportunity.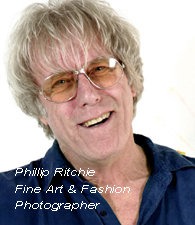 Finally I found a TFP casting for Phillip Ritchie, an artistic fine-art/fashion photographer looking for a model to work with him on Christmas Day. Phillip's style lent itself to using dramatic lighting, mostly black and white photography, and models in striking poses. His post stated that his family was in England so he enjoyed spending holidays with his model friends doing what he loved—taking pictures. This was my chance. I knew there weren't going to be many models interested in shooting on Christmas Day, and my family was out of state so I also didn't have holiday plans. I sent Phillip a message requesting to participate.
He booked me. This was going to be my first shoot with a real working photographer.
I arrived at Phillip's studio on Christmas morning brimming with excitement and possibilities. Phillip was a gregarious tower of a man in his 70s with a deep English accent, a loud laugh, and a wild tousle of white hair. We started the shoot with natural makeup and hair for his Reflections project—images of a model reflected in a large mirror. As a trained sales person I could tell by Phillip's body language that he was not very inspired by what he was capturing with me on camera, and I agreed. The outfit I had on was a bit frumpy, the natural makeup wasn't bringing out my features, and since I was sitting on the ground my 5'11" height wasn't helping me at all. He was not finding anything he loved, and I knew I had to do something better. (He later did an interview about this, here is the clip:)
For the next shot, Phillip requested that the make-up artist give me a more high fashion look with smoky eyes and heavy contouring on my cheeks and jawline. Happily wearing my new look, I walked out of the make-up room and collided right into Phillip's chest as he was coming around the corner. He grabbed me by my elbows so I wouldn't fall over and I saw the expression on his face change to surprise and then excitement. He reached out, grabbed my chin, yanked it towards the light, and yelled, "NOW THAT'S A FACE!!!"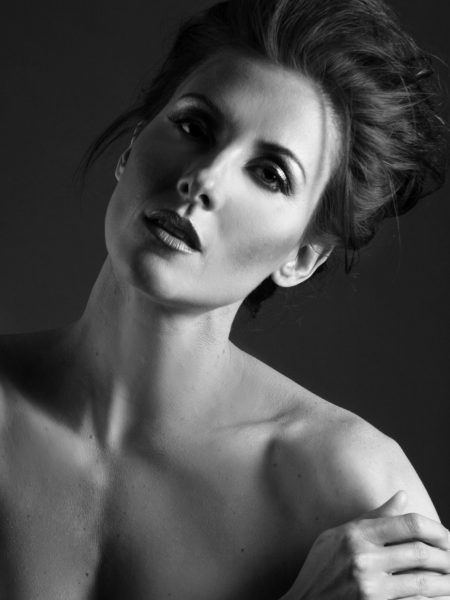 Phillip tossed me onto the set and grabbed his camera. Now we were creating together. He had found some magic in my look, something that was inspiring him as a photographer, and he was capturing it. He grabbed an old prom dress he had in his stash of wardrobe, ripped it into two pieces, and made it into a skirt that he pinned onto my waist over a black velvet top. He had me sit on a stool and stretch my legs down and out.
Phillip then got on his stomach on the ground and began shooting, yelling from behind his camera, "Yes! Cheekbones!" and "Legs! Legs! Make that leg longer!" Now he was excited about me.,I knew that on every photo shoot to come I would have to find a way to capture the photographer's imagination because that seemed to be how things got done.
Phillip downloaded the shots to his computer and began retouching his favorites right in front of me (this was my first introduction to Photo Shop…OMG MAGIC!). I watched with fascination and awe as, with the skill of a painter, he shaped my images into the beautiful silhouettes of a fashion model.
After the shoot, we all had a glass of red wine and some cheese to celebrate. Phillip told me that the strength and power in my face was in my bone structure. I should keep my chin up in all of the photos, show my jawline and cheekbones, and wear a haughty, wealthy expression. "No girl next door for you!" he laughed. "You are expensive!"
This was the first photographer who had explained to me what my strengths were and how to use them. I had become a model that Christmas Day, which was the best Christmas present he could have ever given me.
"Prince Phillip," as I now refer to him, and I became great friends and we did many shoots together down the line. His images allowed me to book opportunities with other photographers on Model Mayhem, giving me the vehicle I needed to grow as a model.
As a photographer, Phillip has a special talent for finding what is beautiful about any woman… a particular feature, her profile, a special part of her body… and capturing that part of her on film. It is a signature of his work, he is truly a creative genius.
Prince Phillip was my first real fashion photographer, and I will be forever grateful for the opportunity to work with him that Christmas Day.
——————————————
To view Phillip Ritchie's fine art and fashion work, follow him on his blog and his Facebook page.
– Jacqueline Depaul –