Paris Fashion Week just came true for me, for the first time, at age 48…
Although the first fashion week was originally held in New York, the event itself derives from the "salon shows" in Paris couture salons as early as the 1700s.
So for me, Paris Fashion Week has always represented the pinnacle of fashion shows. It was something that I, as a 48-year-old part-time model, would never experience or achieve. Paris was for the best of the best, and the runway classically belongs to the very young models. so it was not something I ever set my sights on. I had runway training and experience in Los Angeles, but I didn't feel that glorious Paris, where the top of the fashion world go to connect, would ever be an option.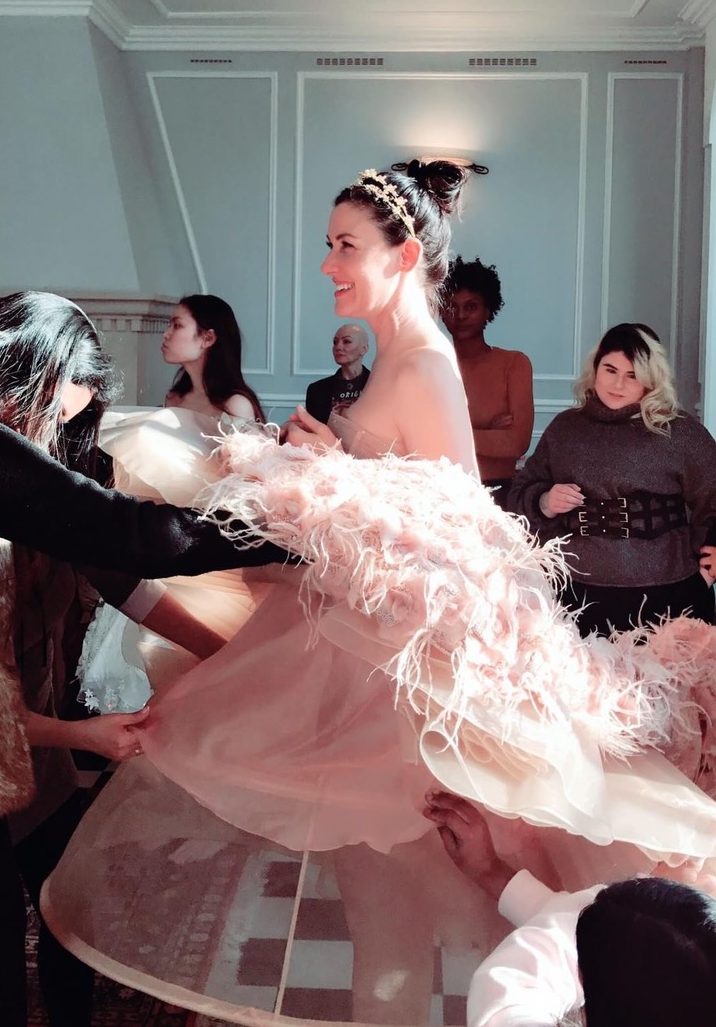 I have on occasion indulged in watching clips of Paris during fashion week, wishing that I had not missed my chance to go for it as a young girl. I am tall and thin (5'11') and perhaps could have modeled in these shows when I was younger had I been in the right place and the right time. But I grew up very isolated in the Caribbean, and fashion modeling wasn't something I even knew about. Even when I moved back to the US at 16, I went to college in Texas, studied Physics, and really didn't have any exposure to modeling or Hollywood until I moved to Los Angeles in my 20s.
And yet, here I was: 48 years old, and walking in Paris Fashion Week. Pinch me! Here is how it happened…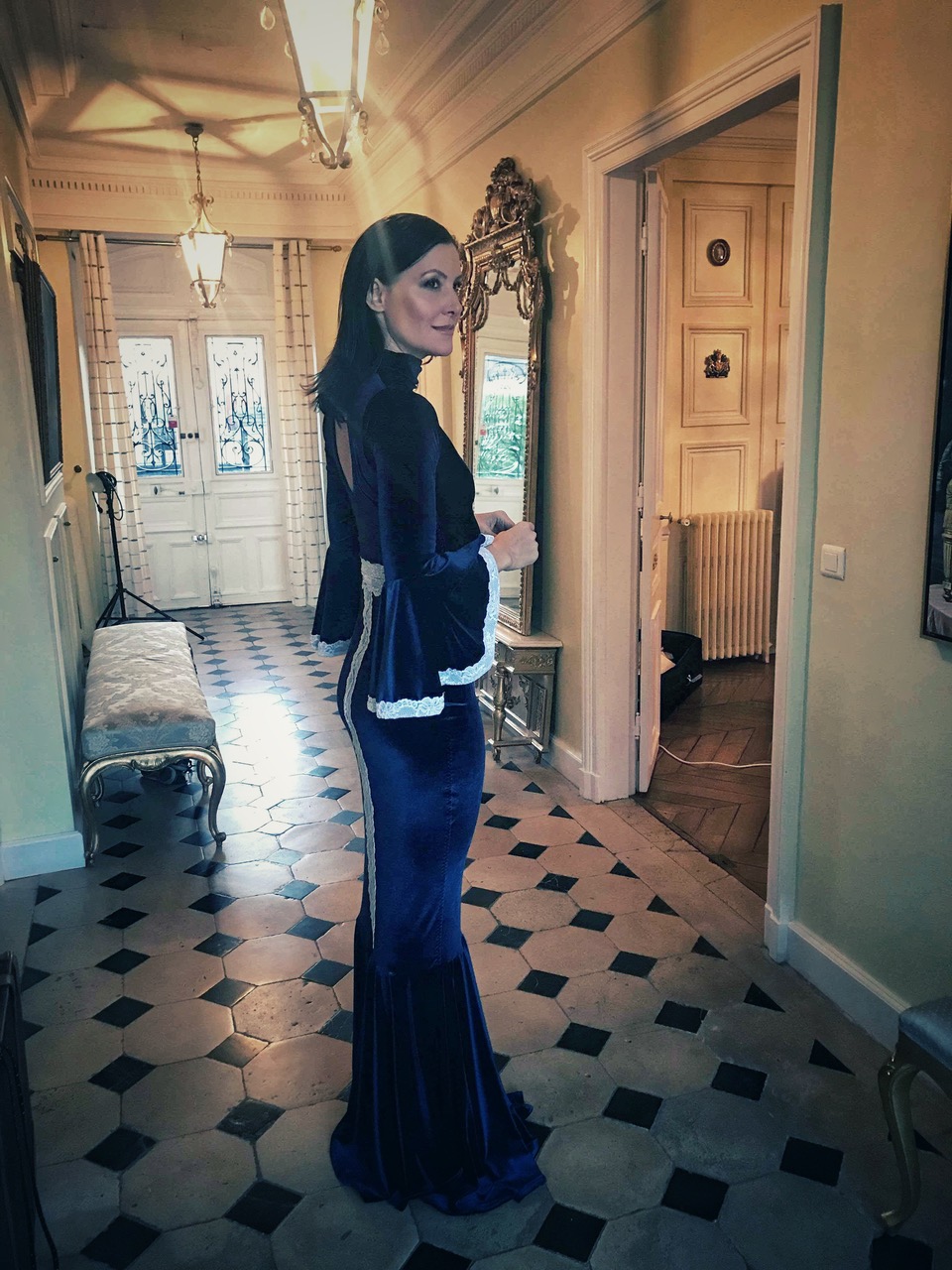 I had been modeling since age 38 (see the story on how I got started here) and I had taken runway lessons, learning the various different styles of walking. I was a good walker and 5'11" tall (this is a great height for runway models), and personal style is aristocratic, smooth, and elegant. Unless I put a feminine, sexy spin on it, adding hips and a cheeky smirk, and then I look like a high-end courtesan… 🙂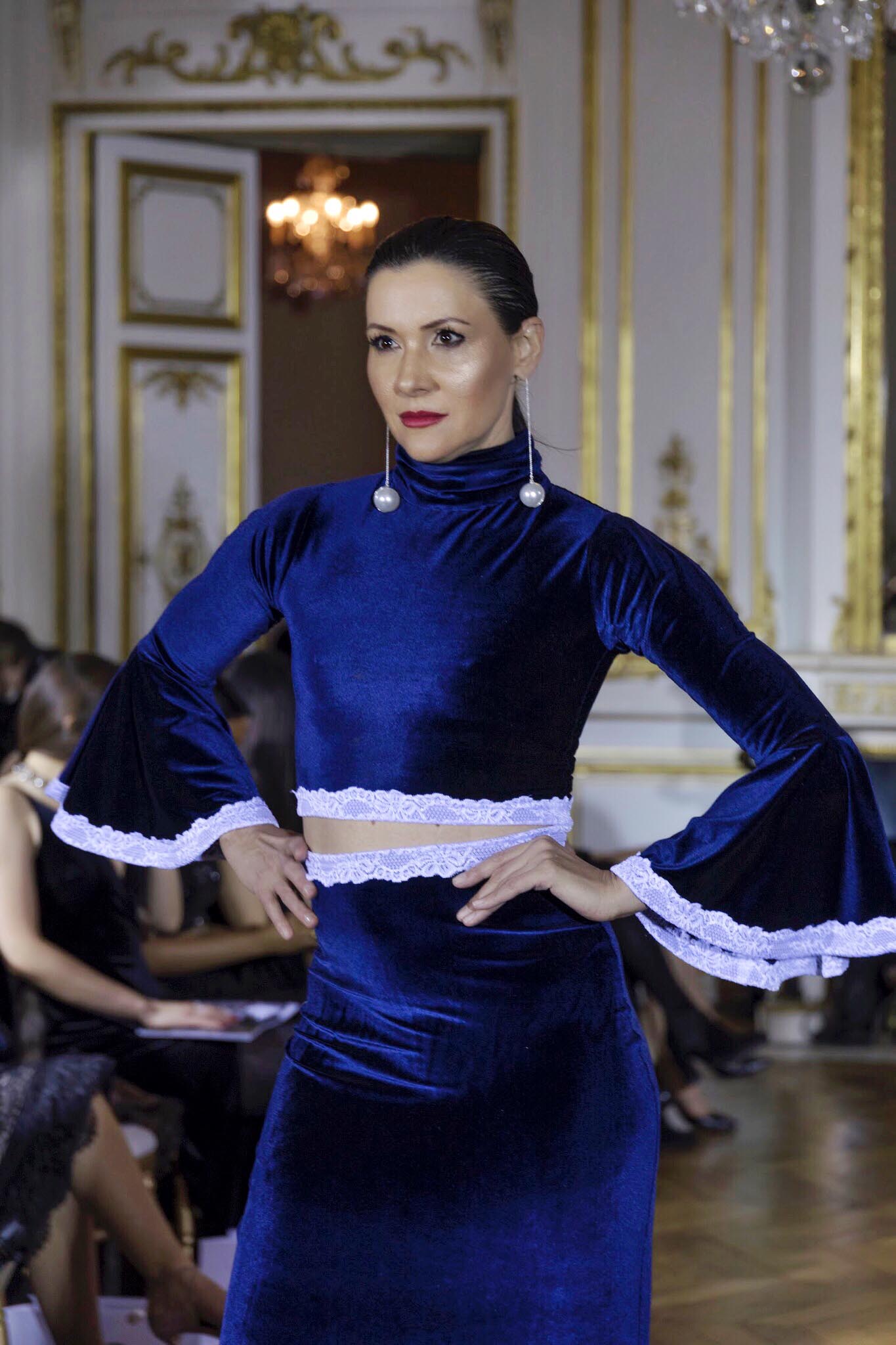 I had walked in LA Fashion week multiple times, especially when I was in my early 40s and still a size 4. I was thin enough to fit the garments, a good walker, and still looked young enough from a distance. But as I have aged into more wrinkles and a size 6, I was selected less often, mostly walking for Los Angeles designer friends who believed in me and the concept of including older women on the runway.
One day I was having coffee with one of these designers friends- Nathanaelle Hottois of Nathanaelle Couture.
Nat is a lovely Italian creature, petite, mid-30s, with long, blazing red hair and a fiery attitude to match. She was excitedly talking to me about her goals over her cappuccino, working through some ideas as I listened, and suddenly she blurted out: "You know what I'm going to do, Jacqueline? I'm going to show my line in Paris this very next season!"
I happily applauded her idea as she talked through design inspiration (very Channel) and what types of clothing she wanted to create. She was on a roll, planning up a storm, and then came the words that started my adventure: "You should come with me," she said. "And model in my show." And without thinking I calmly replied "Ok. I will!"
And without thinking I calmly replied "Ok. I will."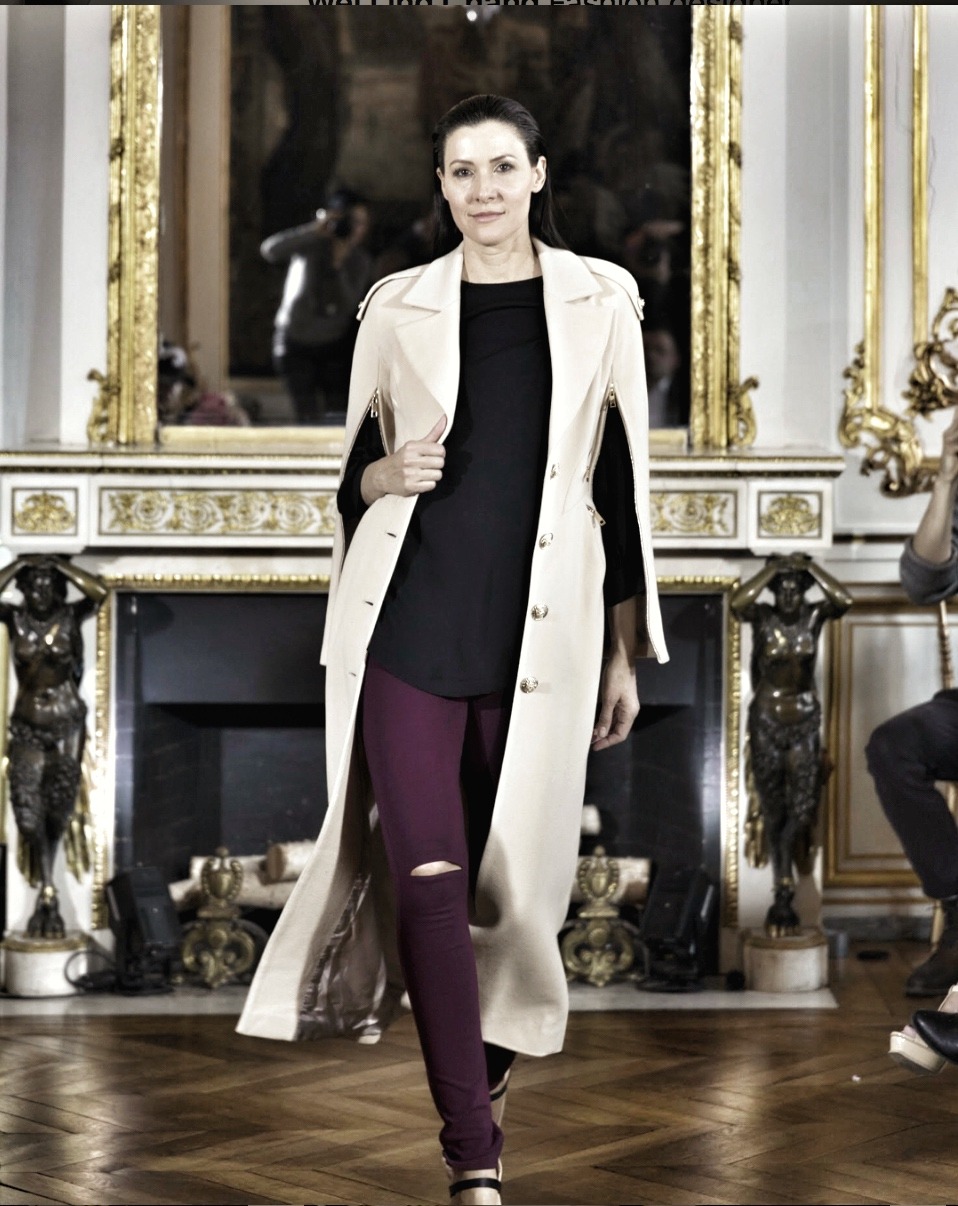 After I left our meeting I didn't think too much more about the conversation. It seemed to be just two girls dreaming, having fun. I had no doubt that Nathanaelle would make it happen for herself- she was that kind of girl- somehow she would indeed get there and show her line in Paris. But me, walking as a model in Paris fashion week? It was a nice thought. But surely Nat didn't really mean to invite me to model for her in it. She needed "regular" models I thought.
Two weeks later Nathanaelle reminded me via text to buy my plane tickets, because of course, I was going with her, right? And two weeks later again she reminded me. She was serious. I said to myself, in a deciding moment:
"Jacqueline, you have to go. This is an opportunity that may never come again. You will never forgive yourself if you don't take it. You can do it. Make it happen. "
I booked plane tickets to Paris for myself and my new Beau (thank you Norwegian Airlines for the great fare to Paris) and committed.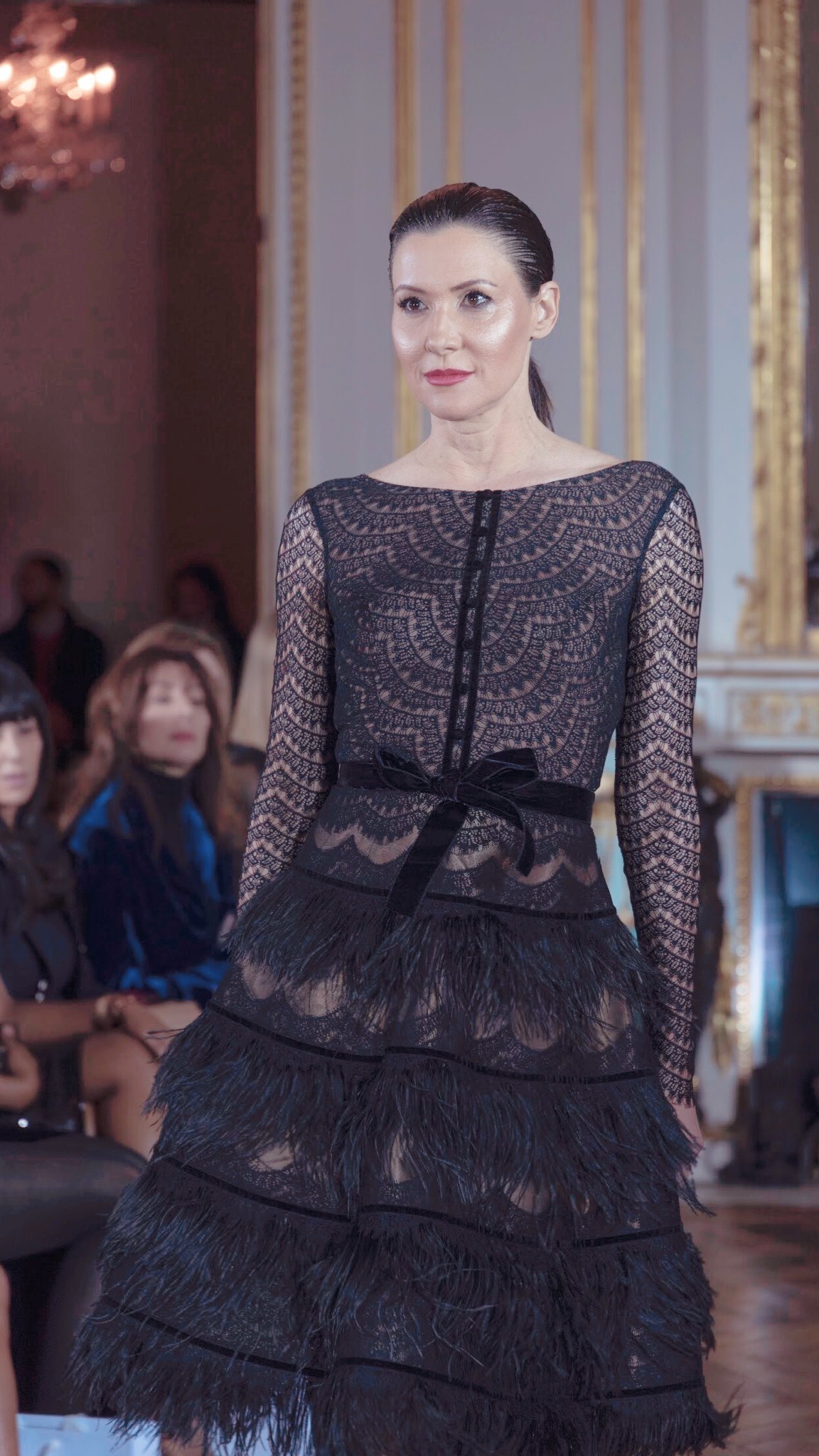 And then… I got excited.
And then… I started dieting- because a girl is not going to go to Paris to walk in a fashion show without putting her best self forward. 🙂
And just like that, I was in Paris. Walking in a beautiful Parisian fashion show, wearing Nathanaelle's beautiful floor-length blue-velvet gown, hair and makeup exquisitely done, gracefully and elegantly gliding through the gold-trimmed salons in the Hotel D'Evreux in Place Vendome.
And I had the opportunity to walk for two other designers as well: Wei Ling Chang and MALLINY.
I was walking in Paris Fashion Week for the first time. This was a magical moment that I thought would never happen, but it was definitely happening, and I was thrilled. I milked every moment of the experience, soaking in the joy of accomplishment and creative success.
I even did a photoshoot for Nathanaelle's collection while I was there, in a beautiful French castle outside of Paris (the amazingness never stopped)…
Catherine Grace O'Connell, host of The Forever Fierce Show on LA Talk Radio, recently did an interview with me to talk about the details of the experience.  Click here to watch:
I am ever so grateful to Nathanaelle for inviting me to model in her presentation and getting me to Paris. She is a doll, and without her it would have never happened. This was a dream come true, and I am still twirling in circles like a little girl…
Sincerely,
Jacqueline