How This Late Bloomer Defied Ageism and Followed the Yellow Brick Runway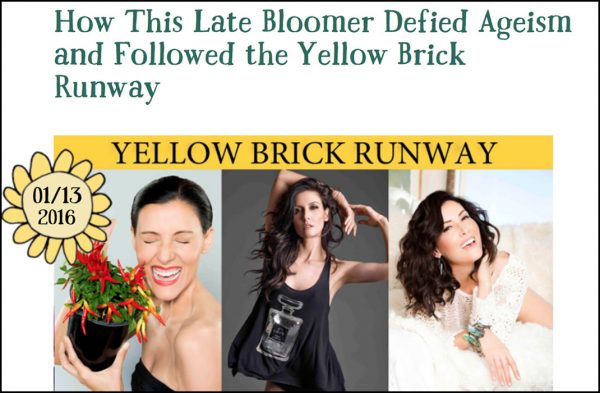 From Michelle DeSpain of Late Bloomer Revolution:
My favorite mantra is "It's never too late to live your dreams."
January's "Late Bloomer of the Month" is doing just that. And she's doing it in an industry that is rampant with ageism. I believe that makes her a Superheroine amongst late bloomers.
Jacqueline Depaul started modeling in her 40s. She is beyond gorgeous and has a killer bod that defies aging. Here's the fun part:
She's smart.
Really smart. The woman has a degree in physics. Just thinking about it makes the left side of my brain hurt.
She also gives more of her income to charitable causes than anyone I know.
So… beauty, brains, and the heart of humanitarian. I can't wait for you to meet her.
Without further adieu, I'd like to introduce you to Jacqueline.
You can read her interview over at the Late Bloomer Revolution blog.
All the best,
Michelle DeSpain
P.S. Jacqueline dishes about her (mis)adventures in love & dating at the end of the interview.