---
The Japanese art of Kintsugi teaches that broken objects are not something to hide but to display with pride.  By repairing broken ceramics it is possible to give a new lease of life to pottery that becomes even more refined thanks to its "scars".
---
I took an unscheduled call from Miriam Grunhaus of Mikah Fashion sitting on a rock outside my condo complex, waiting for another resident to drive up and open the garage security gate because I had forgotten my keys…
Backstory: Miriam is a Miami-based designer I knew from a Facebook networking group (yes, they do work!)  Several years ago I put up a post that my photographer Lesley Pedraza and I were doing a photo shoot in Aruba and wanted designers to feature in our images. Miriam jumped on the opportunity and sent us her custom designed jewelry.  (Click here to view the images…)
The three of us have been following each other on Instagram, having a mutual admiration society, ever since Aruba.  But we had never spoken in person, so I was surprised to receive a call from her…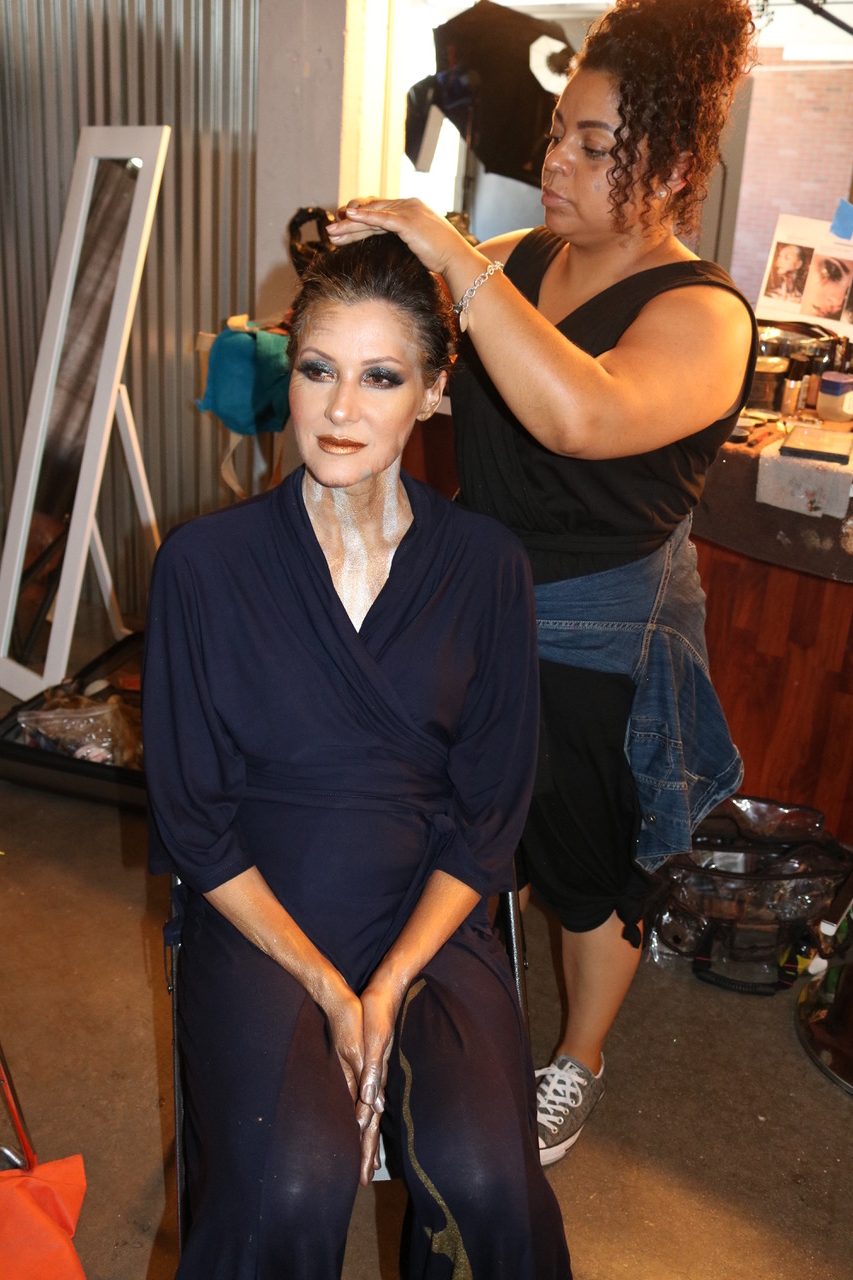 Kintsugi: The Art of Precious Scars
Miriam's enthusiasm fired through the phone as she described a new clothing line she was designing, and her vision to work with my Yellow Brick Runway team to bring her vision to life.
Her concept was based upon Japanese Kintsugi pottery, in which the artisan takes precious metal – liquid gold, liquid silver or lacquer dusted with powdered gold – and glues together the pieces of a broken pottery item, enhancing the breaks. With this technique, it is possible to create true and always different works of art, each with its own story and beauty, thanks to the unique cracks formed when the object breaks.
Miriam's new clothing line was to be based on the Kintsugi pottery concept.  She wanted the line to celebrate the strength of a woman coming through personal tragedy and deciding to survive and thrive. As she emerges from the experience stronger than before, she is more beautiful and more precious because of her scars.
Miriam wanted me to be the model to bring this woman to life, and represent the strength she has developed as she emerges from her tragedy.
"There is a crack in everything, that's how the light gets in." Leonard Cohen, Canadian singer, songwriter, poet, and novelist
I told her YES.  I had no idea what the clothes looked like.  But I am attracted to people like Miriam.  She was driven, determined, and was holding their dream in front of her like a North Star and barreling towards it. She was a kindred spirit.  So I said what the heck, I'm going to help her.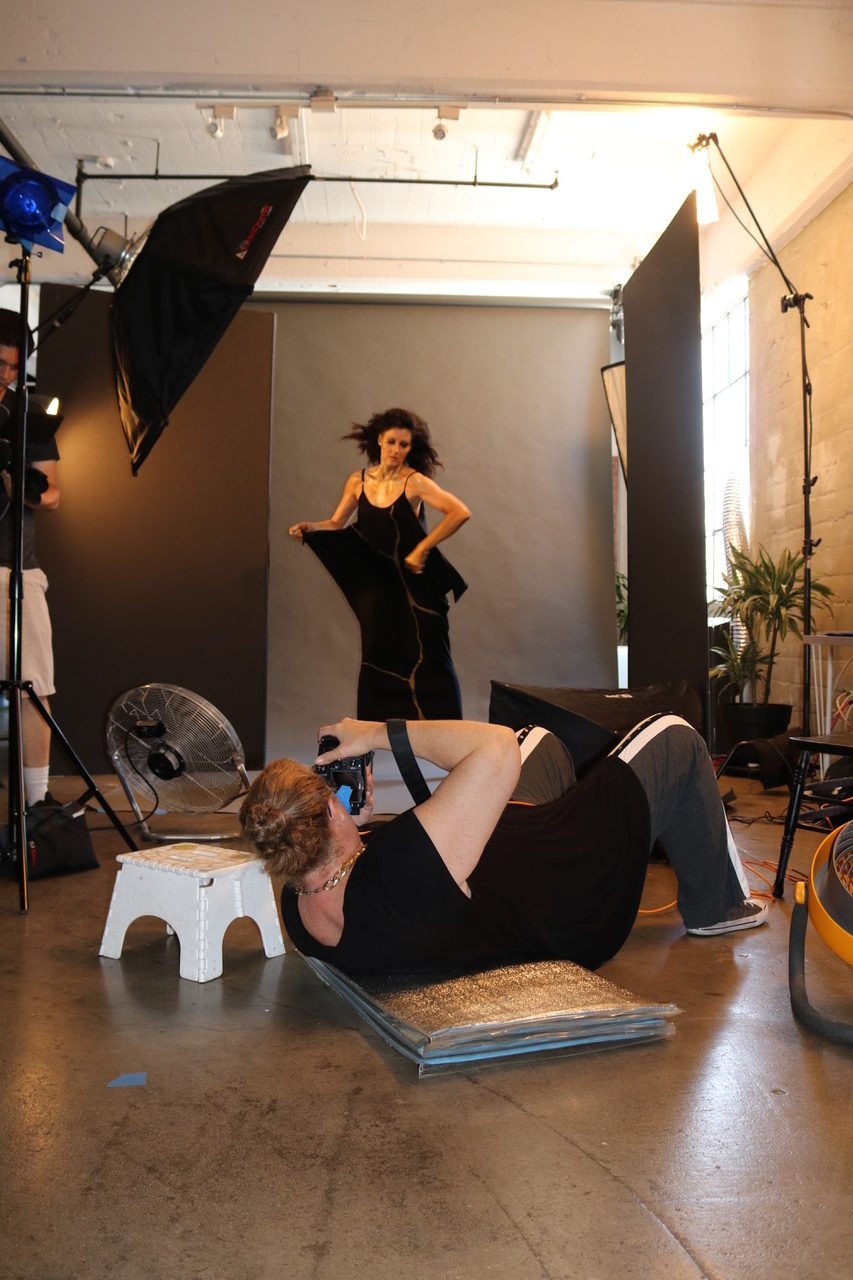 (The parking garage gate opened- I got into my house- and continued the conversation).
Since the concept Miriam wanted was an in-studio concept and she wanted my photographer Lesley Pedraza to photograph it, I suggested that Miriam either ship or bring her collection to Los Angeles and work with the team here.  Miriam, her boundless go-getter self, immediately booked a plane ticket from Miami to Los Angeles, and we were scheduled.
"We too can repair our cracks with gold and glow again. Crazed by life, more beautiful than before." Scott Hastie, Scottish Poet
Miriam sent us a mood board in advance of the shoot. The clothes were to have gold seams and irregular stripes like the pottery, and she wanted my skin to continue the gold with metallic body paint. She also wanted lots of movement and emotion in the shots, the character of a woman emerging from her intense trial like a fighter, determined to triumph, and both beautiful and powerful as she emerges from her darkness.
Movement, power, and strength- my favorite way to model.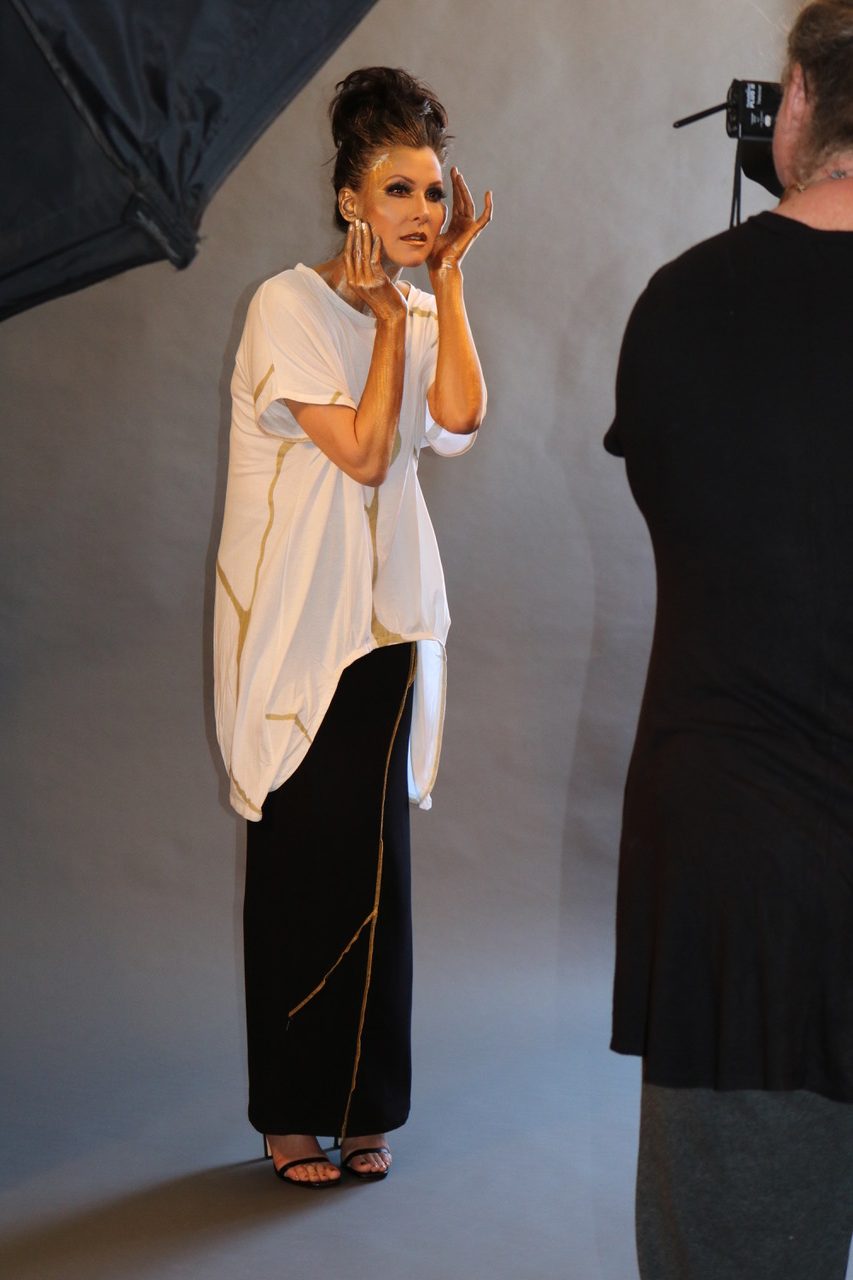 Modeling Kintsugi
Lesley rented Apex Photo Studios in downtown Los Angeles so we could have plenty of space to shoot. Miriam contracted with Ghostlight productions to create the behind the scenes video.
Claudia Rivas, our primary makeup artist, painted my neck, arms, and hands with metallic body paint, on top of her usual beautiful makeup and hair… I looked more and more like a creature, and Miriam loved it!
As Lesley fired her camera and the images came to live on the screen, Miriam's Brazilian accent wafted around the studio as she squealed at the images rolling past on the computer.  Her vision was coming to life. She danced and exclaimed and took a gazillion behind the scenes pictures on her own camera.
"I am beautifully broken, and perfectly imperfect, enriched by my flaws."  Miriam Grunhaus, Designer and Creative Director, Kintsugi
Miriam launched her Kintsugi line in Miami, presenting her line for the first time in a fashion show format.  Consequentially she also launched her blog: "We are Kintsugi", in which she features me in a recent post.   I am very happy to support Miriam and her vision.  Miriam's new line is on sale now at www.mikahfashion.com.
"We are stronger in the places we have been broken" Ernest Hemingway, Nobel Prize winning American novelist