For this collaboration project, the Yellow Brick Runway collaboration team wanted to travel back in time—to the 1940s to be exact.
People often tell me that I remind them of a Hollywood actress from that era. My facial structure—high cheekbones, small lips, and sleepy lids—seems to lend itself well to the "vintage" look. We also had access to my vintage designer friend Nathanaelle Couture as well as the idea to shoot at the historic Los Angeles Union Station, the largest train passenger terminal in the Western United States.  Coincidentally Union Station was celebrating its 75th anniversary this year.
So in every way, Vintage was calling our name.
Securing the Station
Trying to find a location that lends itself well to creating a story is always a challenge, but Union Station has a reputation for being manageable in "guerrilla style" shooting (shooting without a permit). At first we considered just winging it and doing just that but we really didn't want to get thrown out, so I contacted the Union Station photography office. Using my very best sales skills, I succeeded in securing a still photography permit for one camera, no tripod, no heavy equipment, and three people—max. Perfect because that was all we needed.
Dressing the Part
Two days before the shoot, I picked up several looks from Nathanaelle's current collection and took them back to my apartment to assemble into outfits with stylist Lauren Gold and photographer Lesley Pedraza. Our goal for this editorial was to get seven different images so we put together eight outfits in total, including one back-up just in case one of the others did not work out.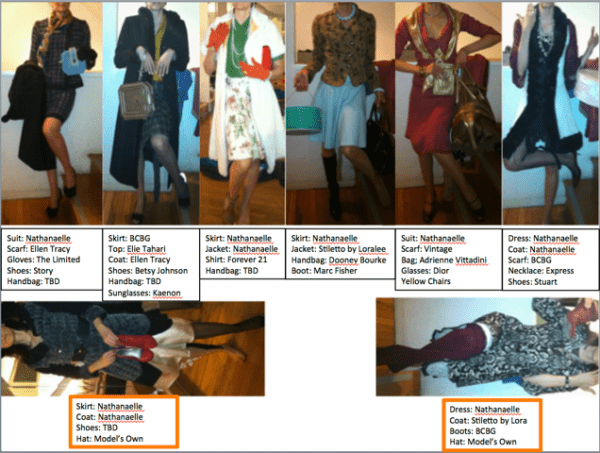 Unfortunately a good many of the outfits were too small for me, which I didn't expect as I did a runway show for Nathanaelle a couple of years back. (Yikes- time for a new diet program!) While this problem precluded us from using all of her outfits as they were, we were pushed into the stimulating and challenging situation of having to mix in other pieces we had on hand to create complete outfits. We combined the designs from Nathanaelle, clothes from my closet that had a vintage vibe, and some special Octabag handbags procured from my PR friend Jen Woodward at Fever LA.
Cat Eyes and Hair Rolls
On the day of the shoot we got got ready in my apartment with me, Lesley, and our hair and makeup artist Ana Vergara, a vintage specialist. We asked Ana for vintage with a modern twist, and Lesley showed her some concept pictures for inspiration. For hair, we wanted the classic rolls, but with messy elements added in, like a ponytail in the back.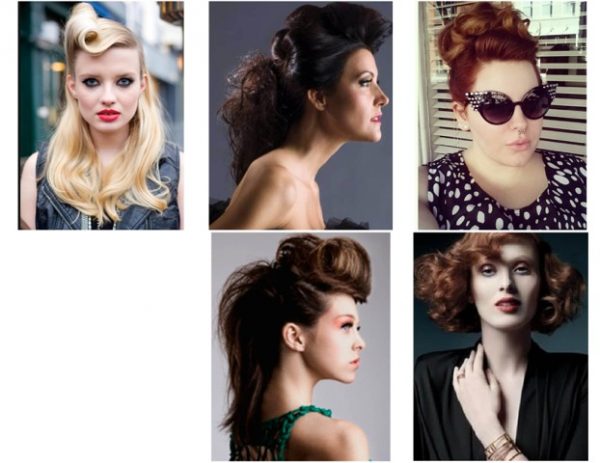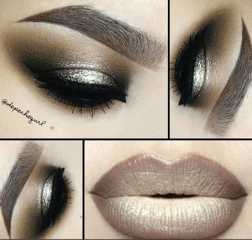 For makeup, we wanted the classic vintage cat-eyes eye-liner but with a bit more eyeshadow added to the look. Hair and makeup are no less important art forms than the clothing designs in helping to create the character, and without Ana this shoot could never have taken the form that it did.
Lesley insisted I should wear long pointed nails to complete the look, pulling up Google and showing me pictures of 1940s ladies and their long, manicured fingernails. Ana agreed. I balked thinking that claw length nails would look weird, but did as I was told and went off to the drug store to grab some press-ons. Since my fingers are already long, with the pointy nails they looked almost unreal.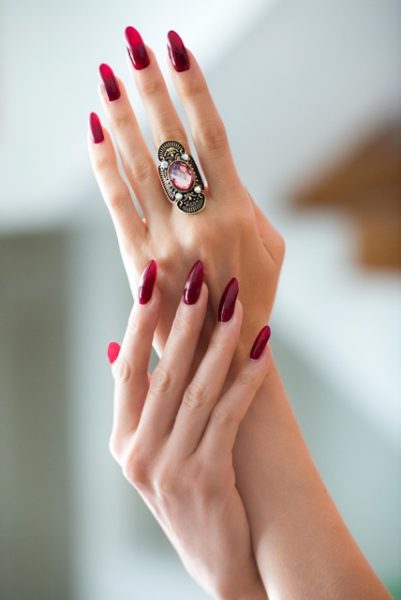 To the Train Station
My first hair and makeup look was ready and off our lean, mean team went to the location, with our printed permit, Lesley's camera, one reflector, and Ana's roll-on suitcase makeup kit. We planned to change outfits quietly in the bathroom or the car.
Upon arrival we realized that the permit provider had neglected to mention one crucial detail: Union Station was under construction. Multiple sections of the inside were blocked off, unavailable for photography or anything else for that matter, and the normal outdoor parking lot was not available. Fortuitously, the long-term parking garage at the other end of the station turned out to the best bet in changing clothes, hair, and makeup. We simply set up right there on the pavement next to the car, which amused the occasional passerby. Here I am eating Trader Joe's apple slices— a great low-calorie portable energy food—while Ana changes my hair for the next shot.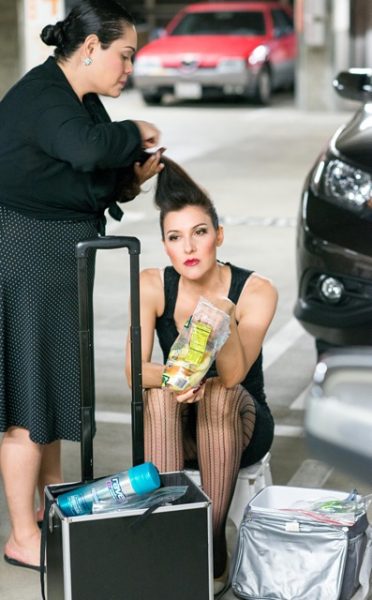 Crowd Modeling
The modeling began amidst crowds of people moving around Union Station to get to the Amtrak and subway lines. We found that people graciously moved around Lesley when she maneuvered to get the shot. We tried to remain relatively inconspicuous and quiet, but as our ensembles progressed from the subtle to the amazing, especially in the hair department, we caused quite a stir.
For the shot in the blue suit by the window Lesley was kneeling on the floor in the middle of the snack bar line, where the patrons courteously moved around, smiling and watching the production. I think everyone was happy for the extra entertainment while they waited for their trains.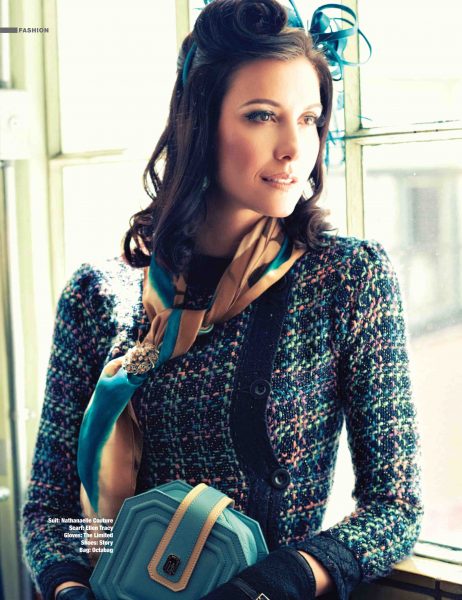 While shooting the image of me standing on the grand, tiled floor, a petite young woman actually stopped right in front of me, gazed upwards (I am 6'3" in heels) with her mouth open, and then stammered, "I love your look." While the picture makes the room seem empty, it was actually rush hour and throngs of people were teeming off the subways and Amtrak trains, gaping at me as I stood there in my vintage costume. They could not see Lesley, who had positioned herself on a wide staircase above me and was waiting for breaks in the crowd. My job was to hold my model pose and look at her until the area directly around me was clear and she could take the shot. So all the crowd could see was a tall vintage woman standing perfectly still staring up at the staircase. It was pretty hilarious.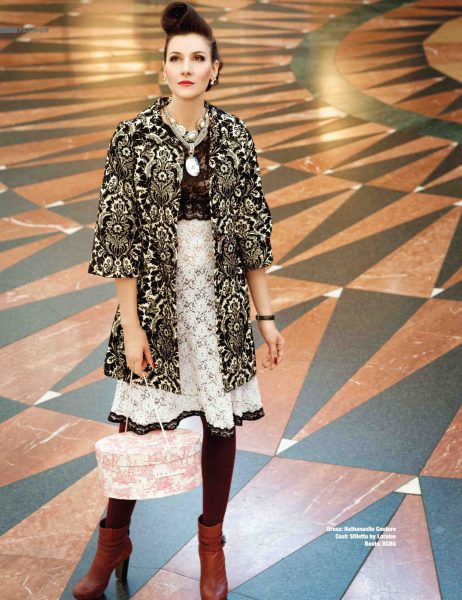 Busted
We did get stopped once while we were shooting. Lesley and I were behind a roped-off area for a shot of me sitting on the famous Union Station bench chairs. Ana nonchalantly showed the person our by this time water stained permit and stated simply that she didn't know anything about the shoot and what it was for and had just been hired to do hair and make-up. That was technically true—and after Ana restated this several times it worked. Thank goodness we weren't kicked out!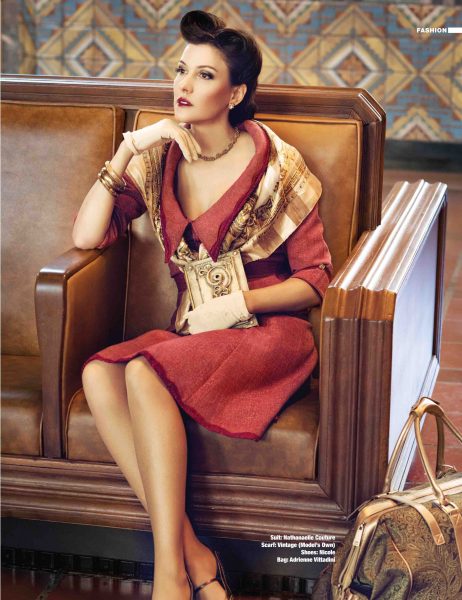 Who Is She?
All in all, we got seven great shots and submitted this photo shoot editorial to magazines in celebration of Union Station's 75th anniversary and the historic nature of the location. We created a character who looked like a wealthy woman—famous or not—traveling on her own to a new life somewhere. We wonder where she is going and what her new life will be about.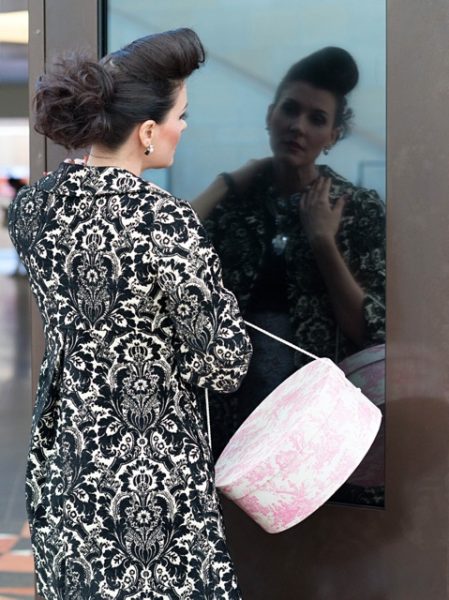 Look Mom!
The story was picked up by several magazines including LAX Magazine, the in-terminal magazine at LAX—Los Angeles' famous international airport. Since beginning our YBR collaborations, this marks our first printed (vs. online) editorial, and we are very proud to be featured. I had to get copies for everyone on the team, the designer, my agent, and my mom, so we ordered a dozen. We're so happy to see Yellow Brick Runway in print!