Opening my email, I got the notification: Australian brand Christian Paul Watches was hosting a fashion blogger contest to win a 5-star, $30,000 AU vacation to the Greek Islands.
(That's Australian dollars, which converts to about $22,500 US dollars)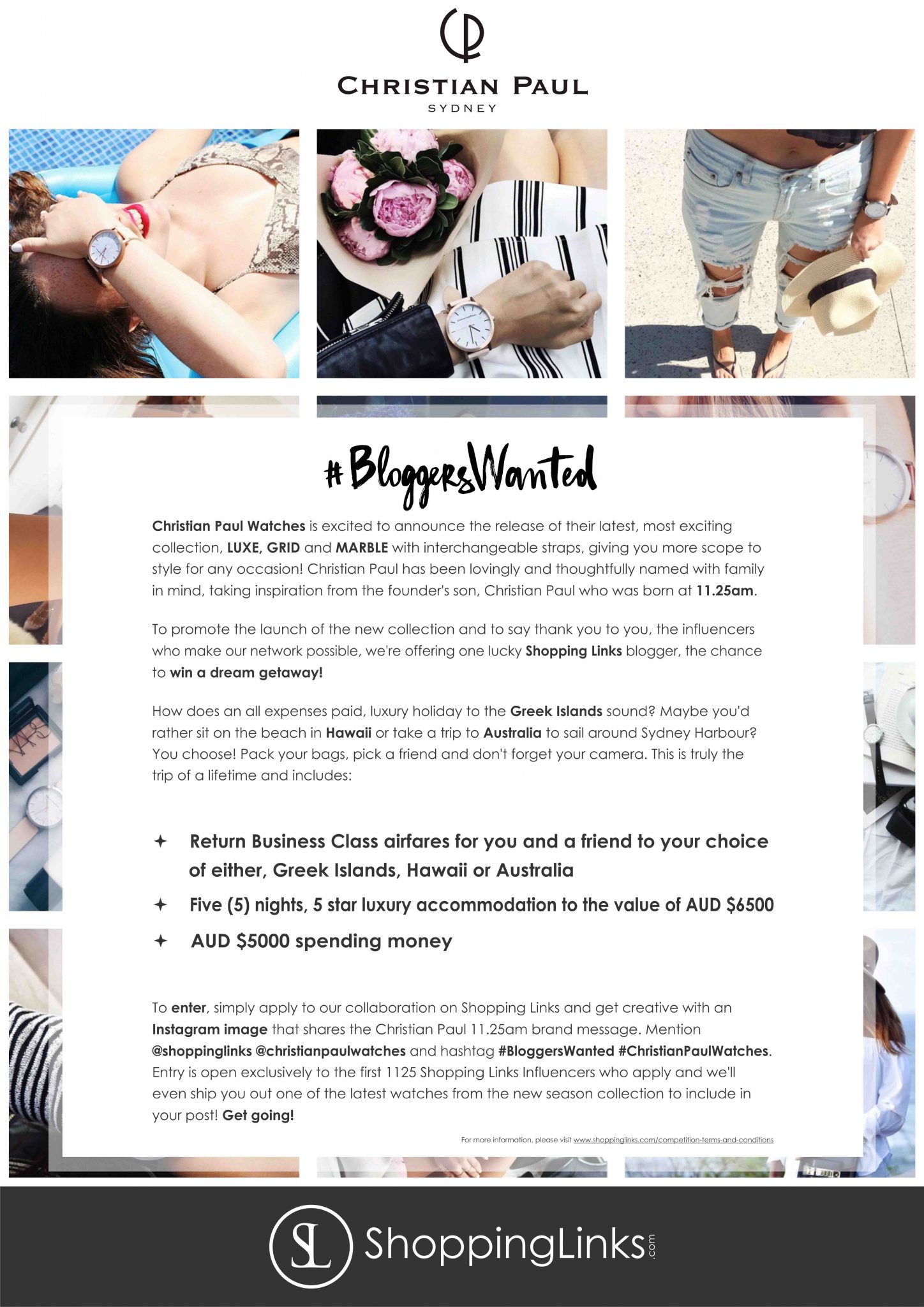 (MIC DROP)
OMG. I have always wanted to go to the Greek Islands, specifically Santorini.
I have never paid much attention to the fashion bloggers and their photographs, as I had been blogging mostly about my modeling.  A total sin, I know, not paying attention to this stuff.  But the prospect of winning a vacation to Santorini was incentive enough to get my act together.
I called my photographer Lesley Pedraza and asked her if she would do the contest images with me, and if we won, we could go to Santorini together.  She was in.
Our First Attempt
We looked around Instagram together for ideas on how to take a good Instagram Influencer picture of a watch.   The contest also said to "get creative with an Instagram information that shares their Christian Paul 11.25 brand image." Christian Paul was the company founder's son, who was born at 11:25am.
Lesley and I went out and took a series of blogger + watch images, creating a series of 9 images to create a tile on my Instagram account. Here are the images we took: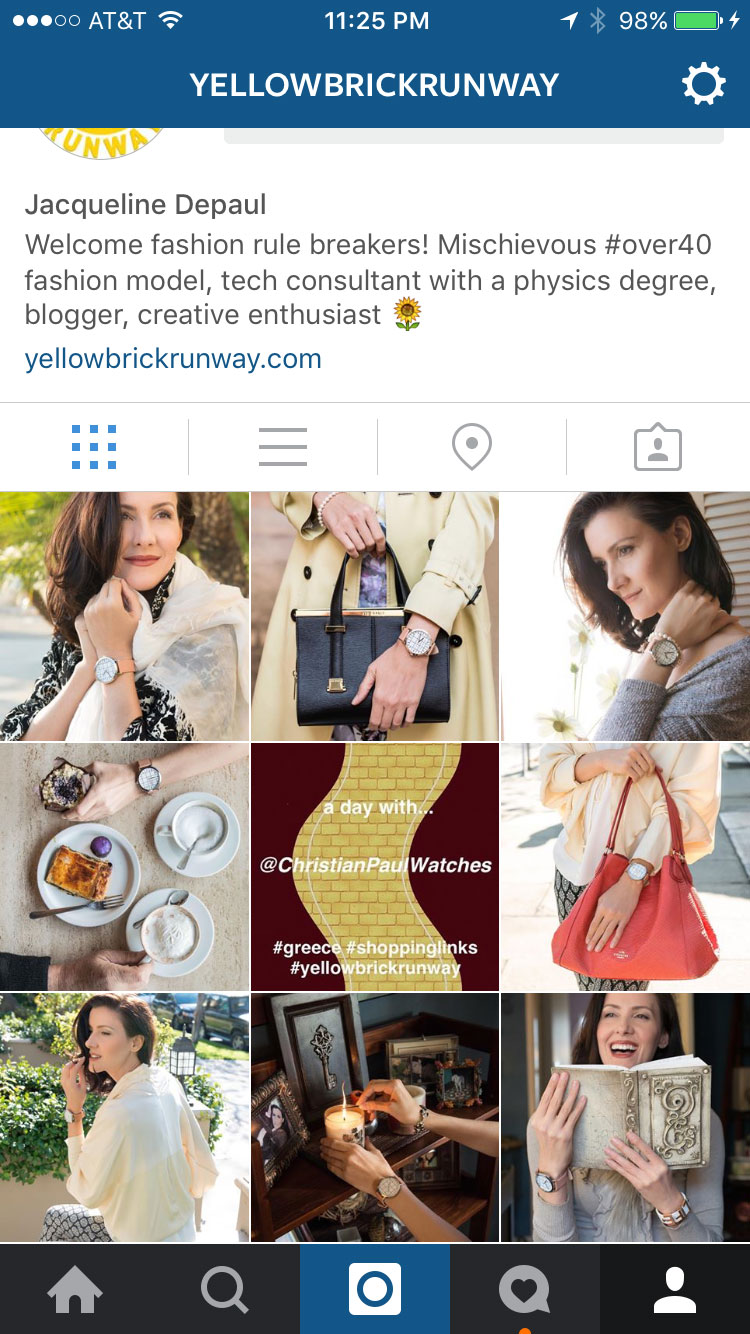 Proudly, I emailed the contest organizer a link to our images.
She responded with: "We love your pictures, but you did not meet the requirements".
I read through the contest instructions again. Duh, there is was: "Christian Paul has been lovingly named with family in mind, taking inspiration from the founder's son, Christian Paul, born at 11:25am."
Family… 11:25a… I could set the watch hands to 11:25am, but how am I going to portray family?
I NEEDED A BABY.
I can just hear my friends laughing right now. They know I'm not the baby type. But we needed a baby.  Period.
The Adoring Mom
One of my young model friends, Christen Webb, offered her 3-month old son Spencer for the project. Perfect. He had brown hair and looked like he could be my baby.  We scheduled the shoot.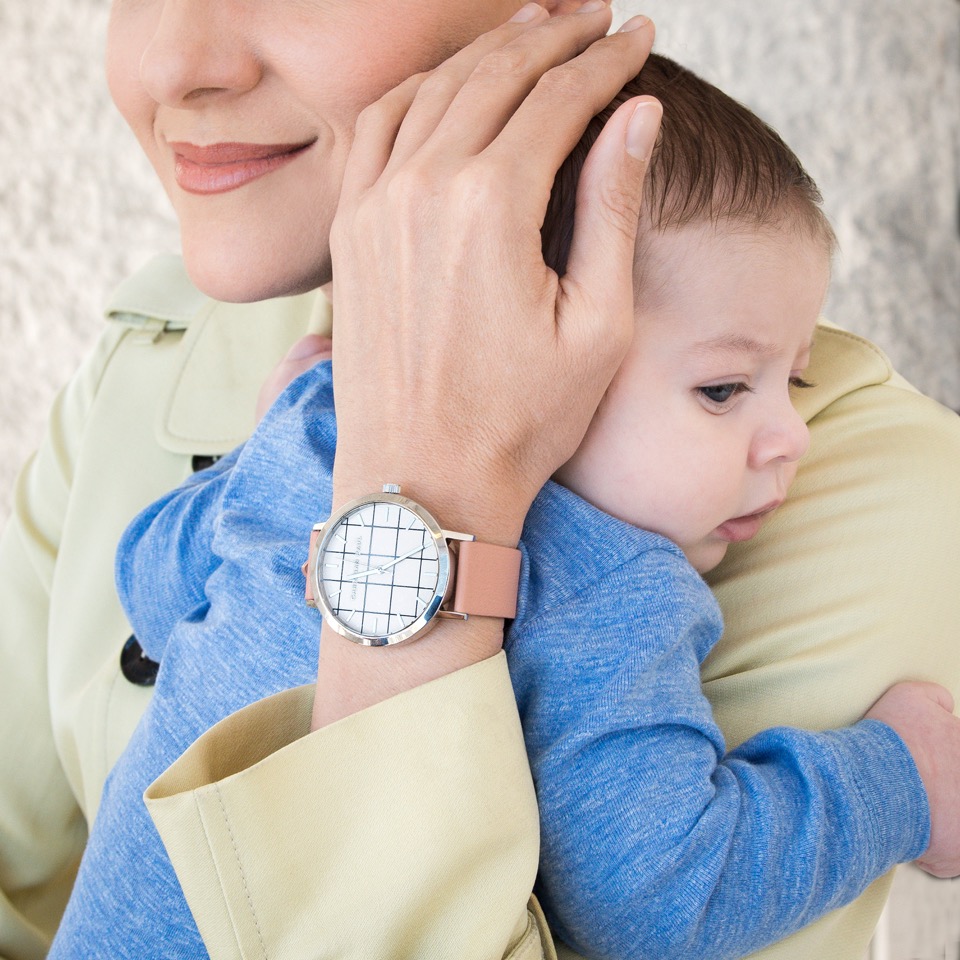 I was a bit terrified to hold Spencer.  Christen advised me, while wrestling with her 3-year-old on the other side of the room, that I couldn't break him so not to worry.  Lord have mercy. But Spencer was darn cute and he won me over.
At the first location, the glamorous parking lot stair case at the local mall, Spencer wanted his mama and wasn't too keen on being a model.  Moments after Lesley began shooting, Spencer started screaming.  Lesley said that photographing babies without a "baby wrangler" (someone who's entire job on set is to get the baby happy and smiling) is ridiculously difficult, and so you only have a few moments to try to get the shot.
It was a hilarious scene.  I was bouncing wailing Spencer, Christen was waving and cooing just out of sight of the camera, Christen's other son was taking his clothes off and rolling around on the dirty stairs, and Lesley was firing away at her camera.  And all through this I was wearing the most perfect, blissful smile on my face, projecting a spectacular "adoring mom" character to the camera.
We got the shot.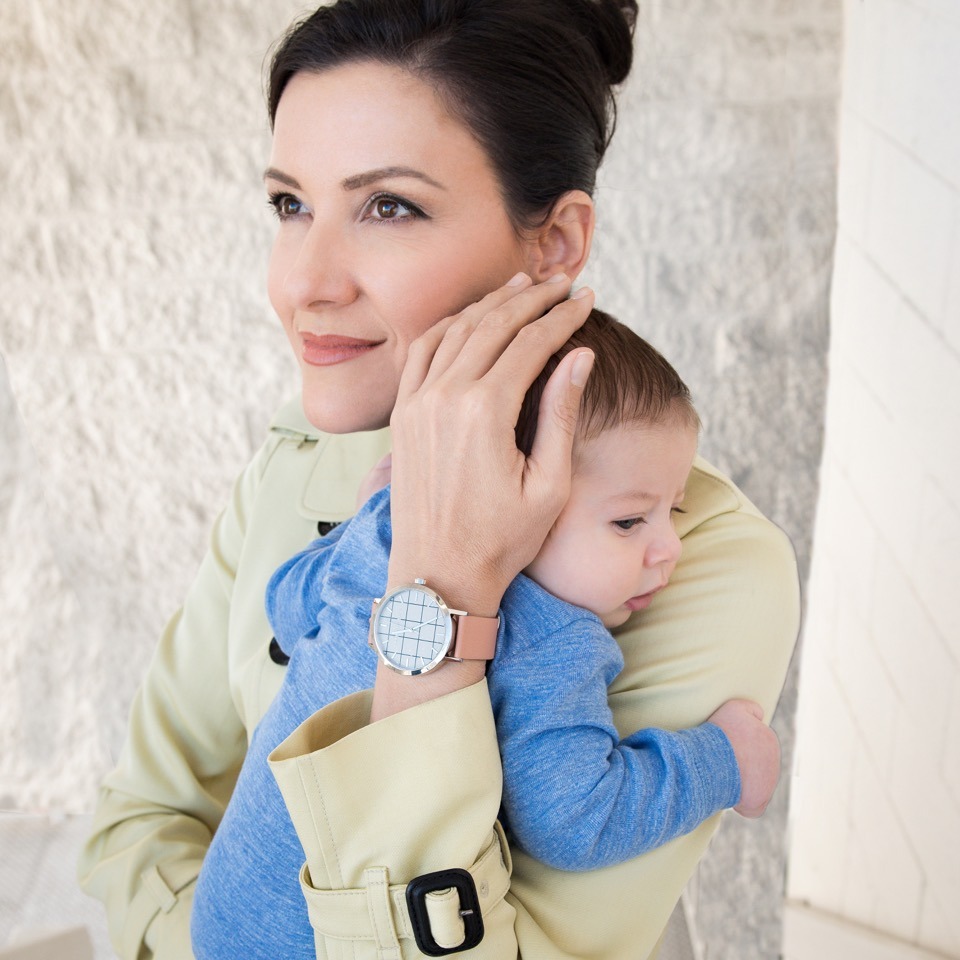 Super Mom
We moved on to the second location. This was to be the "super mom" picture. I wore a smart turtleneck and custom suit jacket by The Cutting Room.  I had a Rebecca Minkoff clutch under one arm and Spencer, in just a diaper cover, in the other arm. Luckily Spencer had just taken a quick nap and was still asleep when Christen handed him to me.
I looked like the Mom who could do it all- work, have a baby, and look great all at the same time. Lesley hammered the shutter as fast as she could while Spencer woke up again and began gurgling.  But we got the shot quickly and I gave Spencer back to his mom. I had to wipe the baby spit off my suit jacket. Supermoms have it hard….
Now that we had our images, we called in the big dogs to help us win this contest.
My friend Troy Plota recently invented a new form of digital images called Plotagraphs®.  These are still images that have been morphed into a new mesmerizing, form of moving digital media.
Troy agreed to convert our Christian Paul contest images and turn them into Plotagraph® advertisements. He created the "MOM" copy on each image, and then added moving clouds in the background: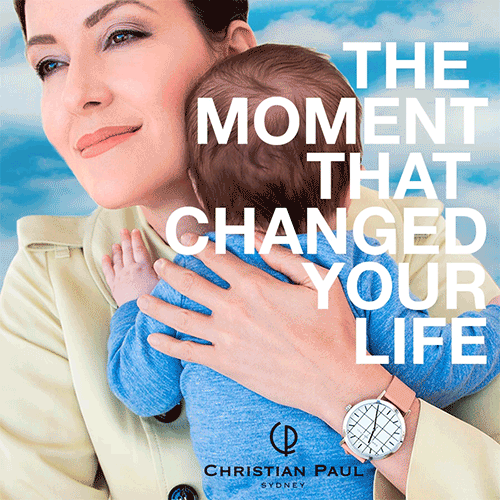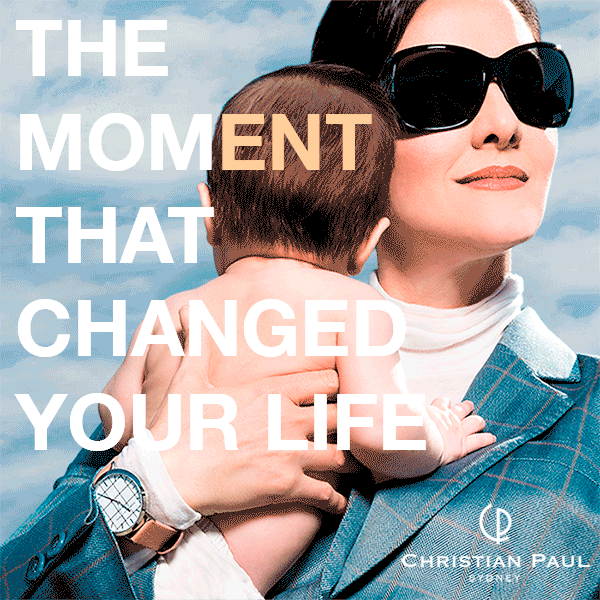 So very cool!!
Contest Results
We submitted our entries to Christian Paul on Instagram and crossed our fingers. After about a week Christian Paul announced the winner of the vacation: Instagram username mileeb.  And then Christian Paul announced newly created 2nd and 3rd place contest winners, of which we won third place…
Damn.
Christian Paul emailed us with a message: "your effort was second to none".  We had done a great job, Christian Paul appreciated us, but we didn't quite nail it.
In looking at the first place winner, I could see why mileeb chose her concept. Christian Paul watches is named after his son, and in her picture you can see both the watch and a blurred image of the father holding his son's hand.  A perfect representation of the brand.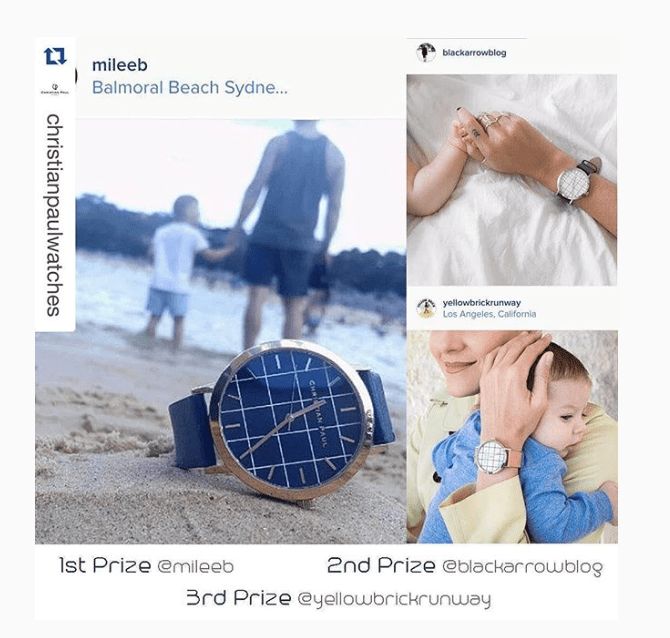 My image, although it was family oriented, did not feature a man.  I applaud the winner for her foresight on the concept.  Had I put more thought into our concept, combined with Lesley's professional photography and the Plotagraph® technique, I'm fairly certain we would have won the Greek Island vacation.
However…
Yay to Lesley and I for winning third place!  Since there wasn't one to start with, and Christian Paul created it specifically to acknowledge our efforts, this was a great win for us.  This was the first contest we even entered, we won third place, and we learned something. You better believe that next time there is a contest we are going to crush it 😉
Watch out Instagrammers. Yellow Brick Runway is closing in from the back.  Here we come!
Onwards and upwards.  Sincerely, Jacqueline Depaul