FIRST STOP: EUROPE
Lesley Pedraza may not have picked up a camera until well into her career as a model and then agent, but her training in front of the camera began early.
At age 17, Lesley visited Europe with her family. Her then dream was to attend Ohio State University as a competitive synchronized swimmer, and she thought modeling might afford her to do so. Since she knew how to speak French, she visited a modeling agency in Paris  and introduced herself. "They wanted me to stay in Paris and begin modeling for them," she says. Taking the agent's response as a positive sign, after her birthday a few months later, she relocated to Paris.
Pedraza tells the story with a nonchalance that belies just what a bold move it was—both to land on a new continent and to be so proactive at such a young age. While that first agency ended up passing, the next morning Pedraza walked right into another one and was signed on the spot.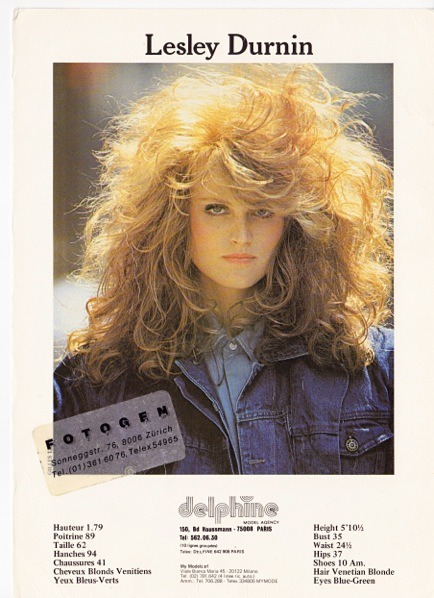 The following year Pedraza relocated to Italy. "My look also appealed more to the Italians than the French—the French liked shapely legs, and I didn't have that. I made more money in two weeks in Italy than I had during a whole year in Paris." She was enamored by the Italian way of life and stayed in Milan for two years, honing her modeling skills and learning the ins and outs of the business.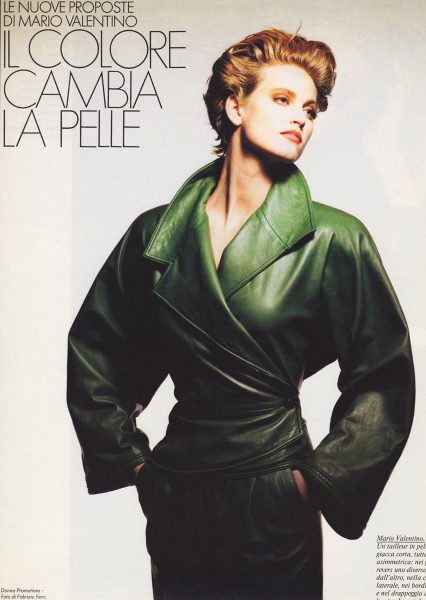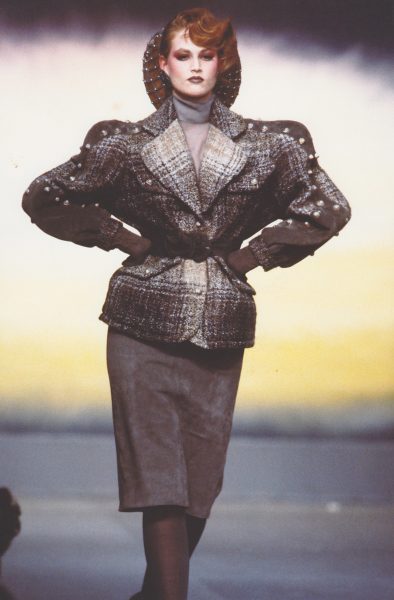 Pedraza's career took off and she began modeling all over Europe. She landed on the cover of German Cosmopolitan as well as Donna Magazine multiple times. Pedraza shot editorial fashion stories for Harper's Bazaar, Madame Figaro, and Brigitte.  She walked the runway and shot print advertisements for many top designers including Yves Saint Laurent, Thierry Mugler, Giorgio Armani, Gianni Versace, and Missoni—and much of that modeling was alongside the likes of Jerry Hall, Brigitte Nielsen, and Iman, supermodels who more or less owned 80s' modeling.


NYC: ANOTHER CITY WITH ANOTHER SET OF RULES
In 1985, Pedraza moved to New York City, modeling successfully for three years for big brands such as Avon, Wella, and Victoria's Secret.  However, like many who end up there in their youth, she found New York City equal parts exhilarating and exhausting and realized that one had to be rich to do more than just survive there.
Pedraza was also struggling to maintain her thin physique, admitting she "was hungry for six years." Aware that modeling careers are usually short-lived, she began searching for her next move.  "I wanted to transcend modeling to another career before I was forced to."
Wanting to diversify her skill set, Pedraza decided to give acting a try, and was soon cast in the musical comedy A Funny Thing Happened on the Way to the Forum with lead actor Mickey Rooney.
LOS ANGELES: A NEW MODELING NICHE

When the touring performance stopped in Los Angeles, she fell in love with the weather and decided to stay. In L.A., she soon discovered she was perfect for a developing niche industry: Plus Size. "Everything that was a liability was now an asset," she says.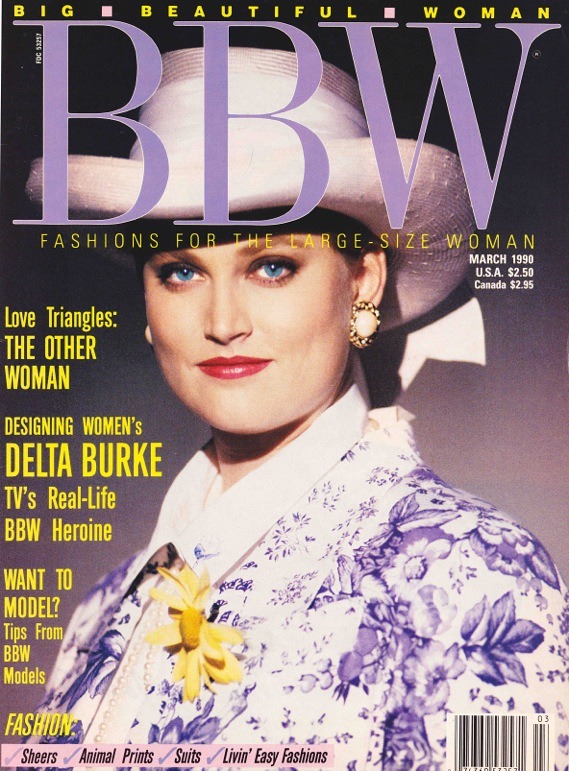 Pedraza transitioned into the plus-size market over the late '80s—her modeling days anything but over. After a five-year career as a "regular" model, she launched an impressive 15-year run as a plus-size model.
This time, she had all the training she needed, but found a new challenge working with photographers who "had a preconceived notion that plus-size models wouldn't be able to move." Pedraza proved them wrong. "I moved in front of the camera the same way as the 'regular' size models, as I didn't perceive a difference. I was surprised to find out that there was a separate standard for plus-size models and I thought it unfair. I was proud to represent the plus-size woman."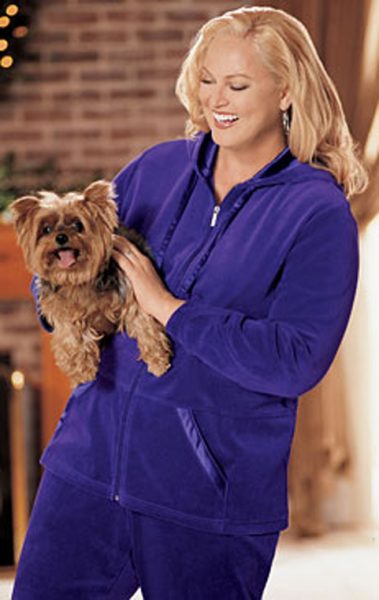 —————————————————————-
FINALLY BEHIND THE CAMERA
Pedraza modeled full time for the next few years and by 1993 was frustrated that other plus-size models weren't getting the photos that really did them justice and that they needed for their portfolios. In typical Pedraza style, she decided to fix the problem. "I picked up a camera and much to my surprise, I really loved it. I would look through the lens and see something and it would come out even better. I could see the beauty in people as they were; it was just a matter of showing the rest of the world that beauty."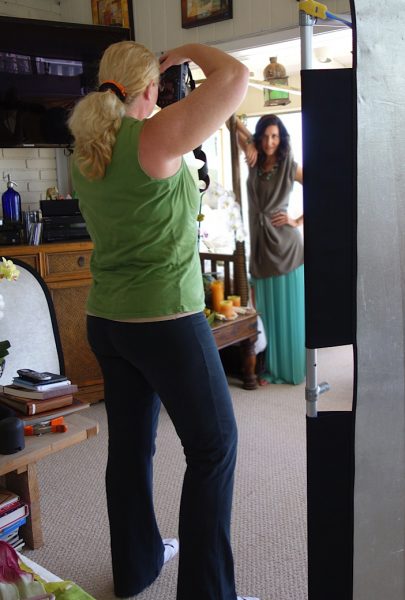 Pedraza learned film processing at night, modeled during the day, and even trained to be an agent in between. (She'd go on to spend six years as a print agent with L.A. Models, concurrent with modeling.) And she has put that industry versatility to good use as a commercial and editorial photographer. "All of it has gone into me and made my photography what it is. My perception of what is marketable is so clear. I understand it's a matter of choices," says Pedraza, who also directs her clients' styling, hair, and makeup during photo shoots.
Most rewarding, Pedraza's photography has also given her an opportunity to teach other models. "I was so badly marketed during my earlier days. It took me a long time to really understand how modeling worked and how to move in front of the camera, how to dress, and how to communicate with clients."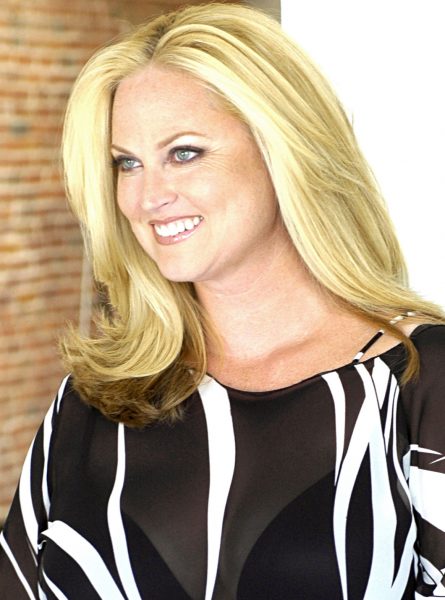 Pedraza's experience and perspective make her especially adept at approaching her clientele, both regular and plus-size. "When I look at a model I see inside. I see the model's fears and insecurities. I can guide the model to experience his or her beauty, and then show it on the camera. This affords them confidence quickly. From there I can work with them on how to show pleasing lines with their bodies and how to move better in front of the camera." It's that understanding of and ability to communicate how a model should move that makes the results stand out.
You'll soon have a chance to see more of Pedraza's results at work, as she will be contributing regularly to Yellow Brick Runway. She and Jacqueline Depaul have been close friends since working together on the lifestyle shots Depaul submitted to the Wilhelmina 40+ Model Search Contest—which she won, beating out 5,000 other entrants. Once a month, the two will collaborate on a Photo Shoot Challenge, picking a concept one or the other wants to try and learn from, an apt goal for both Pedraza and Depaul, who have successfully maneuvered their careers from one dream to the next. After all, when Pedraza walked into that modeling agency in Paris years ago, who could have known where the rest of the road would lead?
To learn more about Lesley's current projects, visit her website or facebook page. 
–Jennifer Massoni Pardini–