We are honored that this editorial project has been published in the FOCUS magazine, FASHION FACES magazine, STILO magazine, and ELEGANT magazine.
Conceptually, there is a story behind every photo shoot. It inspires the photographer, the model, the stylist, and the hair and makeup artists, uniting their respective creative approaches.
In the case of this YBR/SLASH Collaboration Project, the concept began with an exhausted, over-partied celebrity in need of serious revitalization. Her ticket to a glamorous revival? A day spent at SLASH Salon, of course. There, she relied on a talented team to transform her in time to wow on the red carpet.
The players for this Yellow Brick Runway collaboration photo shoot:  Photographer Lesley Pedraza, Model Jacqueline Depaul, Stylist Lauren Gold, Hair Craftsperson Carla Ross, and Makeup Artist Daniel Chinchilla. Their stage was Ross's SLASH Salon and More than a SLASH Academy in Santa Monica.  The following is the development and execution of the celebrity revitalization concept to the final published editorial story.
Wardrobe Styling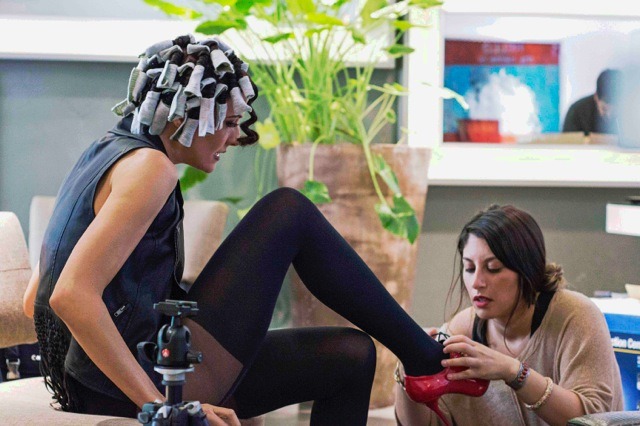 "As the stylist, my main objective was to create sensual and sexy looks that created the illusion of a celebrity starting from a really rough morning and ending as if she could claim her Oscar," says Stylist Lauren Gold, who decided that upscale lingerie was the way to a sultry look and the means to draw attention to the entire body with an intricate array of tights, bras, and slips (with a few furs from Gold's grandmother thrown in for good measure).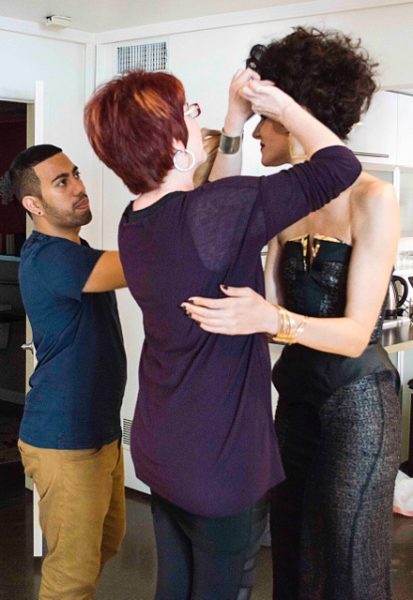 Model Jacqueline Depaul's own closet inspired some of the final selections. "We pulled a few pieces that we loved, and the more we narrowed it down to what made Jacqueline feel sexy, it ended up being gorgeous lingerie and great jackets," Gold says. "The form-fitting underpinnings paired with over-the-top jackets created visual complexity that was easy to understand."
When it came time for the final two shots, Depaul donned a one-of-a-kind gown by young designer Edison F. Cortez, who recently graduated from the Art Institute of Hollywood. "This dress was part of his senior project," Depaul says. "He loaned it to us for the photo shoot. The gown squeezed around me like a glove and gave me ridiculously amazing curves."
Hair & Makeup
Whenever there's a high-maintenance celebrity in the room, it helps to have someone on her team who will call it like it is. Leave that role to Hair Craftsperson Carla Ross.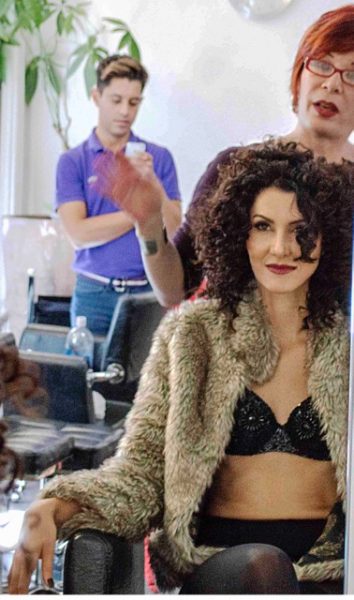 "As craftspeople, our challenge was to make this spoiled and narcissistic diva relatable. We have all had a bad night that leads to a day that needs to be good. At SLASH Salon, we have seen this kind of makeover: the moment where the disastrous is overcome by beauty."
Depaul, who ironically counted on a good night's rest before the shoot, had to be made to look like she'd actually had that bad night. But as the tricks of the trade go, the image that begins to tell this story was shot last in order to destroy the beautiful work Makeup Artist Daniel Chinchilla built throughout the shoot.
Once the shots had progressed from light makeup to the heavy look required for Depaul's Hollywood close-up, it was finally time for Depaul to slip on a nightgown and vintage mink and for Daniel to use a brush with makeup remover lotion to smear the makeup down her face as evidence of her night out.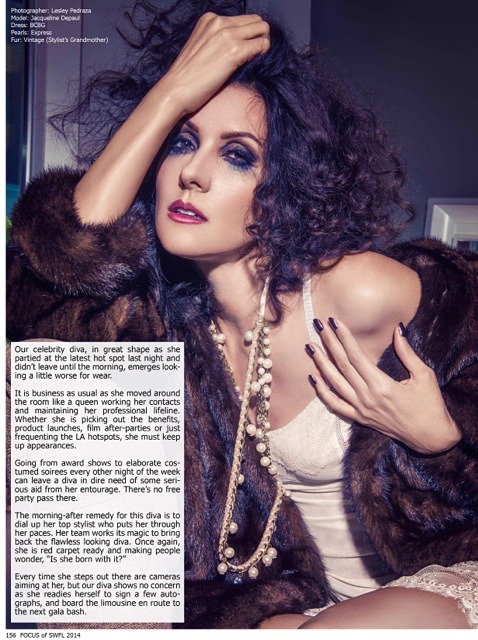 "That was definitely a trick, but Daniel made it look easy," Depaul says.  "Carla roughed up the hair to compliment Daniel's makeup and I slouched into exhausted facial expressions and body positions so that Lesley could capture the over-partied celebrity crashing on the sofa."
The shots also had to be sequenced based on hair. "Jacqueline's hair was set with rags to make sure we had plenty of texture to work with," Ross says. "We made about four changes with her hair and these little tools help to maintain a curly texture throughout the changes. The inspiration was glam bohemianism."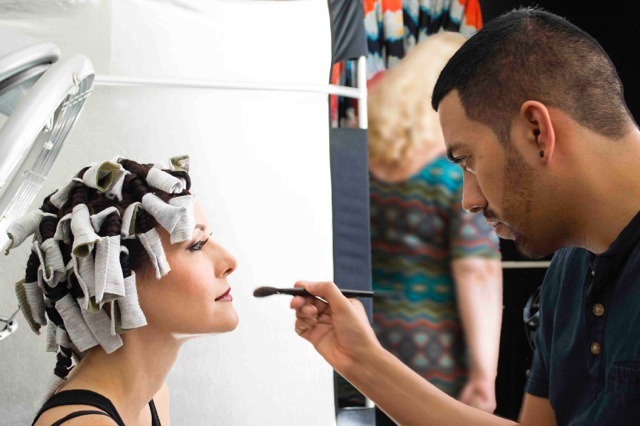 The hair also fit the mood of transformation. Gradually, the curls loosened as the shoot progressed and as Ross sculpted her hair.
Depaul recounts of Ross's process for the "space age" shot under the dryer, which required her hair to be taking shape, but still gentle and subtle: "She stares over my head into the mirror, with this look of intense concentration on her face, studying the shapes that my hair makes naturally. Then she quietly, intensely, takes her palm and begins pushing up on sections of the hair, and then lets them fall back down. Finally, she selects a section and pushes it up, and puts a hairpin in my hair to hold it into place. Around my head she gradually pushes and pins my hair into a sculpture. She doesn't grab it and twist it. She gently pushes it against gravity, seeing where it wants to go, and then enhances and guides it into a crafted shape."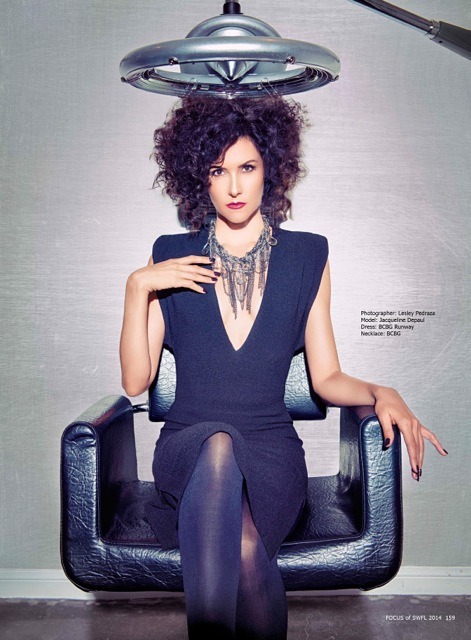 For the final two celebrity exit shots, Ross pinned up Depaul's hair fully, though it wasn't about creating a "pretty" up-do (which Ross professes aren't her thing, anyhow). It's about setting out without a pre-plan, watching how hair moves, and creating from there.
Photography
For this celebrity's revival, Pedraza may have shot out of sequence, but the end results tell a fluid story of a trashed-to-tasteful transformation.
"I enjoy shooting with Lesley because I have become her muse," Depaul says. "We have worked together so often that I am extremely comfortable with her and we can experiment together. This was a growth experience for both of us, and Lesley and I trust each other so much now that we sort of spiritually hold hands during the photo shoot and just go for it. Because after the makeup, hair, and styling team has done their job, the only thing left is the model and the photographer. The rest of the team steps back and watches, and it is our job to create the magic."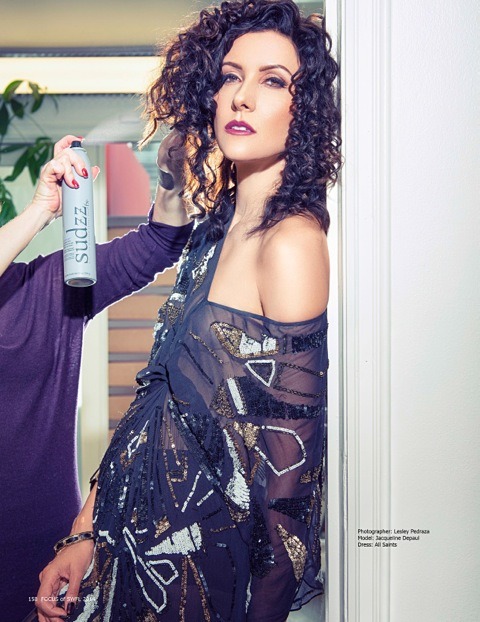 Challenges
As the shoot progressed, the team worked in tandem: Chinchilla added weight to Depaul's makeup, Ross kept her hair the right amount of sculpted, whether it was frenzied or more controlled, and Gold switched out garments and accessories.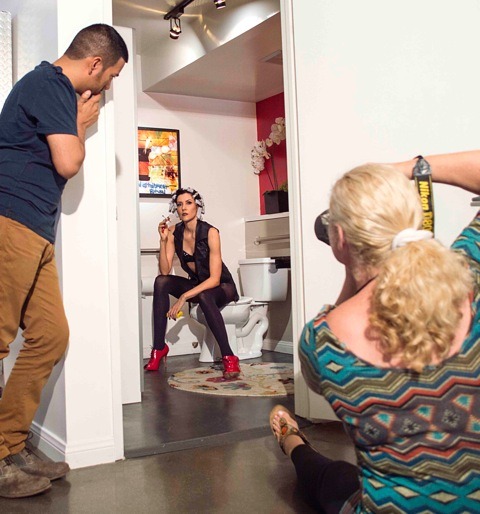 This is where the shoot could have challenged Gold in particular. "Most of the time on shoots, there will be up to 10 different looks for each image, because until you are there you don't know how they will look with hair, makeup, and lighting.
But we only had one look planned per image, with slight variations we could use. In other situations this could have been a major problem, but working with the team cohesively we were able to make everything work."
For Pedraza, the space itself provided the biggest challenge as the salon has low ceilings and lots of furniture, which fortunately could be moved around relatively easily. But the cramped quarters inspired her to bring extra interest and dynamic lighting to every shot.
"I wanted each image to play with light and dark. When we came to the red robe and the dryer, I pulled the chair into the middle of the room and set up the lights at hard angles. It looks so 'Gucci' to me and I love it. This was probably my favorite shot of the project."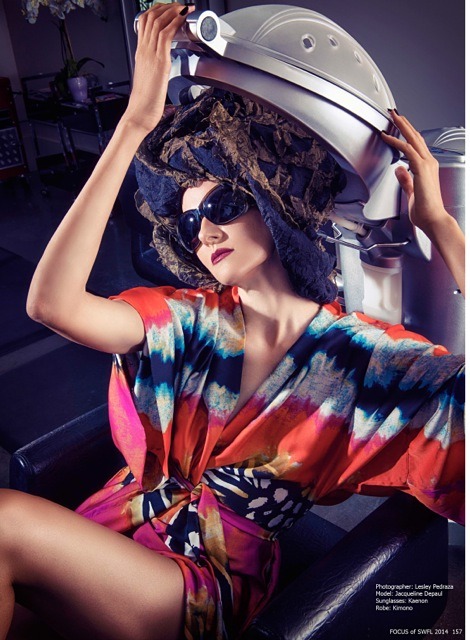 Transformation
Refreshed, revived, and regal aptly describe the results of this star's transformation. Near the storyboard's close, she stands silhouetted in the doorway, the fog machine (deftly maneuvered by Pedraza's photography assistant, Simon Venator) billowing over a hint of the beckoning red carpet beyond. She is ready to return to her world and, once again, soar.
Behind-the-scenes, the shot allowed Pedraza to push structural boundaries with a wide-angle lens. "I wanted the outside to show a bit, but not distract from Jacqueline. The light was setting perfectly on the buildings across the street, and voila!"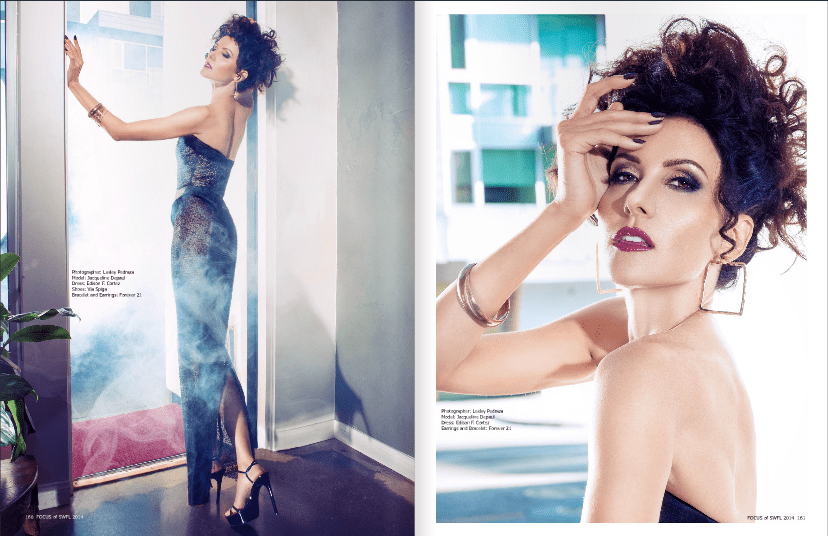 Success: Editorial Publication
All that went in to making this YBR/SLASH Collaboration Project communicate its conceptual vision also ensured its editorial merit. The spread will be featured in upcoming issues of ABOOK (based in Taiwan), STILO (based in Miami), ELEGANT (based in Los Angeles), as well as Southwest Florida's FOCUS, FASHION FACES magazine (based in Phoenix, AZ), and Canada's FAVE.
As Depaul (the businesswoman rather than the overindulged celebrity) says, "I consider this shoot a success because the story got published, validating our concept and execution." Collaboration may be an intangible quality, but one that absolutely shows on the page when it comes to the final spread.
Meanwhile, Depaul the model identifies on a personal level with her character's transformation:

"Through the process, the celebrity gradually perks up as she is remade. I can relate to this, and this is my favorite part of any photo shoot. I arrive on set with no makeup and casual clothes, and slowly the makeup, hair, and styling team begin to build me into a character. They create my face, my shapes and lines are crafted and enhanced depending on what they want me to look like, they build my hair, they dress me. And when I emerge I am someone else, a glamorous vixen, a creature from another world.

It is like putting on a costume from head to toe, and with your new appearance you become someone grander than yourself. That proud beautiful creature is your character, and you wear her in her entirety. I think that is what our celebrity diva is doing. She was all broken down when she arrived, vulnerable, and a mess like she probably is on the inside. But the salon rebuilds her into the celebrity, into the creature that her PR people promote, into the otherworldly person that the world watches and admires."

———————————-

For more information about the SLASH Salon Collaboration Team: Photographer Lesley Pedraza: www.lesleypedraza.com Photography Assistant Simon Venator Model Jacqueline Depaul: www.jacquelinedepaul.com Stylist Lauren Gold: Facebook – LaurenGold20 Hair Craftsperson Carla Ross: www.morethanaslash.com Makeup Artist Daniel Chinchilla: www.danielchinchilla.com Retouching Artist Argiris Maipas: www.qualityretouching.com  

— Jennifer Massoni Pardini —