Our inspiration for this collaboration shoot: Fashion from the 1980's… The 80's are coming back people!!!
Original Concept: Corporate CEO
Ok, backing up a little… we started with a different concept that I wanted to do: a strong, busy CEO striding around the streets of Los Angeles in her power suits. As a corporate America business woman working in Los Angeles I am quite comfortable in this role, and I wanted to capture this powerful woman on camera. I had a few suits I could use for the look, but not enough for the entire spread.
My friend Felicity Rathbone, a former model and fashion editor, recently opened her House of Vintage LA high end vintage shop on Main Street and agreed to help us create this character from the beautiful vintage designer clothes she had in her store. My photographer Lesley Pedraza and I thought it would be great to mix in some vintage pieces on our CEO, to give her a more fashionable look, so we took a road trip to the store to check it out.
And that's when the whole concept changed.  Lesley started jumping up and down in complete reverie over the racks of authentic vintage garments that Felicity had in her store, both of them oohing and awing over the wildly colorful fabrics and patterns, while I stood there completely lost.
New Concept: 80's Inspired Creative Director
Lesley modeled in Europe in the 70's and 80s. These were the clothes of her youth, she understood them, she loved them, and she knew what to do with them. I, on the other hand, grew up in third world Caribbean countries in the 70's, and in a small, relatively unfashionable college town in Texas in the 80's, and therefore I knew nothing about what to do with these clothes. I personally didn't have any clue what to do with them, as I grew up overseas and didn't wear any of this stuff, so I just handed it over to Lesley and Felicity to let them create the vision.
Lesley and Felicity decided that instead of a corporate CEO character we would portray a powerful Fashion Editor or Creative Director, someone in charge but still artistic, a strong female character who loves the 80's and wears vintage clothing.  And so our collaboration concept was born.
We all agreed that we wanted our character to be captured in movement. She is busy traveling around the streets of Los Angeles, powerful, confident in herself and her style, and getting things done.  She is walking, has wind in her hair, we were going to try to capture the feeling of movement in the images.
Hair and Make-Up
Our hair and makeup team, vintage specialists Ana and Vanessa (they are sisters) from Classic Glamour Dolls, doubled as wind machines, waving around large white boards to make my hair move around, can helped us get the movement concept in the pictures.
Shooting in Downtown Los Angeles
Now we needed to find the shot locations. Lesley really did a great job with this, as she didn't have any time to really plan in advance. For the mushroom dress she used pictures in an art gallery window as the background. For the long orange and blue print dress she found a window where the skyscrapers behind her were reflected in the window behind me. That is actually my favorite shot of the series, it makes me wonder where our girl is going, and everything in the shot looks tall and long. The funniest picture is the one with the cocker spaniel. The dog belonged to some patrons in the restaurant we were shooting in and just happened to be standing right there. He was so fascinated with what we were doing he just stood there and looked right at Lesley, directly into the camera, and came through with the intensity of a super model in the picture. The dog looked like he was posing in every shot. We couldn't stop laughing…
And We Are Published!
Our final images got published as an editorial in Vinachi Magazine May 2015 issue under the title "Who's That Girl", in ELuxe Magazine Issue 6 under the title "Desperately Seeing the 80's", and in the British publication Voir Magazine, June 2015 issue.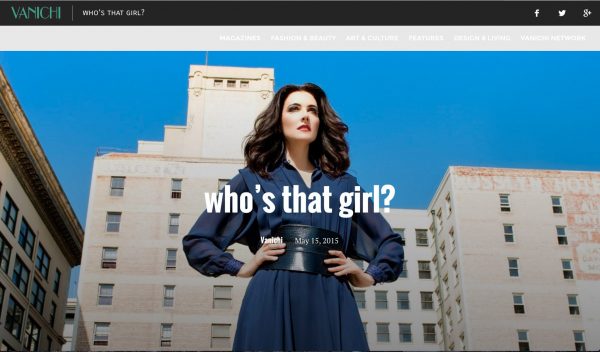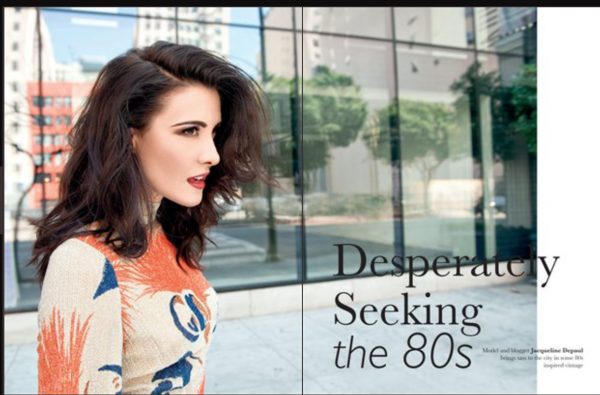 We Are On Youtube!
And, you may have noticed, we tried something new with this photo shoot: behind the scenes video! We haven't gotten it completely down yet, this was the first time we tried to capture what we were doing on video.  More examples from this shoot below, and we will try again next time. Onwards and Upwards!
Click here for our Youtube Channel
Sincerely, Jacqueline
---
The Vintage Diane Von Furstenberg Wrap Dress
The Vintage Mushroom Dress