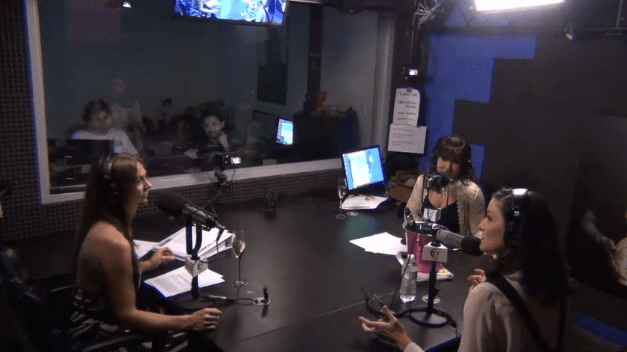 Recently I was invited to be the featured guest on "Artful Undress" / TRadioV.com.  The Artful Undress show is hosted by Kira M. Pandukht, sculptor extraordinaire, and Polina Hryn, CEO of Wet Puzzle Piece Productions.
I was very pleased to talk with these gals as all three of us are HUGE supporters of creativity and artistic collaboration.  To watch our show click on the above image.  I have also included a guide to the different show topic sections you might be interested in.
Thank you Kira and Polina!
SHOW GUIDE
1:15
Kira and Polina introducing me using words like "impeccable", "amazing", "inspirational"… I swear I didn't pay them! I was overwhelmed with the compliments, thank you.
16:40
I join the ladies on set and we discuss how to properly pronounce "Jacqueline" and that all things French are more sexy (Italian too).
18:20
I give Polina and Kira and overview of my corporate career, physics degree, and how salsa dancing (my original hobby) became modeling.
21:30
I describe my first fashion shoot with Phillip Ritchie, my first real photographer, and we all giggle because Phillip was the Artful Undress show's first guest as well.  I guess Phillip Ritchie was all of our firsts!
23:30
I describe competing in and winning the Wilhelmina/Macy's 40+ Model Search and the strategy I used.
25:47
We discuss the successful strategy of combining artistic and business collaboration and how musician Pit Bull sets a shining example…
31:50
I talk to Kira and Polina about Yellow Brick Runway, my fashion collaboration blog, it's purpose , the players, and the fulfillment of pushing oneself as an artist to reach the next level.
33:50
Kira loves my eyebrow post and compares me to Women's Health Magazine and Vogue at the same time.  Seriously Kira, I love you.
35:25
My viewpoint on why women in the United States should follow their creative passions, even the poorest of us, because of the opportunities each of us have.  We also discussed my growing up in Jamaica and Haiti and being grateful every day for indoor plumbing…
41:45
An observation on our competitive culture, how it can sometimes stop our creative urges, and why we ladies should ignore it.
47:05
Polina made a beautiful video collage of the images from my blog Yellow Brick Runway (also featured below). Thank you Polina!
https://www.youtube.com/watch?v=9olr6VwFrfo&feature=youtu.be
49:00
Discussing modeling, the fact that I'm over 40, and how women in the 35-65 age categories feel left out in fashion advertising.  I told Kira and Polina about Cambridge University Ph.D Ben Barry's study, featured in Elle Canada. Ben conducted a study on the buying impulses of women looking at fashion advertisements with the same dress on diverse models, including younger, older, ethnic, and plus size.  The statistics are amazing!
——————————————
Kira, Polina, and I decided we should definitely get together again to do another show on fashion as art.  I am truly looking forward to it.  Thanks again ladies!
Sincerely, Jacqueline