Wonder Woman, Storm, Katniss, Rogue…  We love our female superheroes.  We applaud as they save the world, and we imagine our strongest selves fighting alongside of them.
I was itching to do something wild… I wanted a new project to work on, so my creative director friend Jeannette Valbuena offered up her idea:  She envisioned a FLOATING concept: Me, suspended from ropes, portraying a powerful female who is twisting and battling the forces of evil, in the air… Our "superhero" concept was born.
Amazing idea- I loved it! Sadly our team does not have an America's Next Top Model budget to rent giant studios and suspension rigs.  But I was determined to find a way to make this project happen…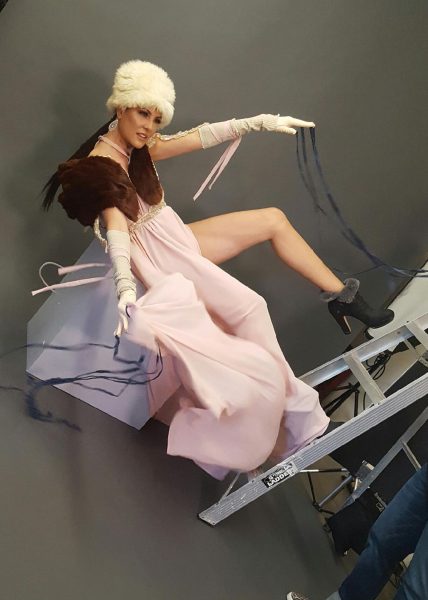 I consulted with my photographer Lesley Pedraza.  She pointed out that instead of actually suspending me with ropes, I could sit/lean/lie on objects which she could erase out of the picture in post-production.  This would make me look like I was floating.  This was our key to success- and so we began.
We recruited two amazing designers to help create our feminine, yet powerful, superhero.  Gordana Gehlhausen, a Project Runway winning designer who is a master with beautiful, flowing gowns, and Swinda Reichelt,  an incredibly talented costume designer with unique ensembles. For makeup and hair we recruited the fabulous Claudia Rivas – she could create any fantasy look we needed.  And since this project was likely to be a hilarious mess of unexpected challenges, we recruited the Ghostlight team to shoot a behind the scenes video for us…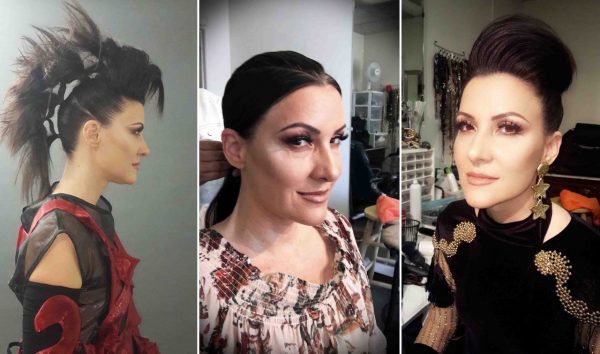 Lesley set up boxes, ladders, and various other items for me to lie across, sometimes partially upside down.  Swinda arrived to help me put the complex outfits together and put them on (a feat in itself) and her fabulous boyfriend volunteered to aim a leaf blower at me to blow the clothes around.  Jeannette guided me into the awkward positions and emotions while Claudia (in between contouring and creating mohawks) held my hair up with clear strings.
After each shot Jeannette and Lesley huddled over the computer monitor to check the result.  It was working!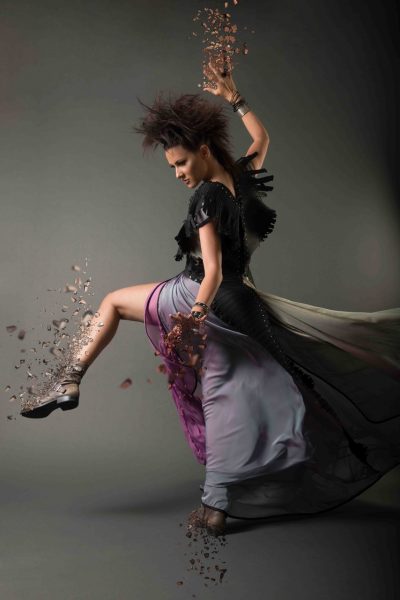 The Superhero theme seemed to be as popular as we predicted.  We got a good response on this editorial from the magazines, including a fantastic spread and write-up in Influential Magazine. We are also published in iMirage Magazine under the heading "Firefly", Fajo Magazine in Canada, Solis Magazine, Prolific Quarterly, and Sheeba Magazine.
The final touch was to convert the still images into looping videos using Plotaverse software.
Our images now had actual movement, including hair flying, clothes blowing, and energy particles blasting around me… our project had become the perfect superhero fashion editorial.
---
This was such a success and so much fun. Thank you to the whole team.
Onwards and upwards!
Sincerely, Jacqueline