We Got Our First Magazine Cover! 
And more significantly, it is MY first cover.  Here I am, staring at myself on the cover thinking, "WOW is that really me?" I'm giving myself a pat on the back right now.  And on the head, the arm, and even a few pinches… As a late-blooming model this was a dream come true. 
The Cover Models of Cosmopolitan Magazine
I grew up in Jamaica and Haiti without a trace of a fashion magazine in sight. I didn't even notice fashion until age 16 when my family relocated back to the United States, and then became addicted to fashion magazines. Cosmopolitan ("Cosmo") was my favorite.  Every month Cosmo had the most stunning women on their cover, often featuring the 1990's supermodels: Cindy Crawford; Helena Christensen; Tatjana Patitz; Nadja Auermann and Karen Alexander. I loved them all, admiring them in awe while they started back at me with those intense model eyes.
---
Casually I imagined how it might feel to be on a magazine cover, how glamorous it would be, but I had no aspirations at all of becoming a model, and no inkling that I could. It just wasn't something I thought was possible.
---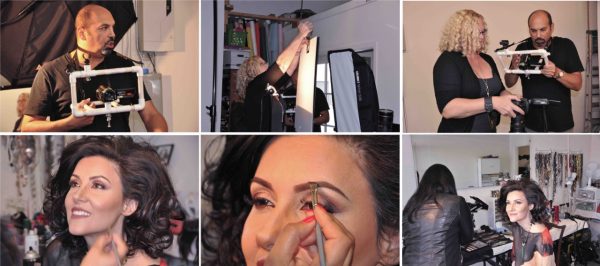 I was preparing to enter college to be a scientist, that was something I knew I was good at. As I progressed through my studies and began my telecommunication's career I became entrenched in the excitement of technology and business.  But the magazine cover idea was still in the back of my mind…
---
The way I saw it, if a magazine put you on a cover, you had made it. You were someone of note, someone to be noticed.  
---
I decided that I wanted to be on the cover of a magazine by the time I was 35, and that, since I wasn't a model, I would get there for something I had achieved. My target became a business magazine like TIME where I could be featured for a successful company I had started, or for being in the top 50 CEOs.  On the cover I was determined to go regardless.
This Was To Be My Last YBR Project
Oddly, I approached this photo shoot as my last Yellow Brick Runway project. I was turning 46 with health issues: weight gain, low energy, and missing hormones. (I will write another blog post about that. It was an amazing transformation when I got them back.)   Meanwhile, I was struggling with my confidence. I decided that I was getting too old for modeling, and even though I had successfully broken the standard rules up to this point, I believed I had finally hit the wall.
---
So this was it, no more modeling, and this shoot would be my last hurrah.
---
It was going to have my absolute favorite everything, from the flowy, colorful dresses, to the strong supermodel-style posing with my chin up (my preferred head position, even though many of my photographers have politely asked me to drop it back down), and blowing fans.  And I had makeup artist Claudia Rivas who can magically make all of my features look bigger than they actually are.  What a great way to go out…
We had borrowed dresses from designers Gordana Gehlhausen and Tatiana Shabelnik, but needed shoes, forever the quandary of modeling shoots. Tatiana knew someone at the John Fluevog store, a Canadian brand with such interesting shapes, we thought they would make a good combination with the dresses.  And, astonishingly, when I went to the store as the "stylist" to borrow the shoes for the shoot, they bagged up 10 pairs for me.  I guess it's normal in LA for stylists pull shoes for photo shoots. I didn't ask questions but ran out the door before they changed their minds.  So lucky…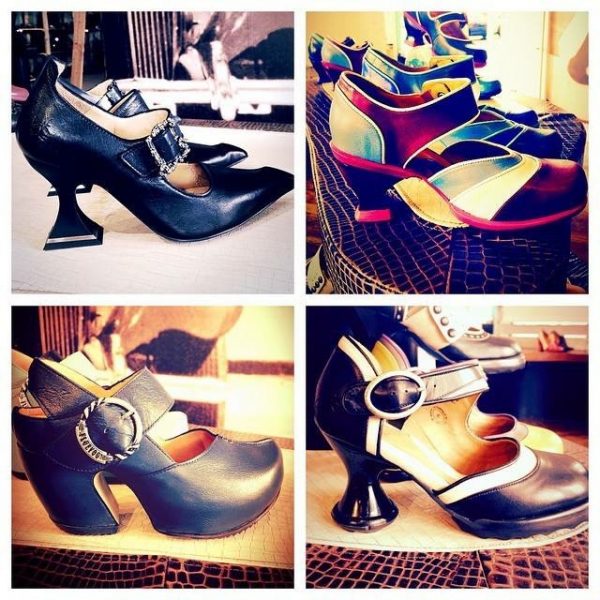 The Magic of Letting Go
We began the shoot, and without telling anyone my plans to quit, I let go.
---
This was to be my last shoot so there were no more consequences, no more possibilities of failure, one more experience to have, one more time to enjoy… and I was going to get the most out of my last moment.
---
My usual self-criticism (unfortunately, there is more than I would like to admit) was put on the shelf, and I allowed myself to lock into my friend and photographer Lesley Pedraza and connect deeply into her camera lens. I moved powerfully, streaming energy toward my friend, sharing my last moment with her.   All bets were off at this point, I was present.  And I performed.
Meanwhile, Lesley was sighing and squealing behind the camera, occasionally looking into the lens and oohing.  When your photographer is rolling on the floor making funny noises that's always a good sign.
This shoot was an amazing experience for me.  I felt free, powerful and womanly, not a care in the world, and I gave it all to the camera.
The Final Result: The Cover of Madame Magazine
And here we are.  I just turned 46, and it happened. I am not on the cover of Time, Vogue, or Cosmo, but I am on the cover of a fashion magazine as a fashion model. My cover shot is of a powerful and beautiful woman, exactly the 90's supermodel look that I admired when I was young.  This was honestly beyond my wildest imagination, and perhaps, just perhaps, being on the cover indicates that "I've made it" in some small but significant way.  It wasn't necessary to get a cover.  But I got one. And as a 46-year-old, relatively unknown model, I believe it is quite an achievement.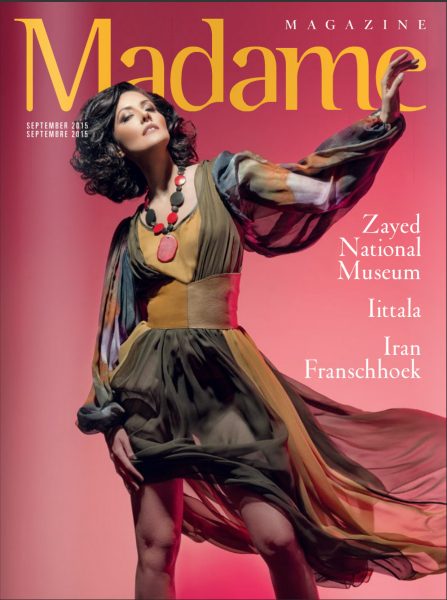 Perhaps I will continue modeling just a little while longer…
Sincerely, Jacqueline
Our Movement in Color editorial was selected for the cover of September 2015 Madame Magazine, a French/English women's luxury magazine in the United Arab Emirates.  The entire spread was also published in Promo Glamour Magazine and Upscale Living Magazine.