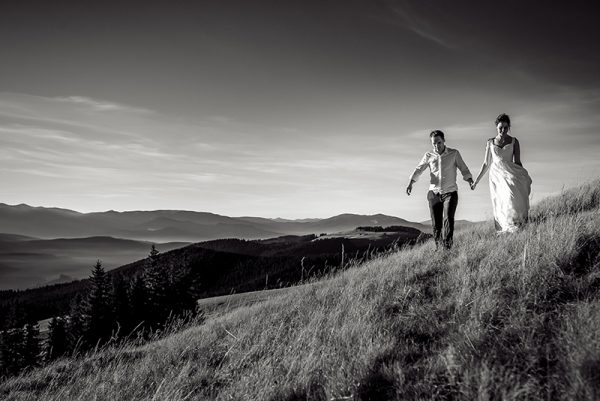 Black and white is one of those styles that is both loved and hated because it's so difficult to determine a "right" or "wrong". Most black and whites are seen as "artistic" or "vintage" and may be used simply to cover up the fact that the photo didn't turn out perfectly. Black and white wedding photography is no different.
Many photographers like black and white for weddings because it matches so perfectly with the predominant colors of the wedding party – black for grooms/groomsmen and the white of the wedding gown. As a photographer, how do you know what to do if your bride has asked for black and white wedding photography?
Give it a Try
Most black and white wedding photography is trial and error. Some images simply look better in color because the textures and contrasts appear better. It's all about how the subject is lit. Many photographers simply don't know if an image will work in black and white until they're playing with it on screen. Since our eyes see in color unless you have a vivid imagination, it's often not worth the time pausing to think about it before moving onto the next shot. Wedding photography is often a constant stream of photos, so once you get to the editing then it's time to try it – just worry about the quality of the pictures as you're shooting.
Get Exposed and Contrasted
Many of the best images have extreme contrast or exposures. Black and white look best when there are definition and contrast, but you have to be very careful not to overdo it and lose the gradient on the subject. What you don't want is extreme whites and extreme darks with little grayscale between. Upping the contrast, whites, and lowering exposure can help bring those out so that the subject pops.
Lighting
One of the most effective tools of black and white photography is lighting. By lighting the subject correctly, you can almost make any subject into black and gray. The difficulty with wedding photography in this case is that often you don't have that much control over the lighting.
If you're able, scout out the venue beforehand and decide on lighting. At a minimum, you'll need a reflector and speed lights to get good exposure inside and if you've got them available strobes and softboxes won't hurt either.
Don't use it as a Salvage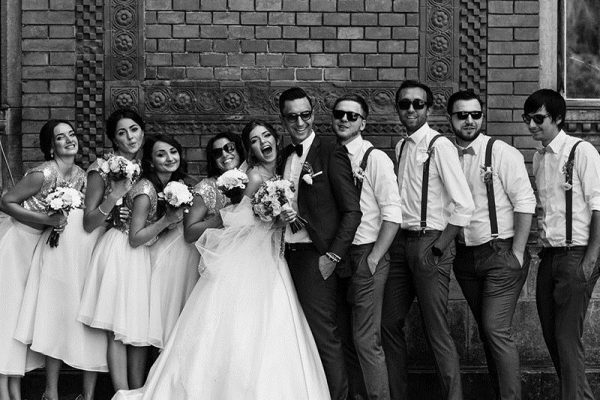 Black and white is often used to hide slightly out of focus images. The problem here is that while it can salvage a "slightly off" wedding photography image, you're also doing a disservice by accepting sub-par photos and giving them to clients. It's not a fix all, and it won't fix bad mistakes like focus no matter how much you sharpen and contrast.
Why?
Most images tell a story. There's a reason why they are edited and photographed that way. The main question most photographers ask is whether the edit adds or takes away from the image itself. There has to be a reason why the image is in black and white as opposed to color. In this case, it may be worth telling your bride that some images should be in color if they've decided the entire thing should be black and white just because often the use of color makes a difference in the scene.
Avoid Colorpop
Most professionals have colorpop. The black and white image with the single-color screams of amateur editing. In wedding photography, it's no different. That excuse for the red bouquet, or the colored bride and black and white background, there's no good reason. Pick one or the other – color or black and white.