I love the Brits- especially British accents and British designers… I have fallen in love with the beautiful floral designs of British designer Ted Baker.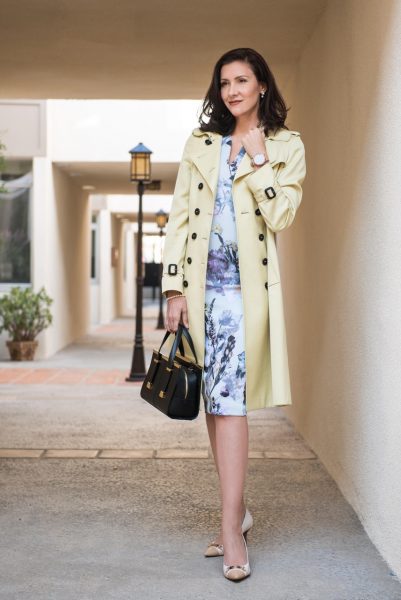 This is their "midi" dress. Technically, "midi" is a term used to refer to any dress or skirt with a hem which hits at mid-calf – halfway between the knee and ankle.  But since I am 5'11", the hem of this dress falls exactly at knee, which is perfect.  I have added Ted Baker to my list of dress makers to watch because most brands are much too short on my not-so-young-anymore legs.  The dress is body conscious with a thick, stretchy, flattering fabric, and the trademark Ted Baker flower pattern on a pastel sea foam green background. Perfect for spring!
I paired this dress with a trench coat from another favorite British designer: Burberry.  This coat is classic, well formed with beautiful details and seams, has cool pockets everywhere, and is such a beautiful spring yellow color.  So different from the usual beige, I just love it.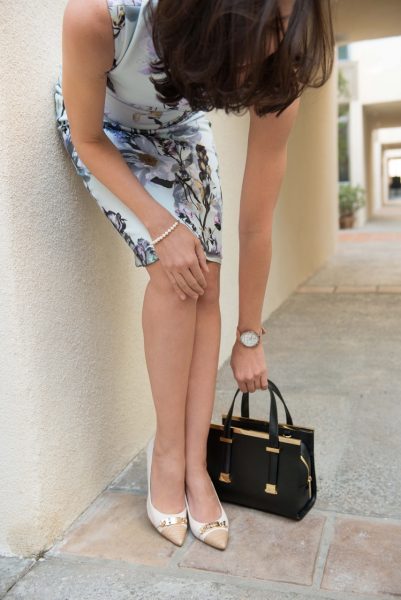 My shoes: current favorite cream colored Coach Bowery Pointed Toe Pumps, a classic American brand, but fits perfectly with my British ensemble.  They have a pretty pointy toe embellished with Coach hardware and a heel height that is low, and comfortable, but still looks elegant. I can wear these all day.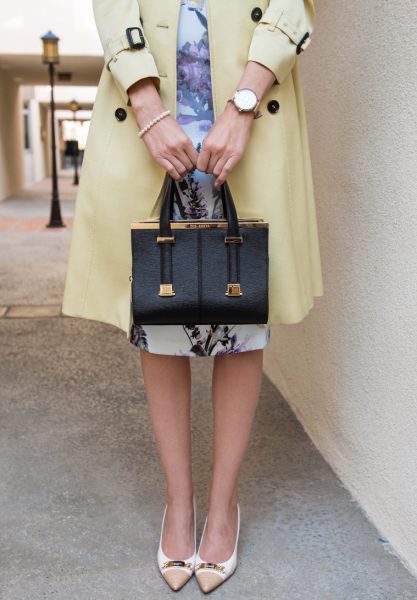 My accessories: pearls of course! Have to have a classic pearl bracelet, this one is made from The Pearl Source is made from real freshwater pearls.  I combined them with a marble face watch with a peach colored band by Christian Paul, an Australian designer, and the cutest Ted Baker Betties Mini Tote Bag.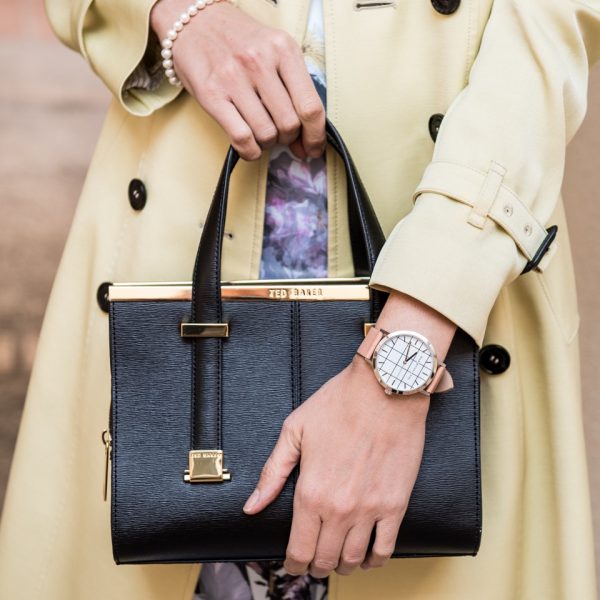 I had fun with this one!
Share your version of British styling on our Facebook group page: #myupfasion- Celebrating the Fashionista in all of us.
Jacqueline Depaul